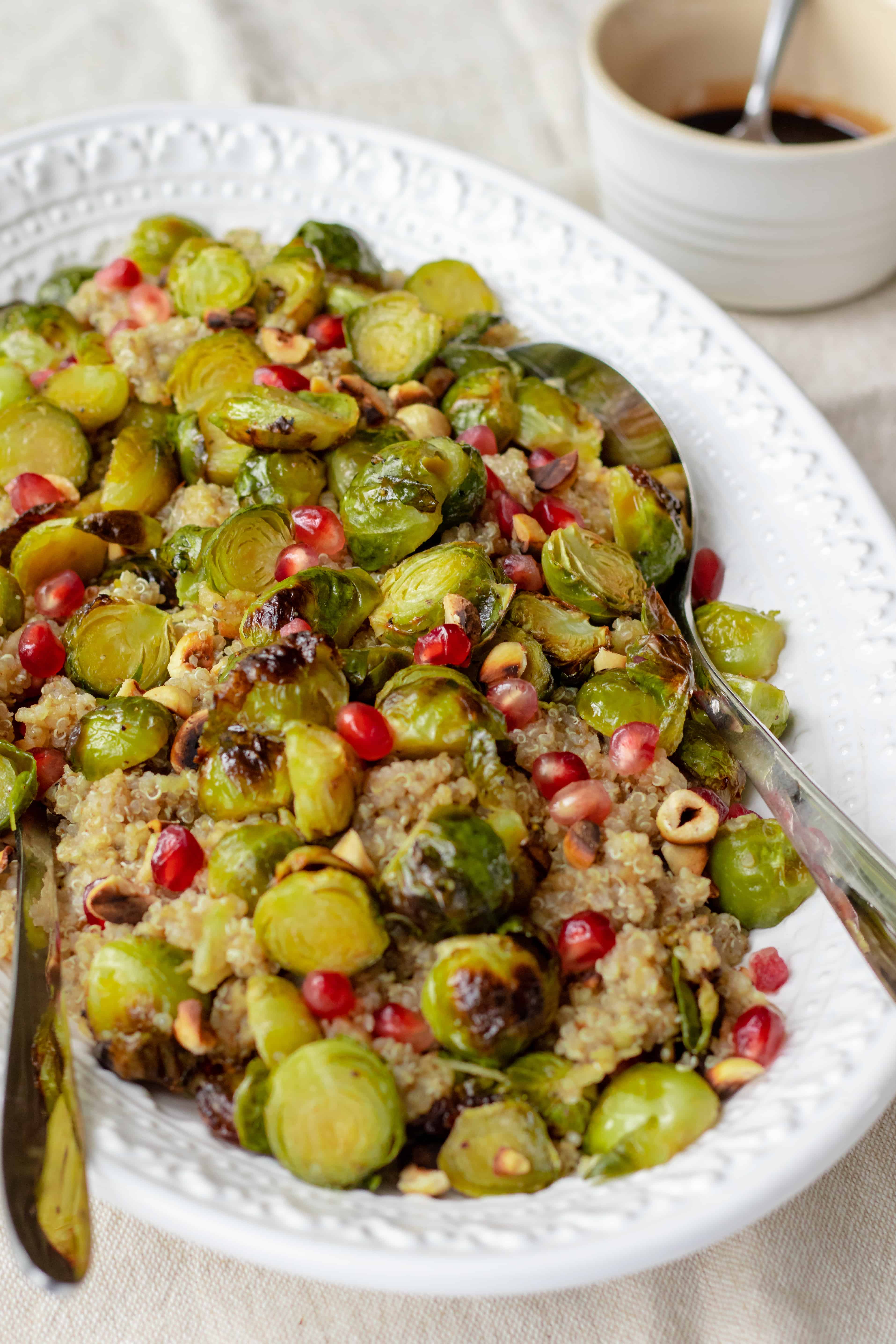 Hitting November can only mean one thing – IT'S CHRISTMAS…well nearly. Although I normally keep my festive feelings tightly locked away until December 1st, having a blog forces you to become a little more organised. One thing that always bothers me around this time of year is the general hatred expressed towards brussel sprouts. Poor little things – I feel a bit sorry for them if I am honest. Thats why I decided to embark on a mission to make brussel sprouts spectacular! So here you go: my magical moreish maple roasted sprout salad.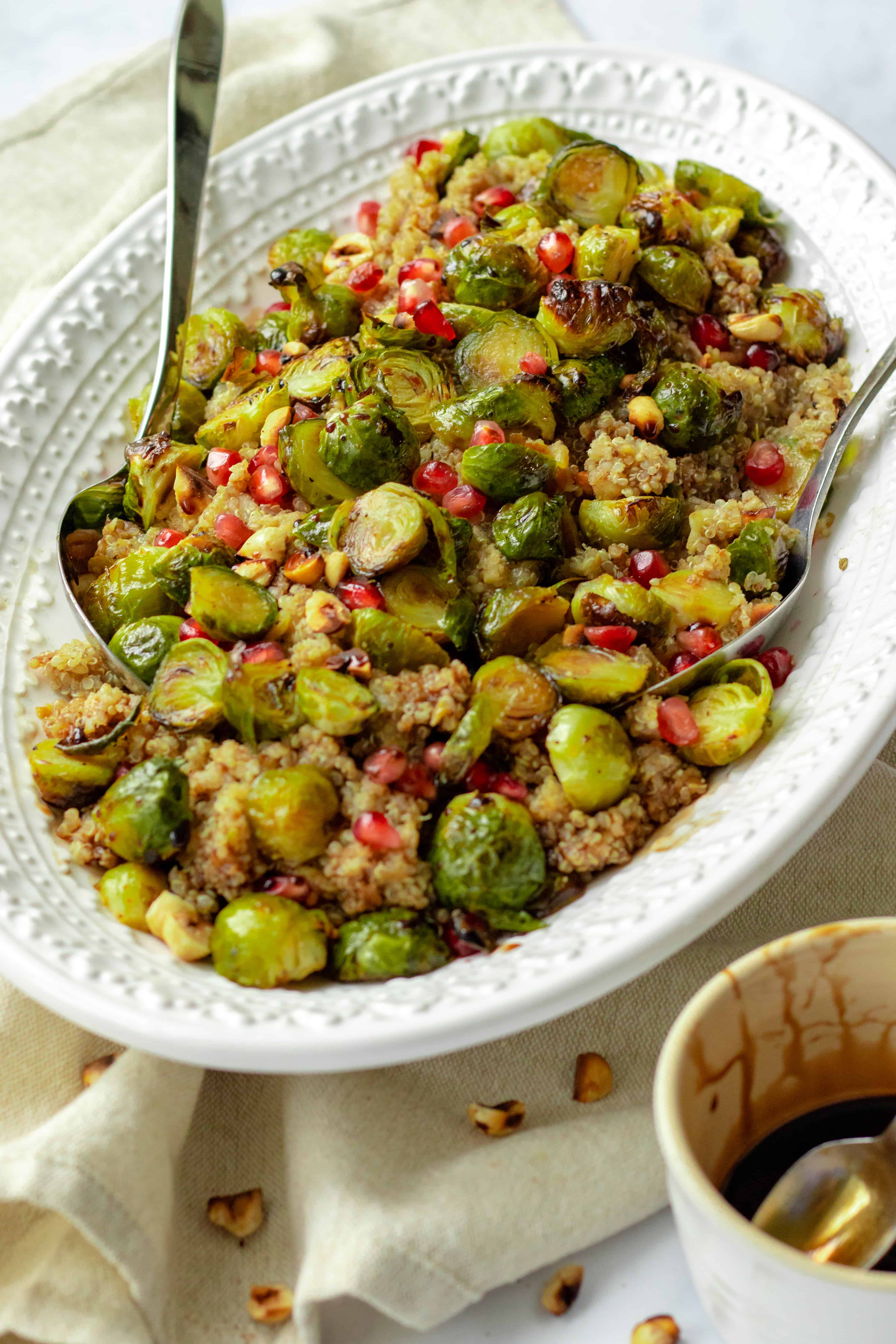 This dish isn't just for Christmas. Oh no, I have been scoffing this maple roasted sprout salad down for a month now to perfect this recipe. Sprouts are always getting dissed as a soggy side accompaniment normally served with your Christmas meal. We will have none of that here though! I have made them star of the show. Roasting the sprouts with maple syrup eradicates that bitter flavour whilst creating the most gorgeous crispy outer layer. Trust me on this one, they are freaking delicious.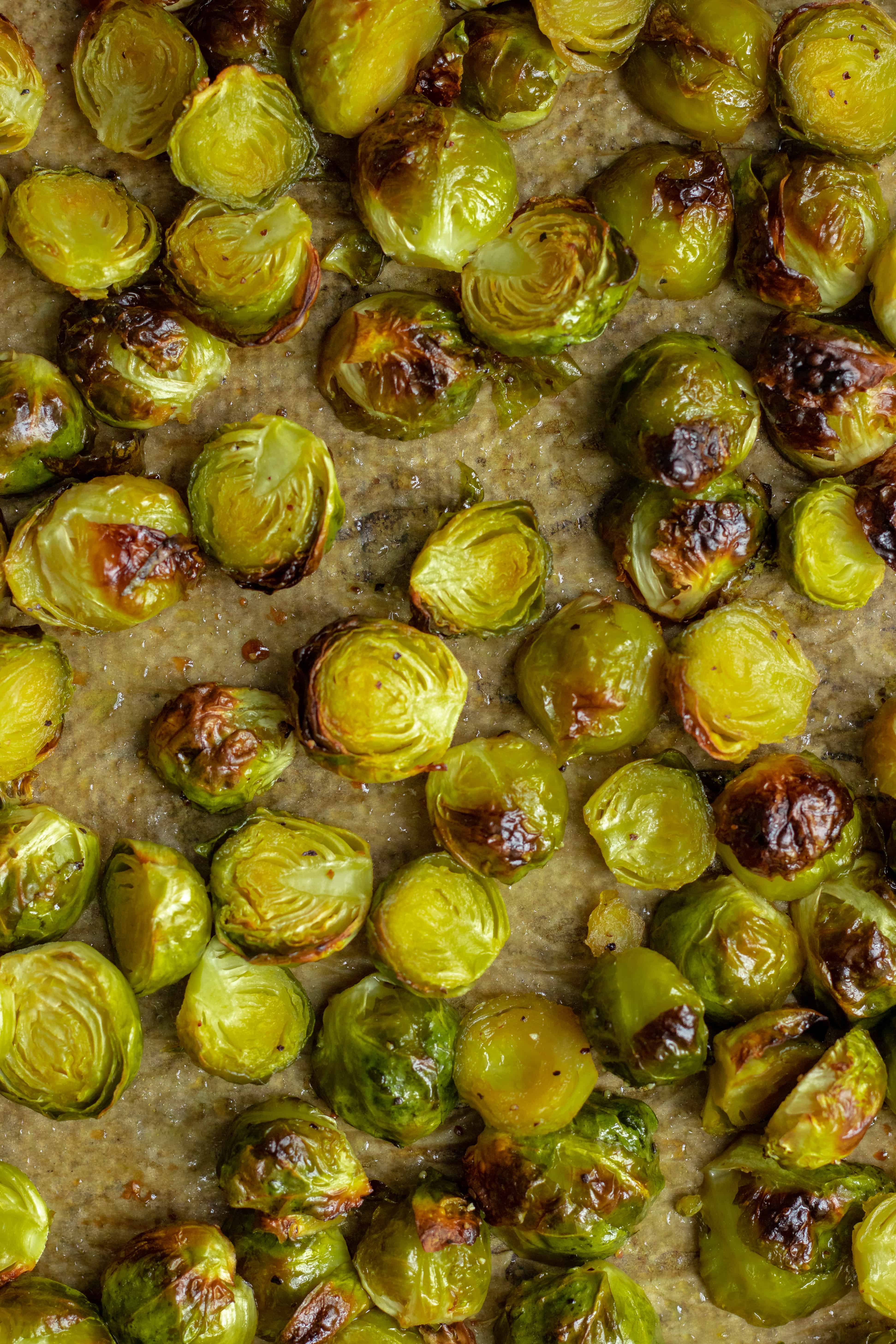 Not so sexy and hard to market, sprouts health benefits are known little to none. Don't have this deter you though, they are incredibly nutritious. Brussel sprouts are superbly high in vitamin C (100g = 141% RDI) and vitamin K (100g = 175% RDI), as well as vitamin B6 and folate. Something else you may experience when eating brussel sprouts is the high fibre content – Trump that (literally).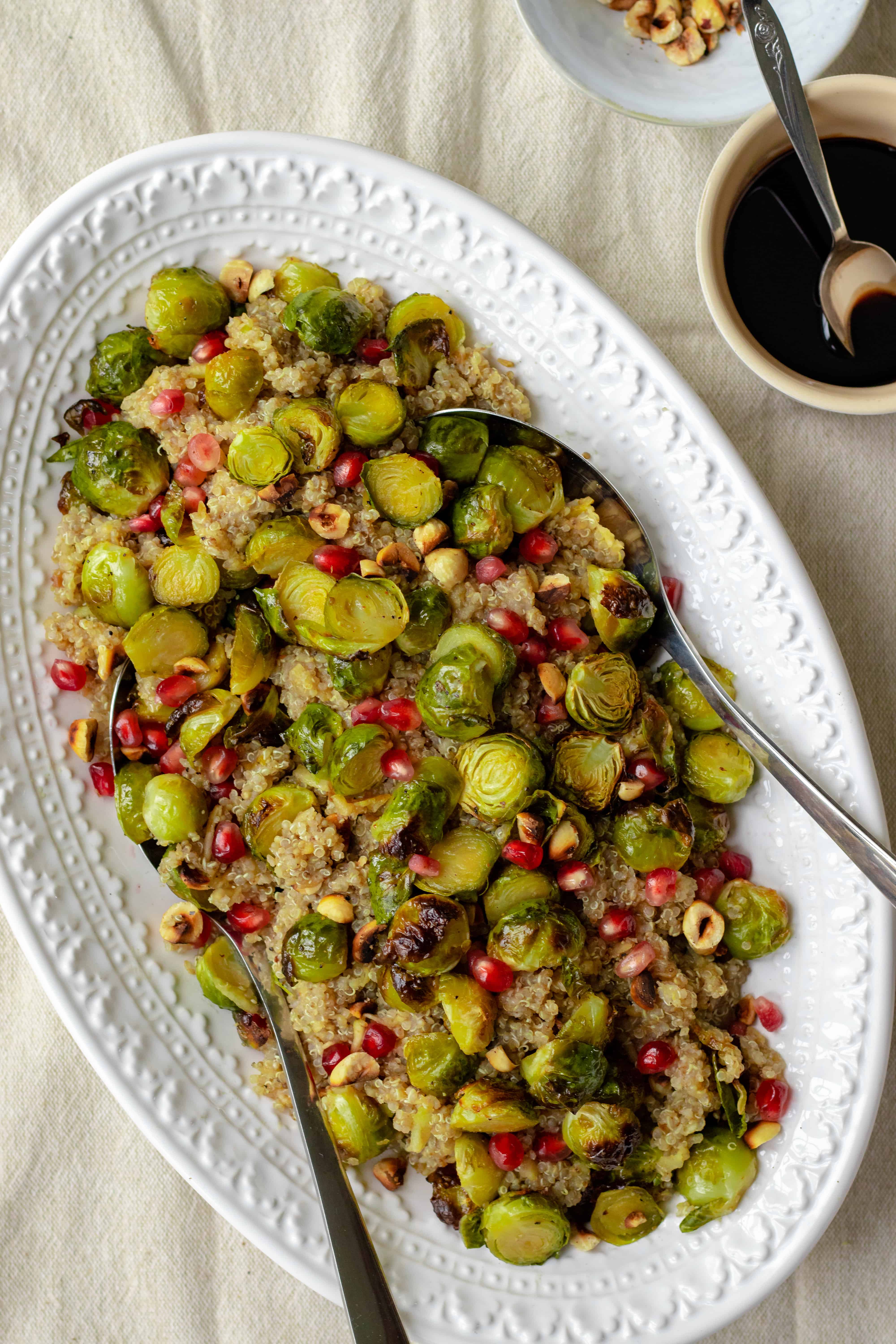 As I am sure you are aware we have just begun world vegan week, so posting a completely vegan recipe seemed only appropriate. My maple roasted sprout salad is an intriguing twist on a festive classic that can be enjoyed by one and all. It looks so pretty when it is finished and with like all my recipes is so EASY! You could also just make the maple roasted sprouts (without the rest of the salad) and serve them at your next roast dinner. They never fail to impress.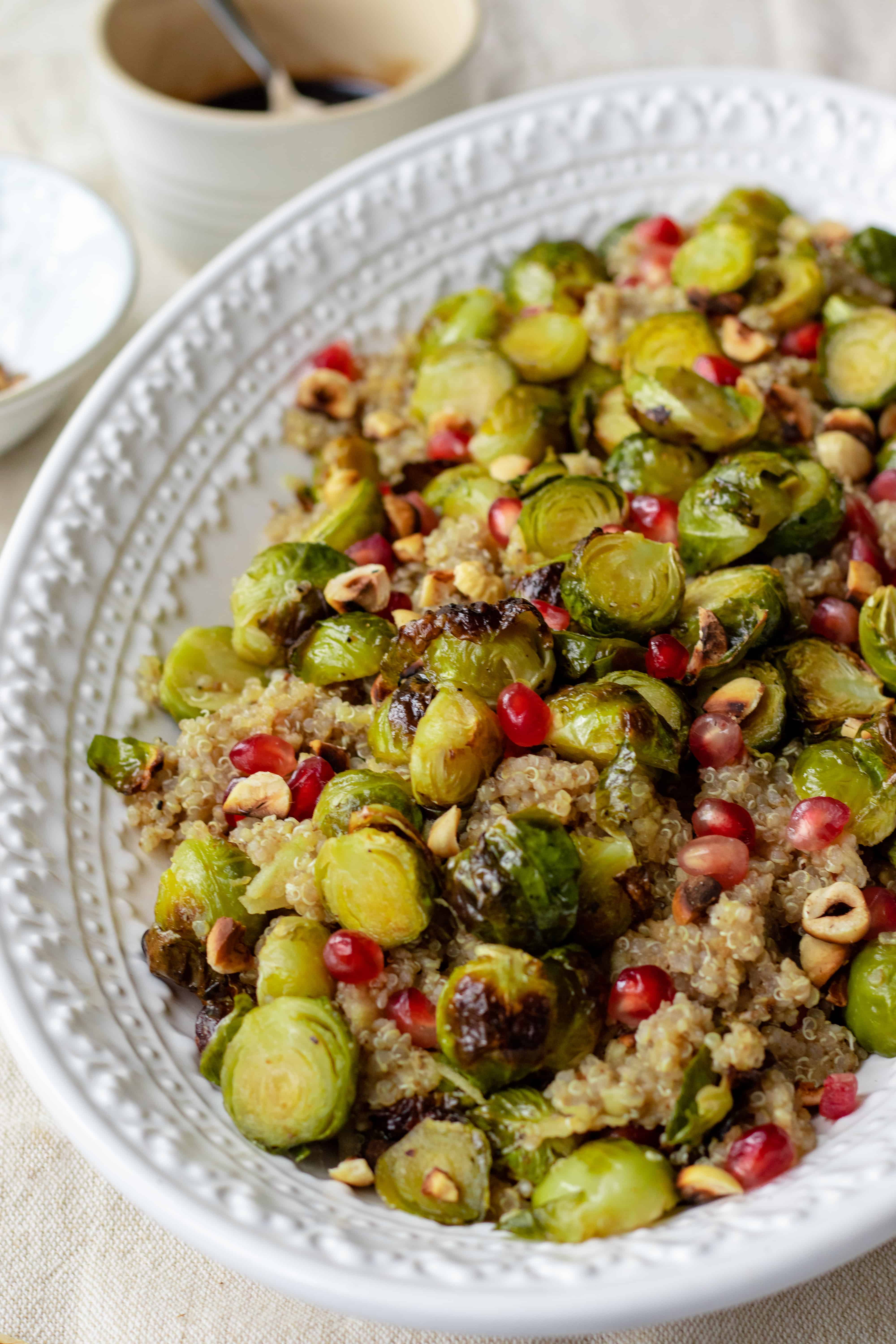 I know I say this every other week, but this is truly my new favourite salad. It's satisfying, balanced, easy to make and celebrates seasonal produce! It's also a great one for lunch boxes as it keeps perfectly in the fridge. You really have to try it – you won't be disappointed. If you make my maple roasted sprout salad please let me know by sending me a picture on IG @georgieeatsuk or leaving me a message down below. Keep Smiling!
G x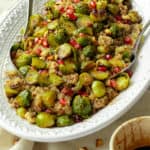 MAPLE ROASTED SPROUT SALAD WITH QUINOA, APPLE, HAZELNUTS & BALSAMIC
This is the festive salad of your dreams! Maple roasted brussel sprouts tossed with nutty quinoa, fresh apple, crunchy toasted hazelnuts and tangy pomegranate all liberally drizzled with a sticky balsamic reduction. The most perfect pretty lunch. Vegan, GF & healthy!
Ingredients
500

g

brussel sprouts

ends trimmed & halved

1

tbsp

olive oil

1

tbsp

maple syrup

100

g

quinoa

rinsed

100

ml

balsamic vinegar

50

g

hazelnuts

1

apple

grated

Small handful pomegranate seeds

Sea salt & freshly ground black pepper
Instructions
Preheat the oven to 180c fan/200c/400f.

Place your brussel sprouts on a lined baking tray and drizzle with the oil, maple syrup and a large pinch of salt and pepper. Give everything a mix then place in the oven to roast for 20-25 minutes turning once half-way through until the sprouts are golden brown and tender.

Meanwhile pour your quinoa into a medium saucepan and cover with 250ml water and a pinch of salt. Bring the pan to a boil before reducing the heat to a simmer. Your quinoa is ready to be removed from the heat once all the water has been absorbed (around 10-15 minutes).

Next make the balsamic reduction. Bring the balsamic vinegar to the boil in a small saucepan. Reduce the heat to low and simmer for 10-15 minutes until it has thickened and will coat the back of a spoon. Remove from the heat and transfer to a jar or small jug to cool

Just before serving heat a frying pan over a medium heat and add the hazelnuts. Dry fry them for 3-4 minutes shaking regularly until golden brown, then give them a rough chop.

To serve, toss together the sprouts, quinoa, grated apple as well as half the hazelnuts and pomegranate seeds. Transfer to a serving dish or divide between plates and top with the remaining nuts and seeds. Drizzle liberally with the balsamic reduction and serve.
Recipe Notes
This salad is perfect warm or cold. To serve cold, allow each component to cool completely before combining together and storing in the fridge. 
Any leftovers can be kept for up to 3 days in the fridge and are perfect for lunch boxes!
A few ingredients notes: 
Big thanks to Aldi for supporting this post!!