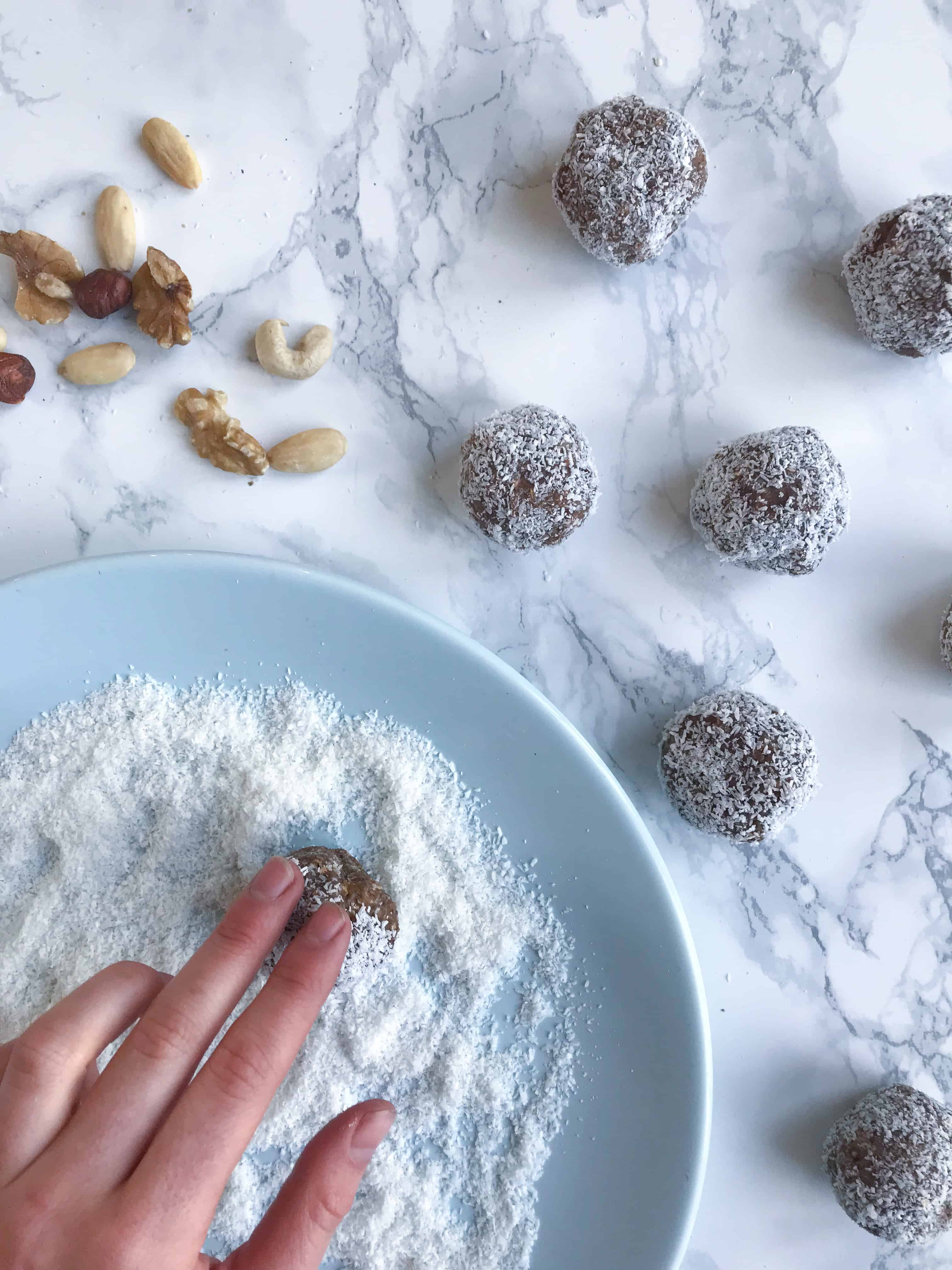 Healthy snacking has FINALLY become mainstream. Although it does come with a price tag. £2 for a tiny energy ball? I don't think so… Especially when they are so easy to make yourself. These are so yummy as well – Bee-ut-iFUL. Also, I have to admit, I am a sucker for a sweet treat and these curb my cravings guilt free!
Let me tell you, these really are the 'ultimate' energy balls. I have tweaked this recipe a lot and I think these are the best ones I have ever tried! Although it can be easily customised to whatever you have at home. I normally just use mixed nuts, because I don't think it actually makes much of a difference to the flavour, plus I like the variety.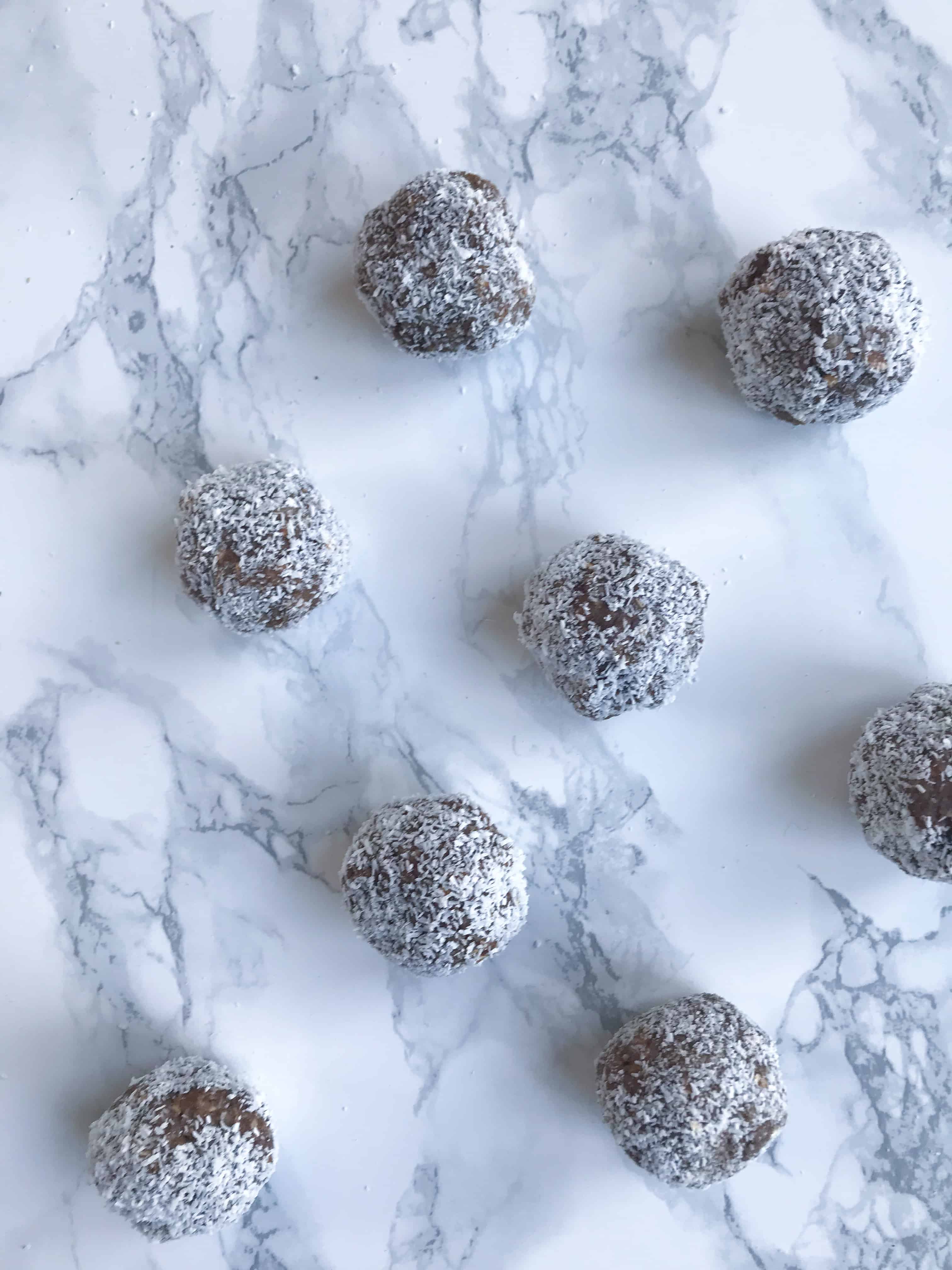 As well as giving a slow release energy kick these are also super good for you. To give you a bit of an idea these are the ingredients:
Dates – Brilliant source of Iron and fibre.
Oats – Regulates blood sugar levels.
Nuts and Seeds – Packed with protein and umpteen diffrent minerals and vitamins depending on which you decide to use.
Vanilla – Inflammatory.
Cinnamon – Antioxidants so strong it acts as a natural preservative.
Desiccated Coconut (unsweetened): Brilliantly high sources of manganese and copper.
These are an all round people pleaser. Even my dad who doesn't particularly do the healthy eating thing enjoyed these stating 'what? and these are good for you?', to which he then continued eating them as if was doing himself a 'favour'. I had to explain it didn't quite work like that….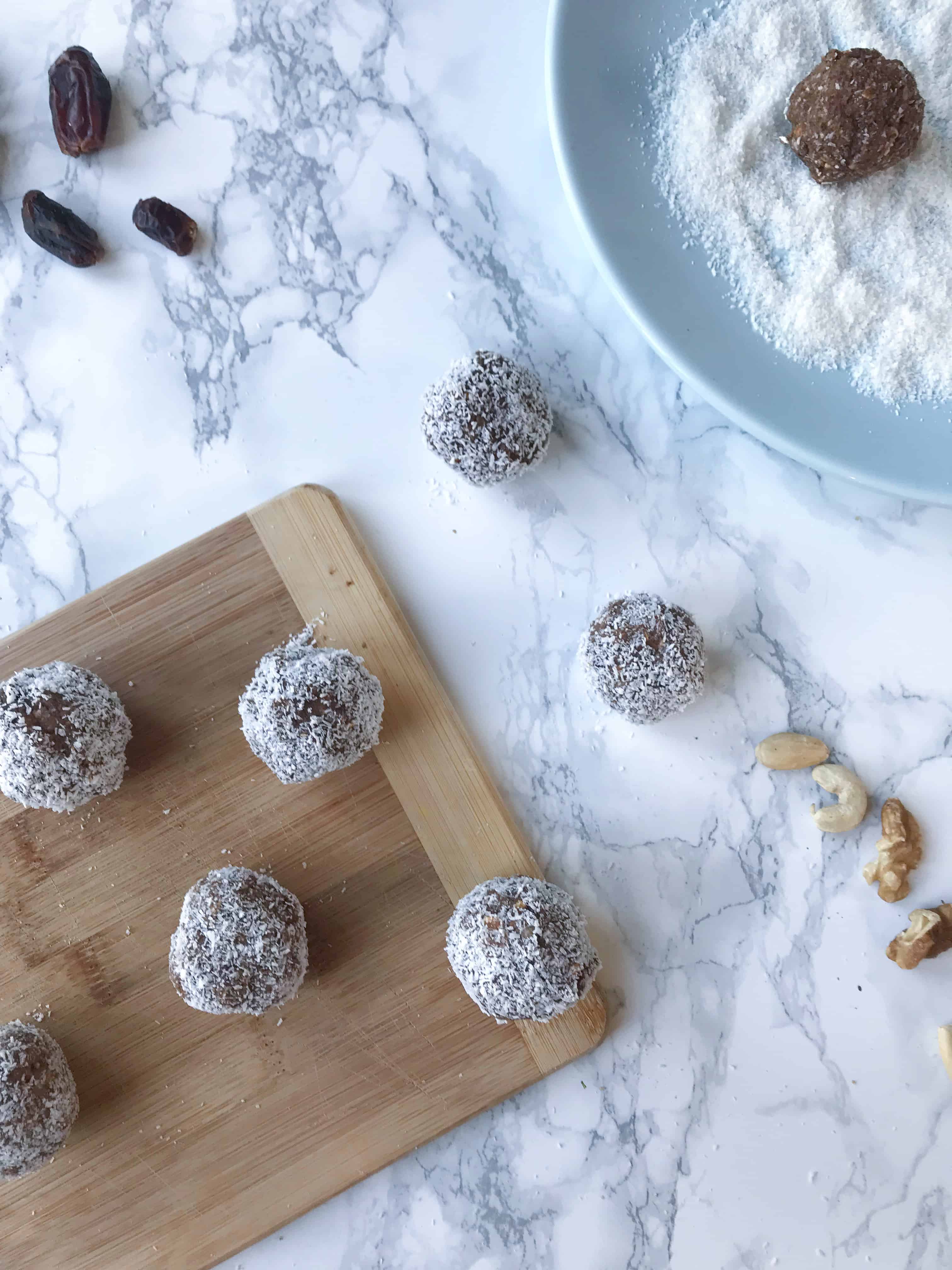 I throughly enjoy one (or two) of these energy balls with a cup of steaming hot tea, or recently have started crushing and sprinkling one over my yogurt and fruit in the morning. Let me know how you like to enjoy yours!!
This makes the perfect quantity for a week of snacking with a few extra for giving to a friend (or just for eating yourself!!)
Hope you are enjoying the posts so far, and please let me know what recipes you would like to see next.
Have a fab day,
Georgie x
THE ULTIMATE DATE, NUT AND COCONUT ENERGY BALLS
The 'ultimate' healthy quick snack, perfect for the mid-morning slump with a hot cuppa.
Ingredients
175

g (1 cup)

Dates

pitted

25

g (1/4 cup)

Rolled Oats

40

g (1/4 cup)

Mixed Seeds

75

g (1/2 cup)

Mixed Nuts

1

tsp

Vanilla Extract

1/2

tsp

Ground Cinnamon

50

g (1/2 cup)

Dessicated Coconut

unsweetened
Instructions
Into a high-speed food processor add the dates, oats, seeds, nuts, vanilla and cinnamon. Pulse until the ingredients are all finely chopped and has formed a crumbly dough like consistency.

Using the palms of your hands, take tablespoons of the date and nut mixture and squeeze and roll into balls.

Empty the desiccated coconut onto a plate. Taking each ball in turn, roll through the desiccated coconut to coat the whole exterior.
Recipe Notes
These can be stored in an airtight container for up-to a week, or in the fridge for up-to two.