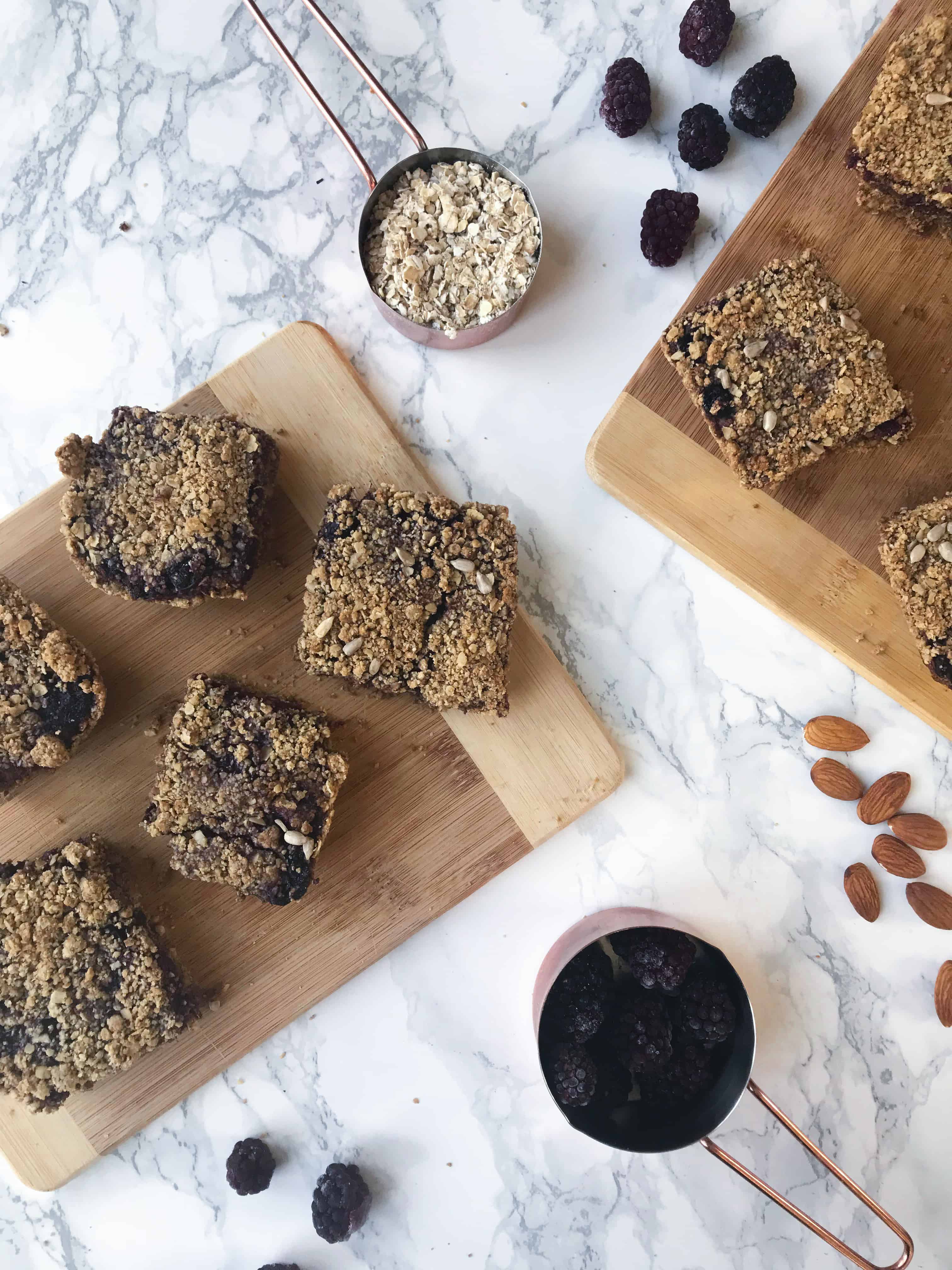 Oh em geeeeee these are just so absolutely freaking delicious and completely addictive. Seriously every time I go to the fridge I find my hand somehow sneaking a piece of these delightful bars. Vegan, nutritious, and without refined sugar these bars are perfect for a run-out-the-door breakfast, or just a quick treat.
I have always been a cereal bar fan, and before I became more educated in health was guilty of eating some of the leading brands on a daily basis believing they were 'good for you'. Sometimes though, I crave that quick fix satisfaction which the cereal bar is so good at. THESE ARE THE ANSWER. Quick to make, ingredients you will have in your cupboards, and just the right amount to keep you going for a whole week. You will turn your nose up at anything begging with a N and a V from now on….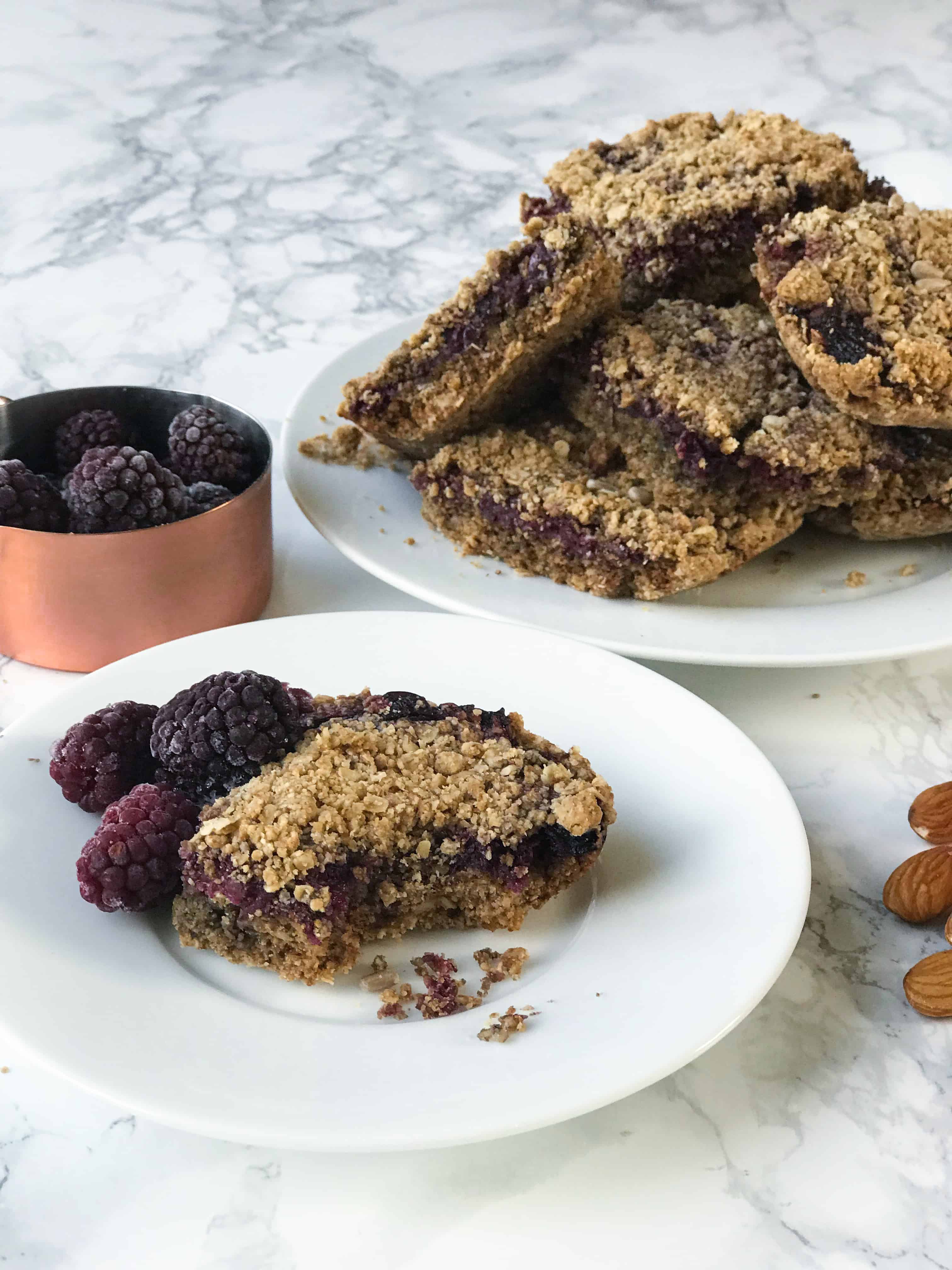 In the recipe I have stated a very vague 'frozen berries' as you can customise this recipe to whatever your favourite is / whatever you have at home. In the pictures here I have used a mixture of blueberries and blackberries – a combination I would HIGHLY recommend.
As these are 'crumble bars' the mixture is… yes you guessed it, quite crumbly. You may think that before you push it into the tin it is never going to stay together, but trust me it does and it also cuts surprisingly nicely too.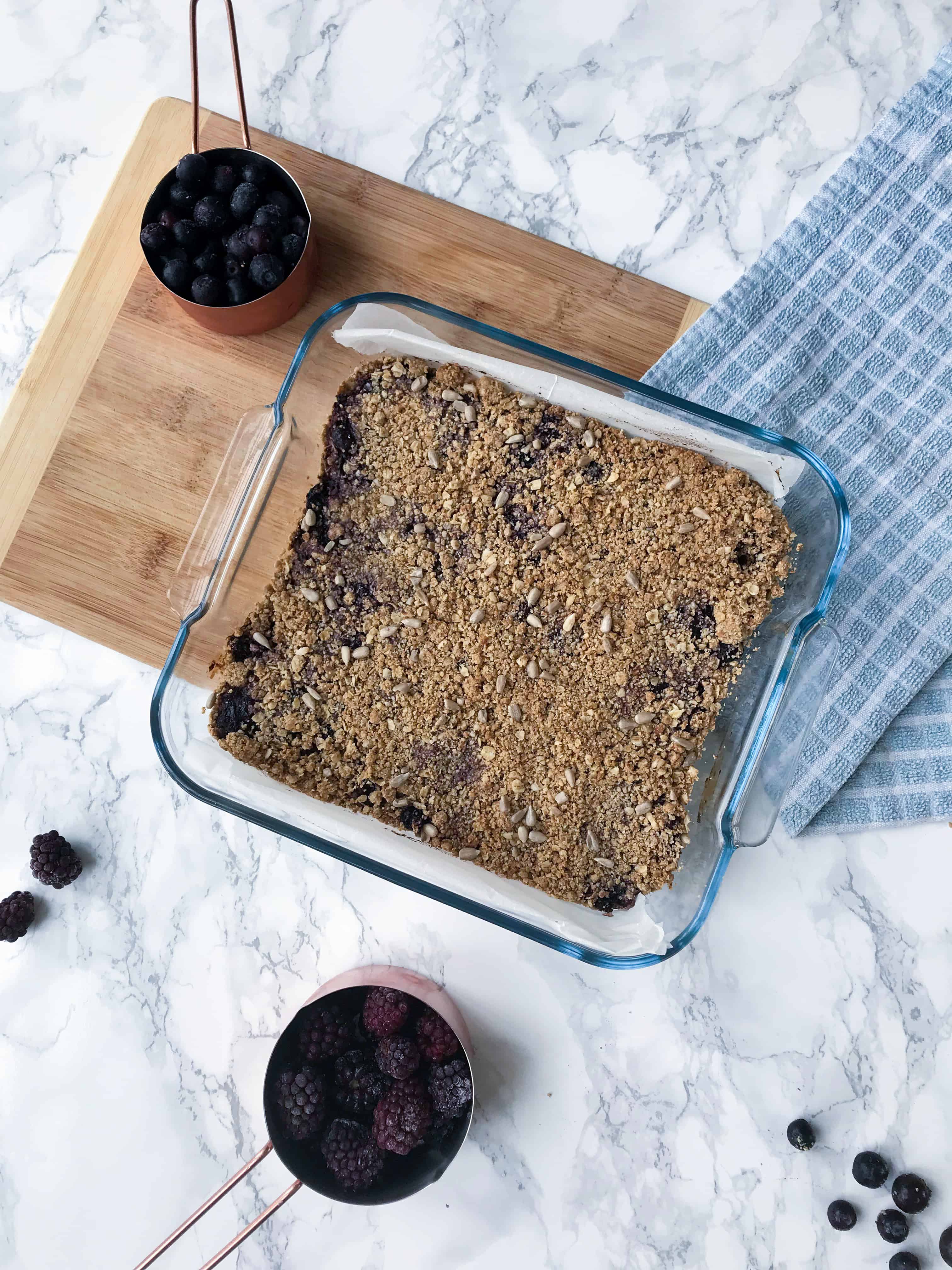 You probably have got the picture that I quite like these bars by now, but every time I put a piece into my mouth I can't help expressing how good they are to the others around me. Its not just me either, everyone I have fed these to has expressed their delight and asked for the recipe.
Which brings me on too….
(But just before, thank you so much for reading, let me know what you think, leave a comment and give it a try – you will thank me later!)
Georgie x
VEGAN OATY BERRY CRUMBLE BARS
These snack bars are SO easy to make and 100x healthier and tastier than anything in the supermarket!
Ingredients
300

g (3 cups)

Rolled Oats

75

g (1/3 cup)

Almond Butter

80

g (1/3 cup + 1 tablespoon)

Coconut Oil

melted

40

g (1/4 cup)

Coconut Sugar

1

tsp

Baking Soda

1

tsp

Vanilla Extract

250

g (2 cups)

Frozen Berries

1

tsp

Maple Syrup

1/2

Lemon

squeezed

1

tbsp

Desiccated Coconut

Pinch

Salt
Instructions
Preheat the oven to 160ºc fan/180ºc/350ºf.

Add the frozen berries into a saucepan along with the lemon juice and the maple syrup and bring to a simmer. Once the berries have released their juices, add the desiccated coconut and simmer for 5 more minutes until the mixture has reduced slightly. Remove from the heat and allow to cool.

Into a food processor, add 2/3 of the oats and blitz into a flour. Add the almond butter, coconut oil, coconut sugar, baking soda and vanilla extract and blend until the mixture resembles breadcrumbs.

Empty the contents of the food processor into a large bowl and add the remaining oats. Stir to combine.

Using the back of a spoon, push 2/3 of the oaty mixture into a lined 8x8 dish to form a base. Add the cooled berry compote on top before spreading on the remaining oat mixture and pushing it gently into the berries.

Bake for 40-50 minutes until the edges have turned golden. Allow to cool completely before cutting into squares and serving.
Recipe Notes
This can be made with any berries you have to hand. I have used frozen as they are more accessible, but feel free to use fresh also - just simmer the compote for less time. 
These beauties can be stored in an air-tight container in the fridge for up to a week.