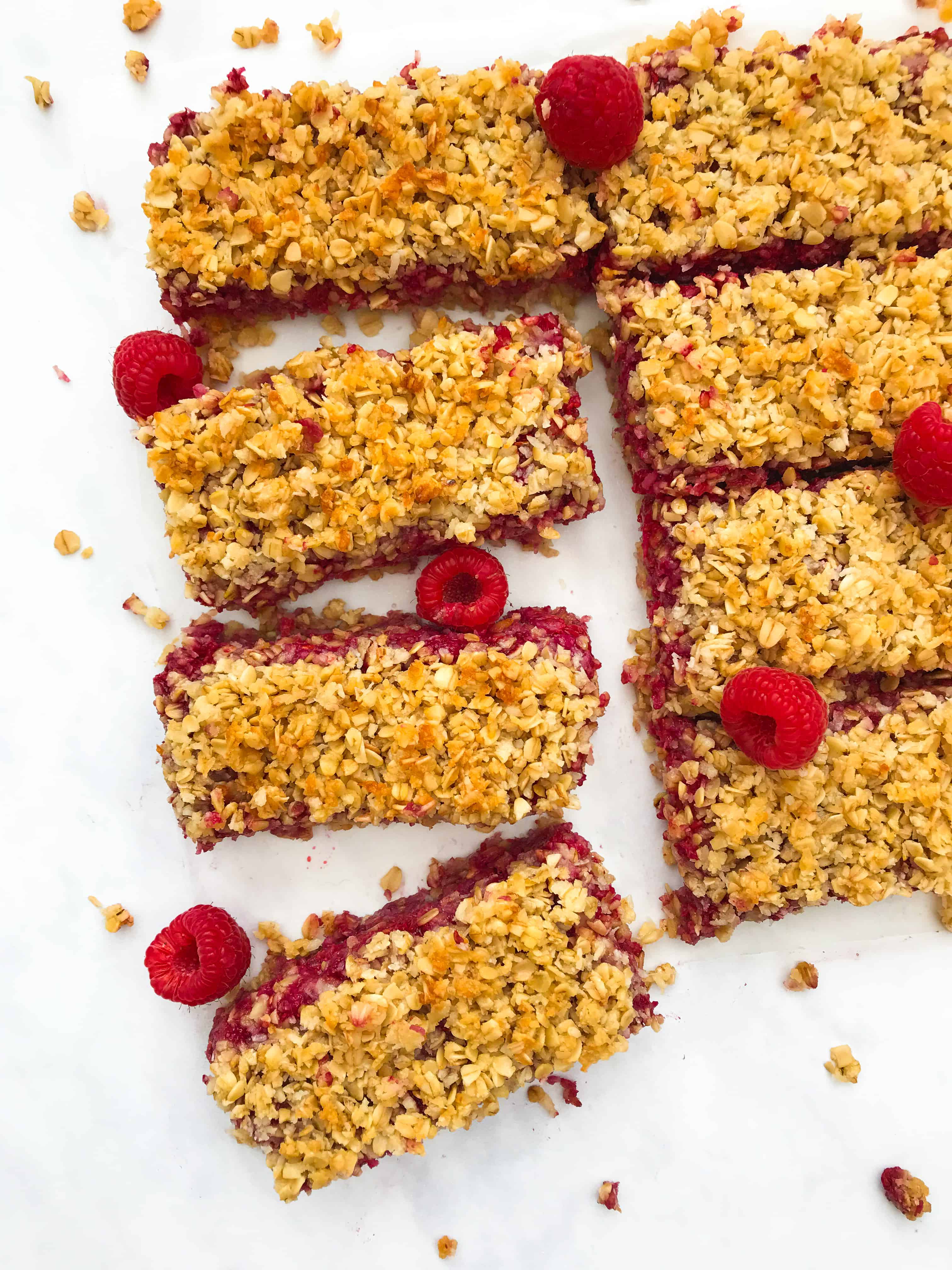 I have unintentionally been teasing you with pictures of these coconut raspberry flapjacks for what seems like months now. The first time I made them they were great, but not quite perfect. The second time I made them they were great, but again, not quite perfect. The third, fourth and fifth time I made them they were great, but just still not quite perfect. After plenty more recipe tweaks and almost pulling my hair out, the perfectionist in me was finally satisfied. So here you are – the recipe which was almost the death of me.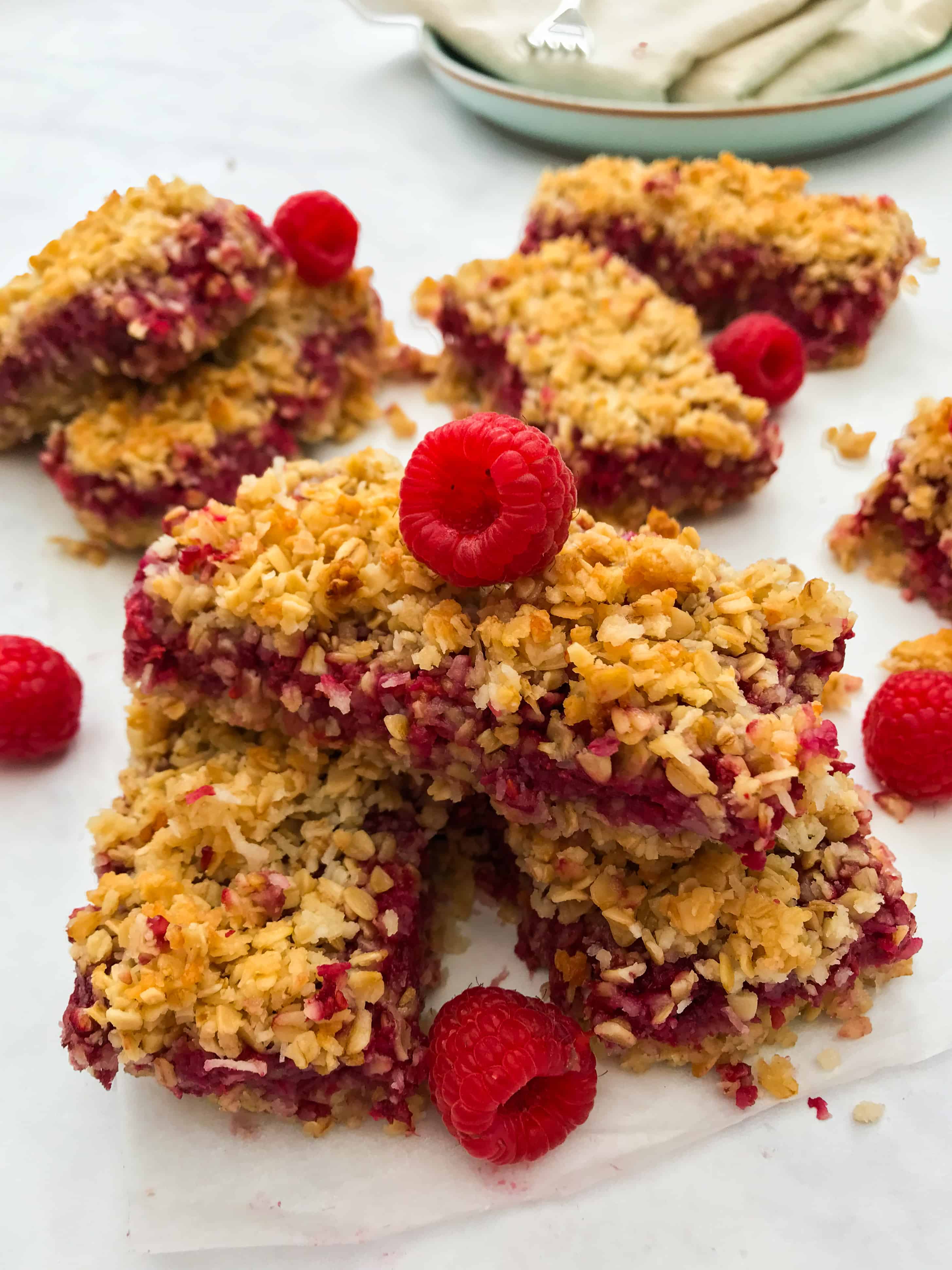 There is something quietly nostalgic about these coconut raspberry flapjacks. Flapjacks were always a school bake sale go-to for my family as they require minimal ingredients and make minimal mess. Although these coconut raspberry flapjacks are slightly more grown up (and a lot more nutritious) than their golden syrup saturated brothers, they are just as easy and even more so of a crowd pleaser. Trust me, I fed these to a lot of people.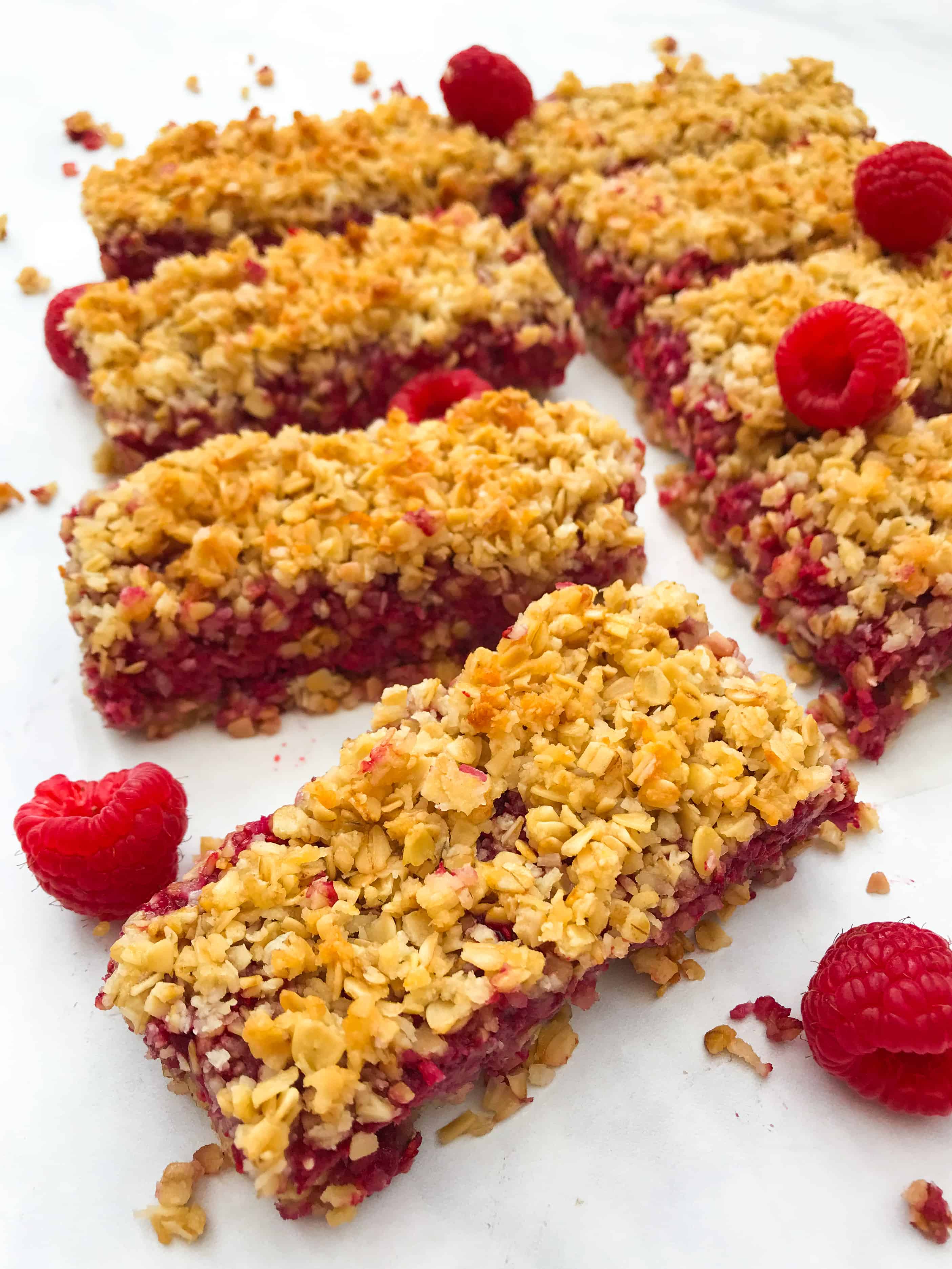 Oats are fabulous things. They are full of fibre (especially beta-glucan) and are a perfect source of energy and complex carbohydrates. They're a brilliant source of manganese, molybdenum, phosphorus, copper, biotin, and vitamin B1 as well as containing a whole host of other nutrients. Oats are also the only source of a unique group of antioxidants called avenanthramides, which studies have shown to have a potential protective effect against heart disease!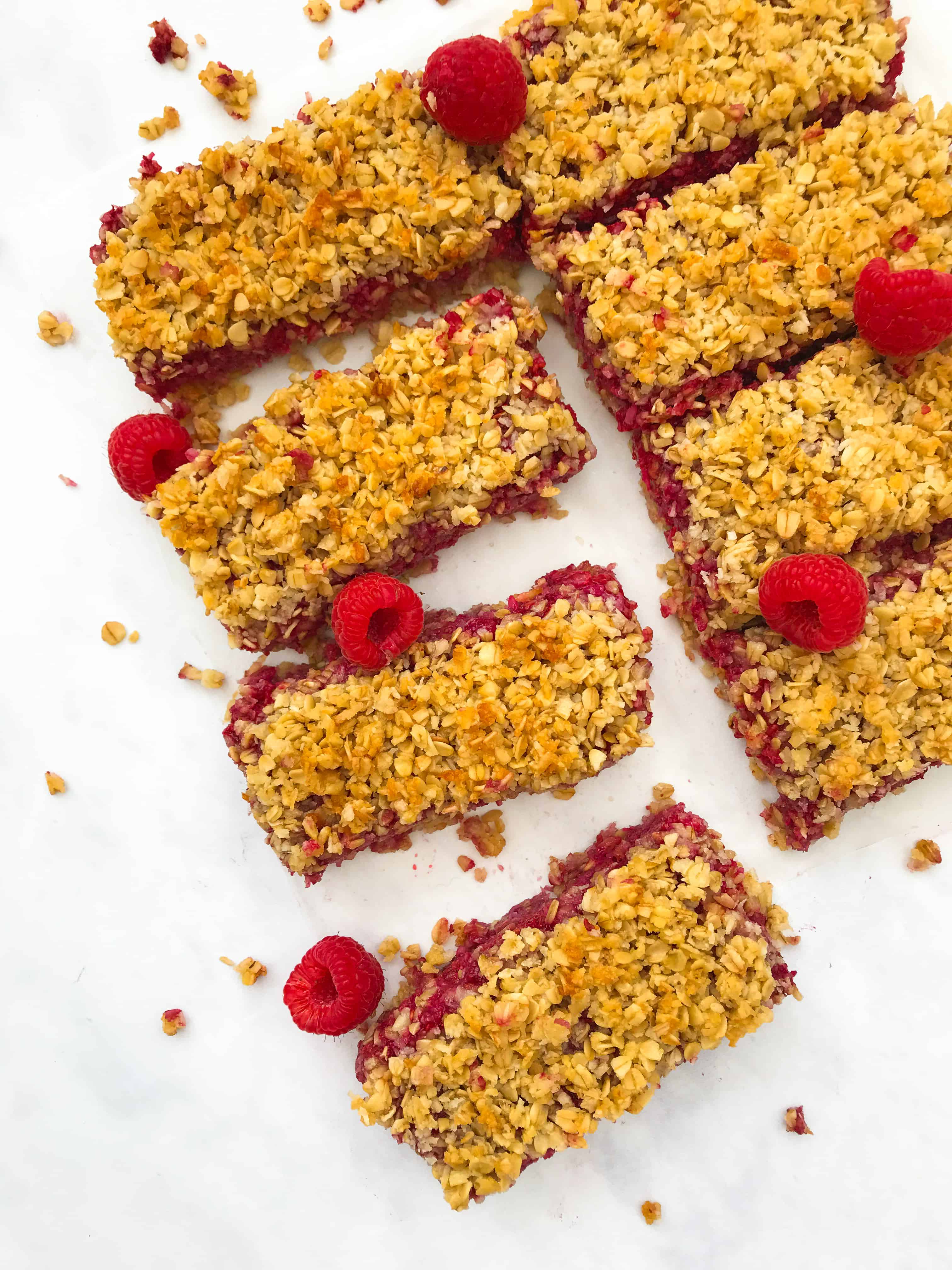 I love to have recipes in my repertoire that I can whip up at a moments notice. These coconut raspberry flapjacks are great because they are made with non-perishable ingredients that you can stock up on for when that sweet tooth hits. I always use frozen berries in baking as they maximise cost efficiency without minimising on taste. Personally I love raspberries in this flapjack recipe, but other frozen berries would work just as well.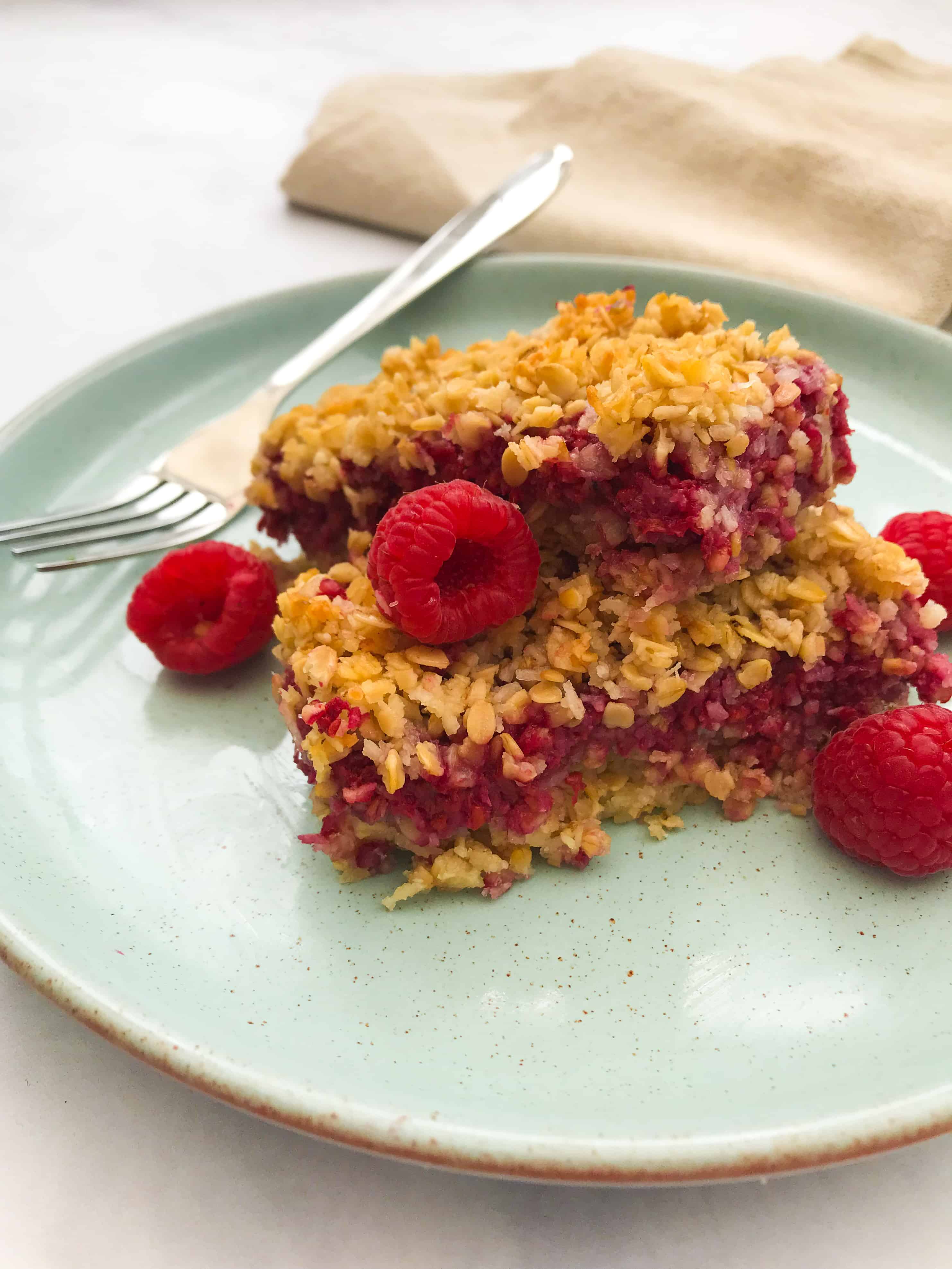 I really hope you love these coconut raspberry flapjacks as much as I do! They are perfect as an afternoon pick me up, for dessert with a scoop of ice cream, as a grab & go breakfast or even crumbled over yoghurt. I really can't help myself when these flapjacks are around, they are utterly delightful. If you make these PLEASE let me know your thoughts by tagging me in a photo on IG @georgieeatsuk, using the #georgieeats, or leaving me a comment down below. Keep smiling everyone.
G x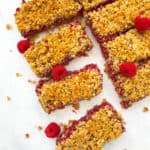 COCONUT & RASPBERRY FLAPJACKS (OAT BARS)
These nutritious coconut and raspberry flapjacks are utterly divine! 7 ingredients, easy to make and will sure bring a smile to anyones face. Perfect as an afternoon treat, for a grab & go breakfast or as a light dessert. Vegan, GF & healthy.
Ingredients
125

g (3/8 cup)

honey / maple syrup

100

g (1/2 cup)

coconut oil

200

g (2.5 cups)

rolled oats

50

g (1/2 cup)

ground almonds

75

g (3/4 cup)

desiccated coconut

Large pinch

sea salt
For Raspberry Filling
200

g (1.5 cups)

frozen raspberries

1

tsp

honey / maple syrup

(optional)
Instructions
Preheat the oven to 180ºc fan/200ºc/390ºf and line a 9x9 inch cake pan or baking dish.

Place the honey/maple syrup and coconut oil into a medium saucepan and stir together over a low heat until melted.

Remove the pan from the heat and add the oats, ground almonds, desiccated coconut and salt. Mix throughly so that everything is combined and evenly coated.

Pour 2/3rds of the oat mixture into the lined baking dish and use the bottom of a glass to push down and compact the mixture into one even layer. Bake in the preheated oven for 5 minutes before removing.

Meanwhile, add the frozen raspberries to a small saucepan over a medium heat. Use a fork to mash the raspberries into a puree as they begin to thaw. Bring the puree to a bubble then remove from the heat. Taste and add the honey/maple syrup if so desired.

Pour the raspberry puree over the top of the part-baked oats and spread it out evenly. Gently add the remaining oat mixture to the top and return to the oven for 15-20 minutes until golden brown.

Allow the flapjacks to cool completely before removing from the baking dish and cutting into 8 rectangles to serve.
Recipe Notes
These flapjacks will keep well in an airtight container for up to 3 days.
For a variation on these coconut raspberry flapjacks why not try using the same amount of frozen blueberries, strawberries or blackberries.
Gluten-Free: Assure that your oats are certified gluten-free.
Vegan: Use maple syrup rather than honey.
A few ingredient notes:
If you are a fan of these flapjacks you are sure to love my toasted nut granola bars too! They are full of chewy oaty goodness.