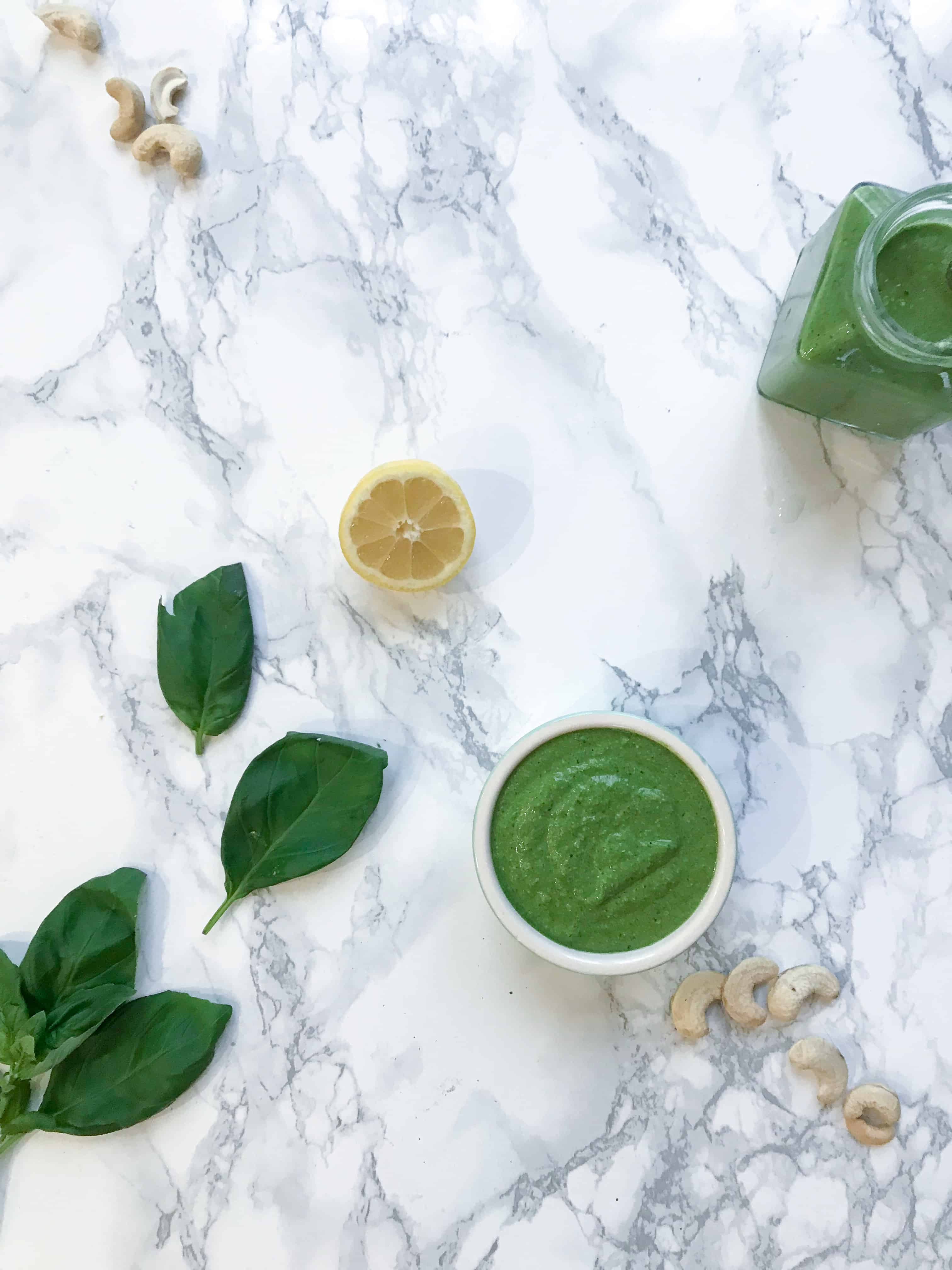 Hello! So, as the first recipe EVER on 'Georgie Eats' I thought it would be good to start with the most basic of basics – pesto. The most versatile and delicious sauce which gives even the blandest food a flavour kick up the butt.
If you think making your own pesto is a waste of time or is unnecessary, I can tell you IT IS NOT! It's not even fair to compare this to the jarred stuff as really, it just puts it to shame. You can make this in less than 2 minutes and it can be customised to whatever you have lying around in the kitchen – although i wouldn't omit the basil, as, well its not really pesto then is it…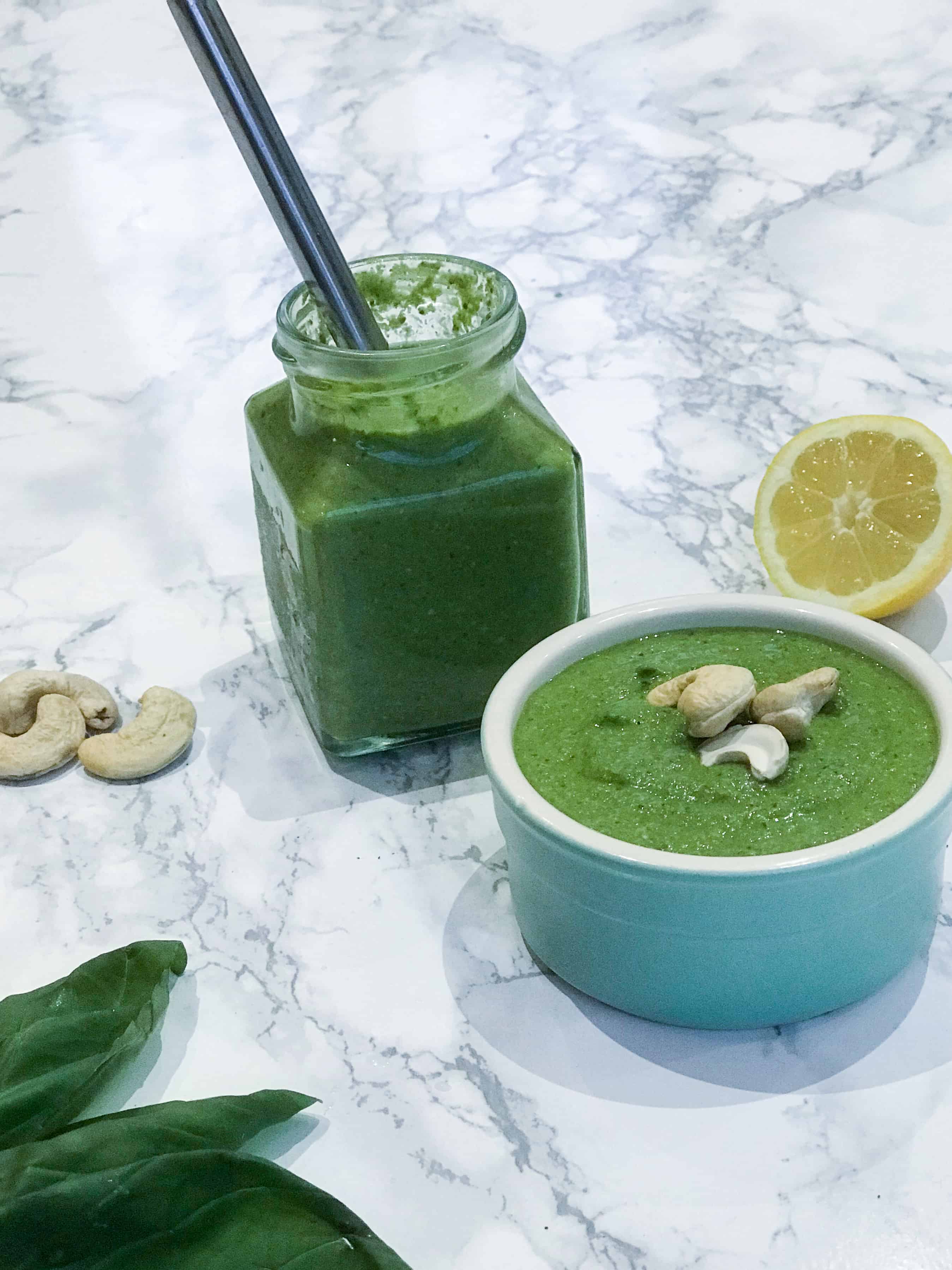 Traditionally pesto is made with pine nuts, although I find these a little oily so have used cashew nuts instead – but any neutral nut will work here. I have also left out the parmesan cheese to keep this vegan and slightly healthier. Im a HUGE spinach fan, so I basically put it in anything I possibly can for that extra boost of greens. It works great here as it bulks the pesto out without losing that traditional flavour everyone knows and loves.
As I said before, this basically is fab with anything. I love it on roasted veggies (recipe coming soon!) to add a bit more interest, or of course mixed into a big bowl of steaming hot pasta for the most satisfying, yet healthy, comfort food around.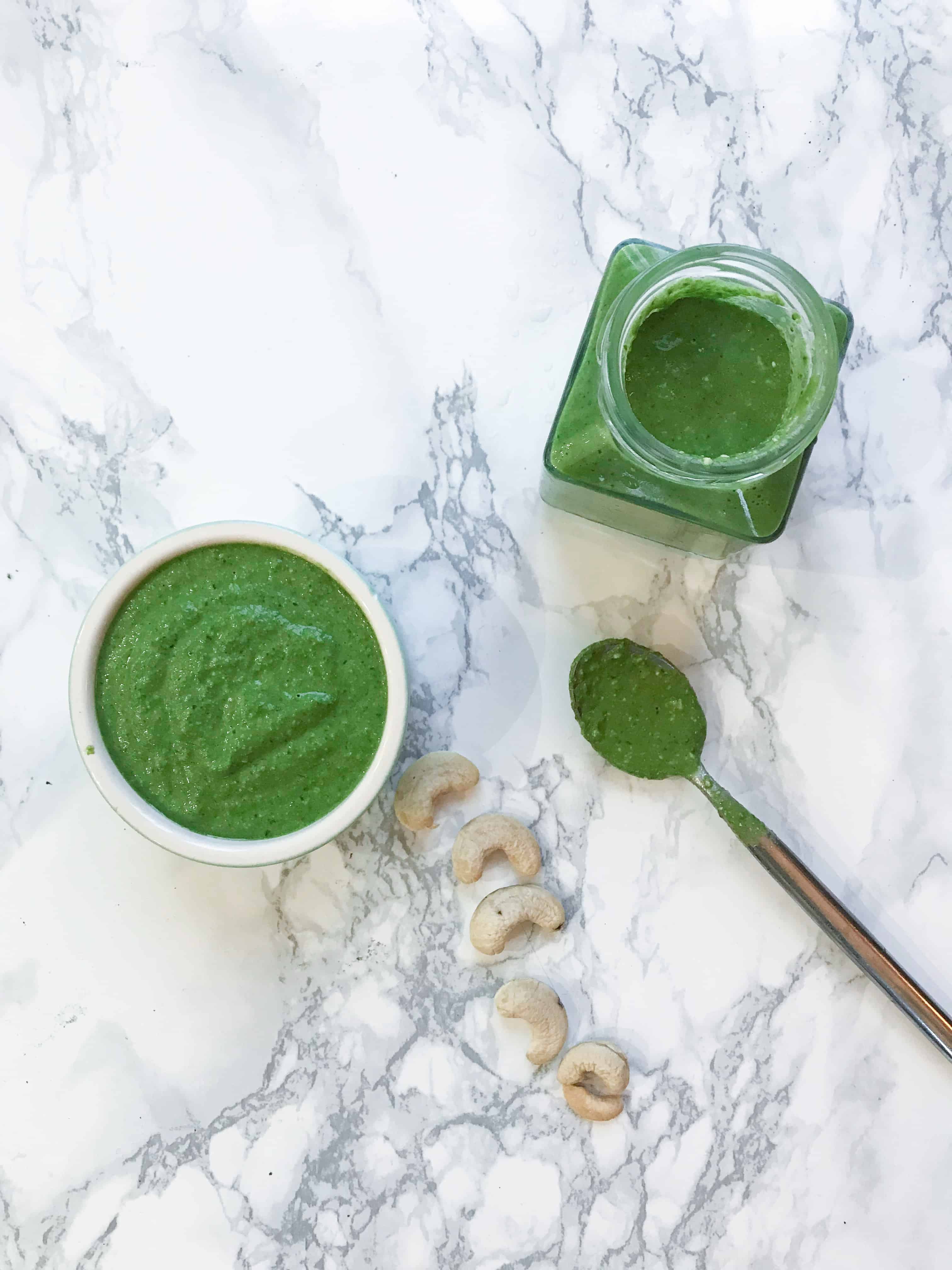 So now without further ado, the first of many recipes:
SPINACH AND BASIL PESTO
The ONLY pesto recipe you need AND it couldn't be simpler.
Ingredients
30

g

Basil

(one pack)

50

g

Spinach

(two handfuls)

30

g

Cashew Nuts

3

tbsp

Extra Virgin Olive Oil

1

Garlic Clove

peeled and crushed

1/2

Juice of a Lemon

Pinch

Salt

1

tbsp

Water
Instructions
If using a blender - Pulse the cashew nuts a few times to roughly crush them before adding the rest of the ingredients and blending until smooth. If the mixture is too thick, add more water a teaspoon at a time until it has reached your desired constancy.

If making by hand - Finely slice the basil and spinach. In a pestle and mortar crush the cashews, garlic and salt with the olive oil and lemon juice. Add in the basil and spinach along with the water and continue to crush until you reach your desired constancy.
Recipe Notes
If you don't finish all of this off straight away (shock horror!) it can be stored in a glass jar in the fridge for up to three days.