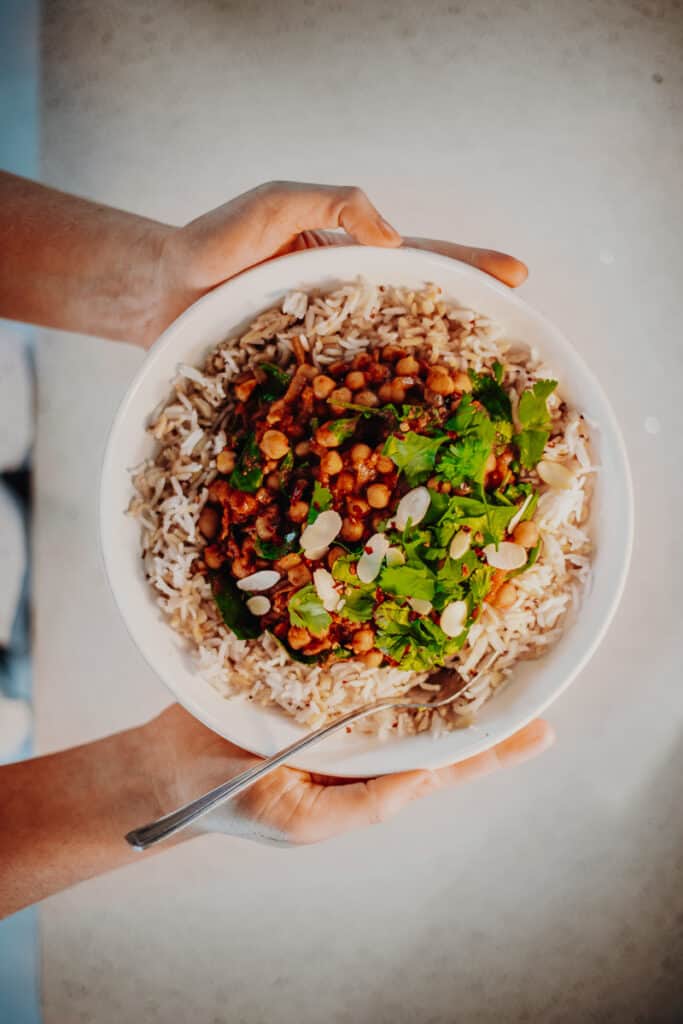 This is a dish for the days that you just cannot be ARSED. My 20-minute quick chickpea curry is a fail-safe recipe that tastes sublime and will save you in times of culinary need. It's made mostly from store-cupboard ingredients, so is perfect for days when, heaven forbid, the fridge is empty. Have it with rice, on a steaming hot jacket potato or even over crusty sourdough toast. It's easy, versatile and totally nourishing.
This quick chickpea curry will feed two people but can be easily doubled if needed. It is perfect to meal prep and will keep in the fridge for 3 days, or in the freezer for 3 months. It's one of those delightful recipes which tastes even better the next day after the spices have had time to mingle and infuse. Reheat over the stove til piping hot, spruce up with some fresh herbs and serve any way you wish.
HOW QUICK IS THIS QUICK CHICKPEA CURRY?
I have mastered how to make this quick chickpea curry in just 20 minutes flat. It takes a little multi-tasking and a few time-saving hacks but is more than possible. Here's the strategy; minute by minute:
MINUTE 1: Heat the oil in a pan. Get out your chopping board, knife and onion.
MINUTE 2: Whilst the pan is heating up, thinly chop the onion.
MINUTE 4: Add the onion to the pan. Then, find all the other ingredients, combine the spice mix in a small bowl and drain and rinse the chickpeas, stirring the onion occasionally as you go.
MINUTE 9: Remove the skin from both the ginger and garlic cloves and grate them into the onion. If you are serving this quick chickpea curry with rice, put it on now!
MINUTE 11: Add the spice mix into the pan and stir well.
MINUTE 12: Pour in the chickpeas, tinned tomatoes, honey/maple syrup, water (top tip: 100ml is roughly a 1/3 of an empty can) and salt & pepper. Stir well and bring the pan to the boil.
MINUTE 14: Lower the heat and bubble gently until the chickpeas are tender and the sauce is rich and thick. Meanwhile, you can roughly chop the coriander.
MINUTE 20: Spoon the curry between bowls, top with the fresh coriander and enjoy!
TA-DA!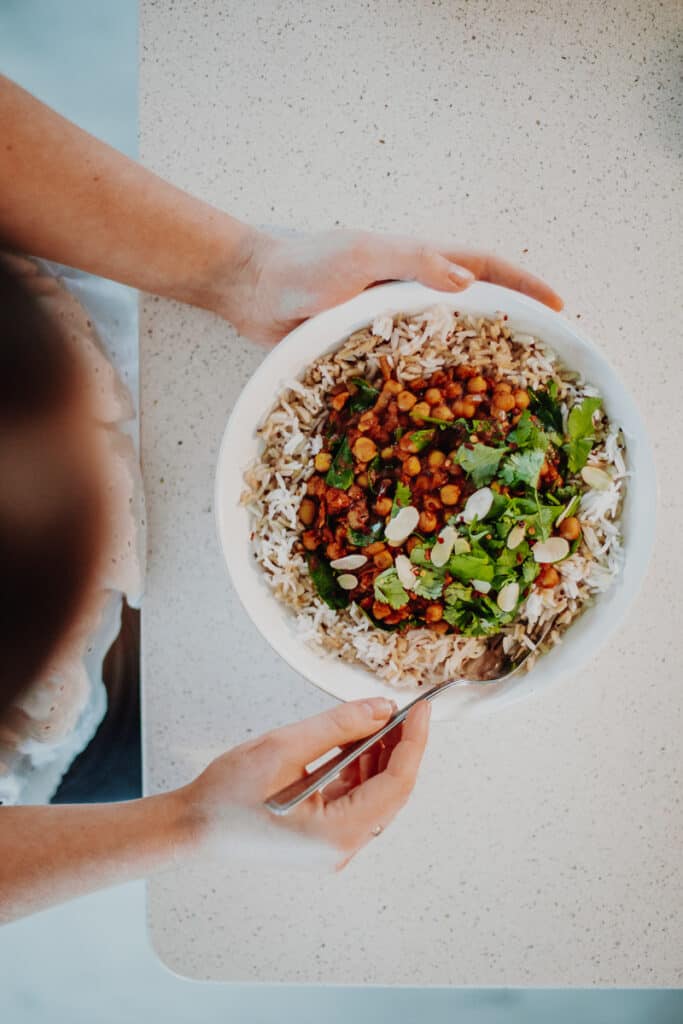 No one understands more than I that when you are hungry hangry every minute counts. It's great to have some uber fast nutritious recipes up your sleeve and this is certainly one of my favourites! I hope you love it as much as I do.
If you make this quick chickpea curry, please tag me in your pictures on IG @georgieeatsuk, use the #georgieeats, or leave me a comment down below. Keep Smiling!
G x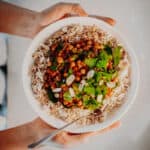 QUICK CHICKPEA CURRY
Tender chickpeas in a rich, beautifully spiced tomato sauce. It's the perfect weeknight dinner that can be whipped up in 20 minutes flat! Vegan, GF & healthy.
Ingredients
1

tbsp

coconut oil

1

onion

finely chopped

2

cloves

garlic

grated

½

tbsp

ginger

grated

1

400g can

chickpeas

drained & rinsed

1

400g can

chopped tomatoes

1

tbsp

maple syrup/honey

Sea salt & freshly ground black pepper
Spice Mix
2

tsp

garam masala

1/2

tsp

chilli flakes

1/2

tsp

ground coriander

1/2

tsp

cumin

1

tsp

ground cinnamon

1

tsp

turmeric
To Serve
Fresh coriander

roughly chopped
Instructions
Warm a large frying pan over medium heat. Add the oil and once hot, the onion. Fry for 5-8 minutes, until soft and translucent. Add the grated garlic and ginger into the pan, along with the spice mix and fry for another minute or so, stirring constantly, until the spices release their aromas.

Add the chickpeas, tinned tomatoes, honey/maple syrup, 100ml of water, 1 tsp sea salt and generous amounts of black pepper into the pan and stir to combine. Bring everything to a boil, then reduce the heat to a simmer and let the pan bubble gently for 5-8 minutes, stirring regularly, until the sauce has reduced and is thick and rich.

Serve ladled over fluffy rice and sprinkled with fresh coriander.
Recipe Notes
This chickpea curry recipe can be easily doubled and will keep well in the fridge for up to 3 days. Reheat over the stove until piping hot.
This recipe would also be delicious made with other pulses such as butter beans, canellini beans or mixed beans.
Vegan: Use maple syrup rather than honey.
A few ingredient notes:
Use the best quality tinned tomatoes you can. Because this is such a simple recipe, every ingredient matters! Using good quality tinned tomatoes really does make a huge difference in the flavour and richness of this curry.
If you can find it, try to use raw honey as it is less processed. If using maple syrup make sure it is 100% maple syrup and not maple 'flavoured' syrup.
If you love curries, why not try my Roasted Cauliflower Curry too – it's divine!