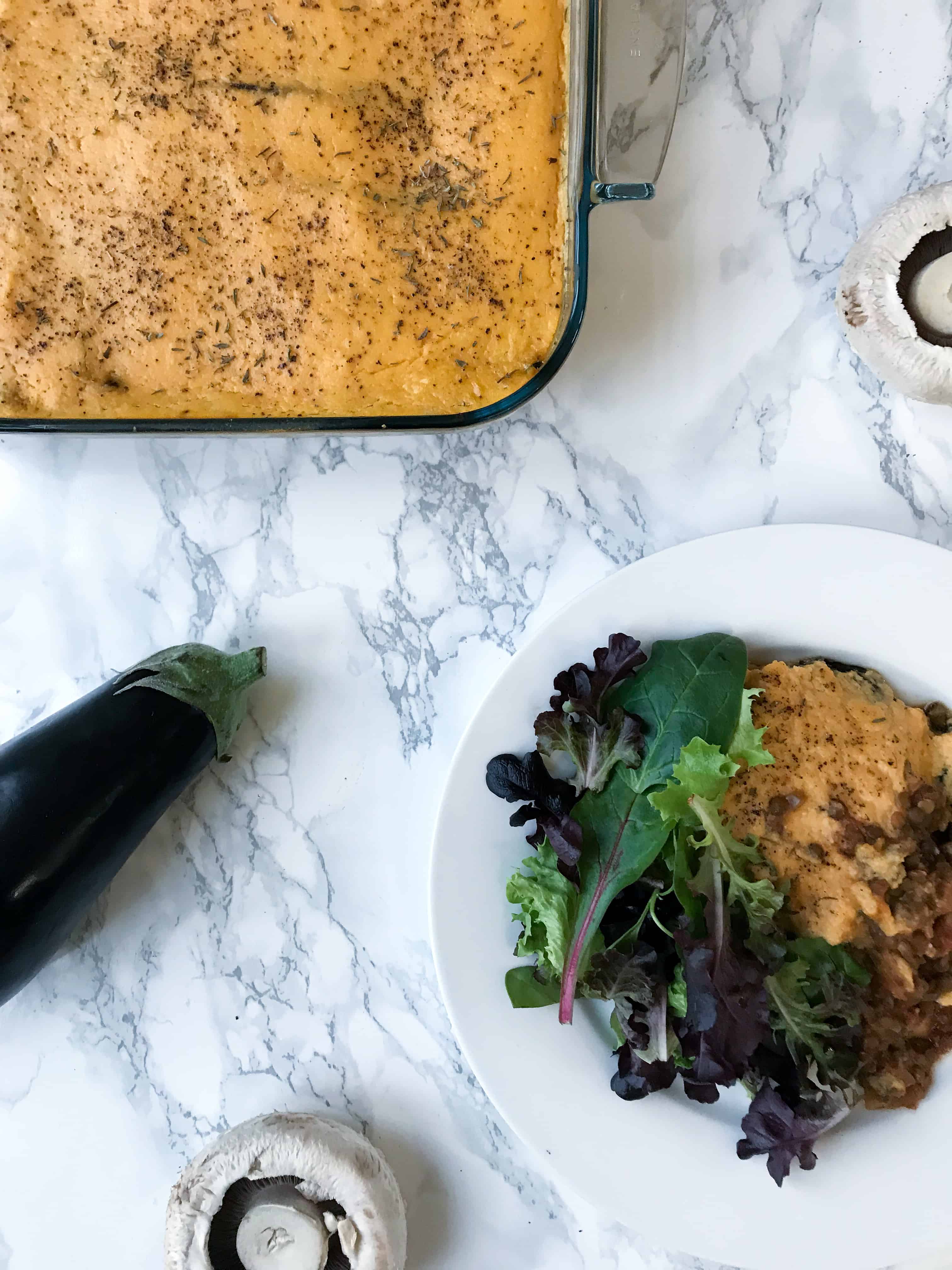 Woah, woah, woah, have I  just created the best healthy comfort food recipe ever? Maybe, yes. Made with puy lentils, vegetable 'pasta' and a LIFE CHANGING butternut squash béchamel this nutritious vegan lasagne brings you all the taste with none of the guilt.
Lasagne is delicious, there is no denying it. Its a dish that never fails to remind me of my childhood and I love it for that, although nowadays it is my stomachs worst nightmare and even one bite would badly effect it, not to mention the saturated fat, the refined white carbs etc etc…
Get the picture? So I made it my mission to create a gluten-free lasagne that is healthy as well as delicious and thought while I was at it, why not make it vegan as well? This is what I came up with!
I'm a lentil lover, so there was no question that it had to be a lentil ragu / bolognese – this one is really rich and full of flavour. The balsamic vinegar adds a layer of savoury depth that I think works as a great contrast to the sweet butternut on top. This lentil ragu is so versatile and can be used in place of anywhere you would need a regular ragu / bolognese. It would be fantastic on top of buckwheat pasta, stuffed into peppers or on a baked potato.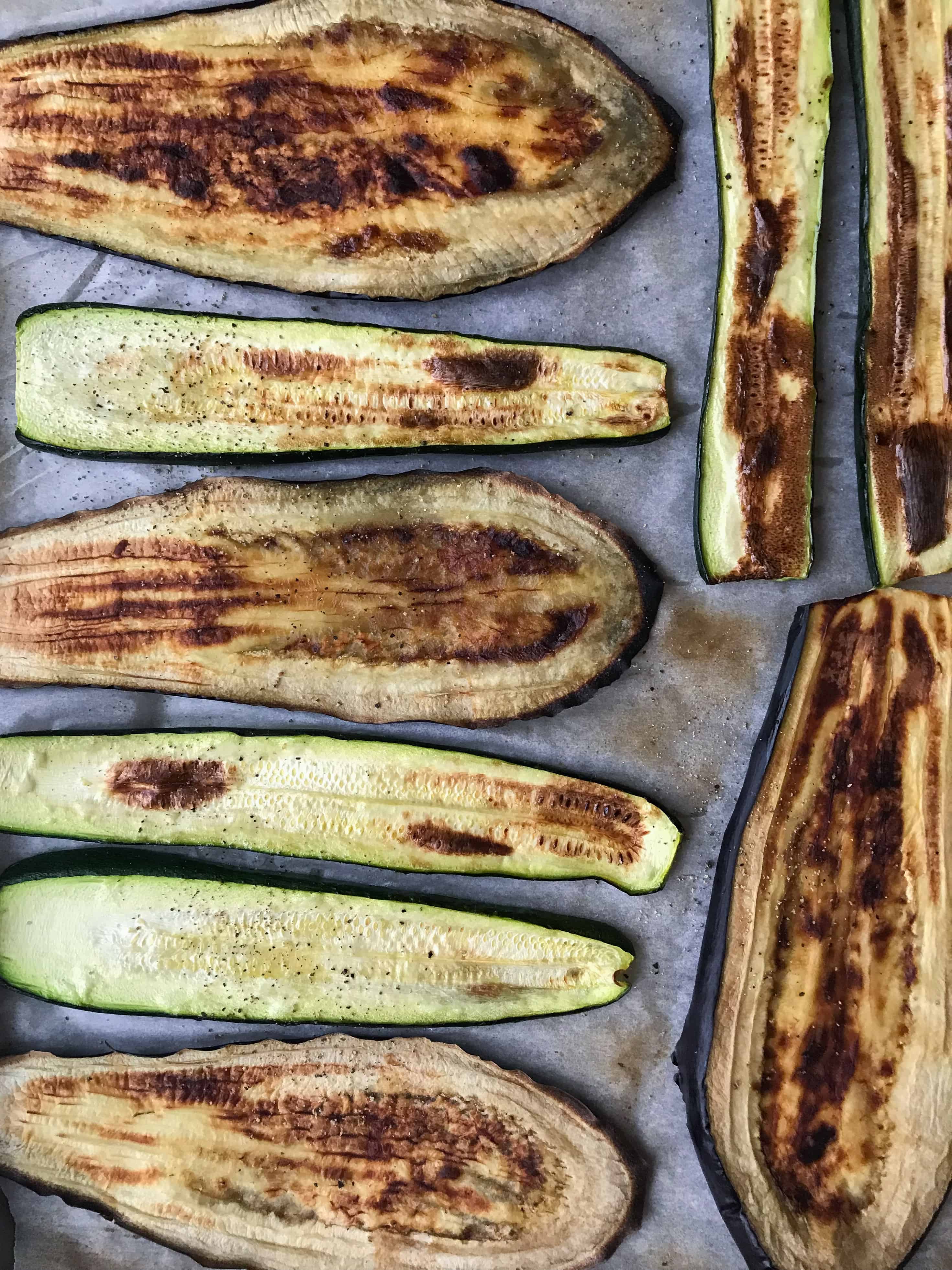 For the 'pasta'… You could just use GF lasagne sheets, but I wanted to make this as healthy as possible and I am always a little weary of white GF pasta and its strange luminous colour – so the answer? Vegetables of course! Aubergine and Courgette to be specific. They work perfectly here as they hold their shape and keep the layers defined and sturdy. Then to finish? Butternut béchamel sauce. Because lasagne just isn't lasagne without something creamy and delicious on top, and this is the perfect vegan alternative to the traditional white cheesy sauce.
I always remember my sister buying the lasagne box mixes when she was at university and raving about how easy and tasty her new discovery was as she fed it to us every time it was her turn to cook.  She even use to experiment with the flavours – we had it with tinned tuna instead of mince once. Very 'student life'.
This is a long way from that, and I have to say (in my opinion) better! It doesn't leave you with that horrible bloated 'junk food' stomach and helps you well on your way to getting your 5-a-day.
I was thinking the other day about how when I was younger I would sometimes get through a day without eating any fruit or vegetables. I'm not sure how I let that happen, but it seems utterly crazy to me now – I struggle to think of the last time I had a meal without them. Anyway, if you are in need of getting a few extra minerals and vitamins this would be a great recipe for you!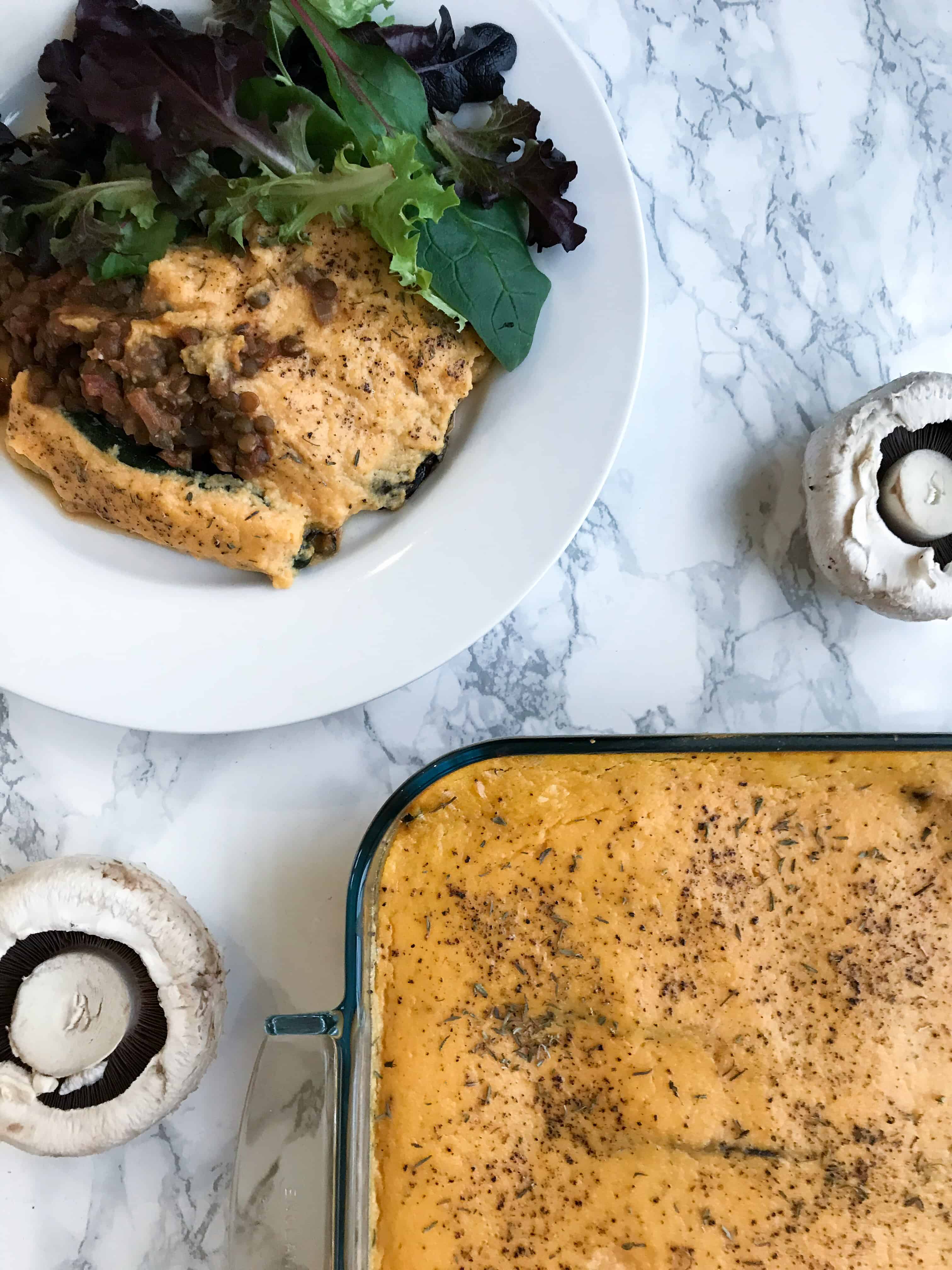 Ironically I am writing all of this sitting next to my boyfriend who is eating pecan pie and ice-cream. Sadly he doesn't share the same love of healthy food that I do, although I am slowly but surely converting him…
On that note i will sign off here. If you try this out, please let me know what you think! I would love to hear from you.
G x
VEGAN PUY LENTIL VEGETABLE LASAGNE WITH BUTTERNUT SQUASH BÉCHAMEL
All the taste without any of the guilt!! Vegan comfort food at its best.
Ingredients
Lentil Ragu
1

large

White Onion

finely diced

1

large

Carrot

finely diced

2

cloves

Garlic

crushed

1

tsp

Dried Thyme

1

large

Flat Mushroom

diced

1

tbsp

Tomato Puree

250

g (1 1/4 cups)

Puy Lentils

1

tin

Chopped Tomatoes

500

ml

Vegetable Stock

1

tbsp

Balsamic Vinegar

Salt and Pepper

to taste
'Pasta'
1

large

Aurbergine

2

large

Courgettes

2

tsp

Coconut Oil
Butternut Béchamel
500

g (3 cups)

Butternut Squash

peeled and cubed

250

ml

Nut Milk

75

g (1/2 cup)

Cashews

1

tsp

Salt

1

tsp

Freshly Ground Black Pepper
To Finish
Freshly Ground Black Pepper

1

tsp

Dried Thyme
Instructions
In a large saucepan or dutch oven soften the onion and carrot on a medium heat with a splash of water for 5-7 minutes until the onions have become translucent. Add in the garlic, thyme, mushroom and tomato puree and cook for another 2 minutes, making sure to stir the mixture well so that the tomato puree coats all the onions and carrots.

Into the same pan, add the lentils, stock and tinned tomatoes. Stir well and bring to the boil. Turn down the heat and simmer for 30-35 minutes or until the lentils are very soft and the ragu has thickened.

Once the lentils are soft remove the ragu from the heat and stir in the balsamic vinegar. Season to taste with salt and pepper.

While the ragu is simmering, preheat the grill to a high heat. Slice the aubergine and courgettes longways into 3mm slices to resemble sheets of lasagne. Divide the slices onto two lined baking trays and brush both sides with coconut oil. Grill for 3-4 minutes each side until golden brown.

To make the butternut béchamel, first bring a pan of water to the boil. Add the cubes of squash and simmer for 20 minutes (or steam for 30 minutes) until soft. Remove from the heat and drain.

Into a blender add the butternut, nut milk, cashew nuts, salt and black pepper. Blend until smooth before tasting to adjust seasoning if needed.

Preheat the oven to 170°c fan/190°c/380°f.

To assemble the lasagne, evenly spread half of the lentil ragu into the bottom of a 12in x 12in dish, before laying half of the aubergine and courgette sheets into a even layer over the top - just like you would with pasta sheets. Repeat this step with the other half of the ragu and vegetables to create four layers. To finish, carefully spread the butternut squash béchamel over the top of the vegetables before sprinkling over the black pepper and thyme.

Bake in the preheated oven for 25-30 minutes until the edges start to turn golden brown.
Recipe Notes
I love this simply served with a salad of mixed leaves. 
Any left overs can be stored in the fridge for up to 5 days. 
To make ahead - assemble the lasagne, cover and keep in the fridge. When ready to use follow the baking instructions in step 9 as usual.