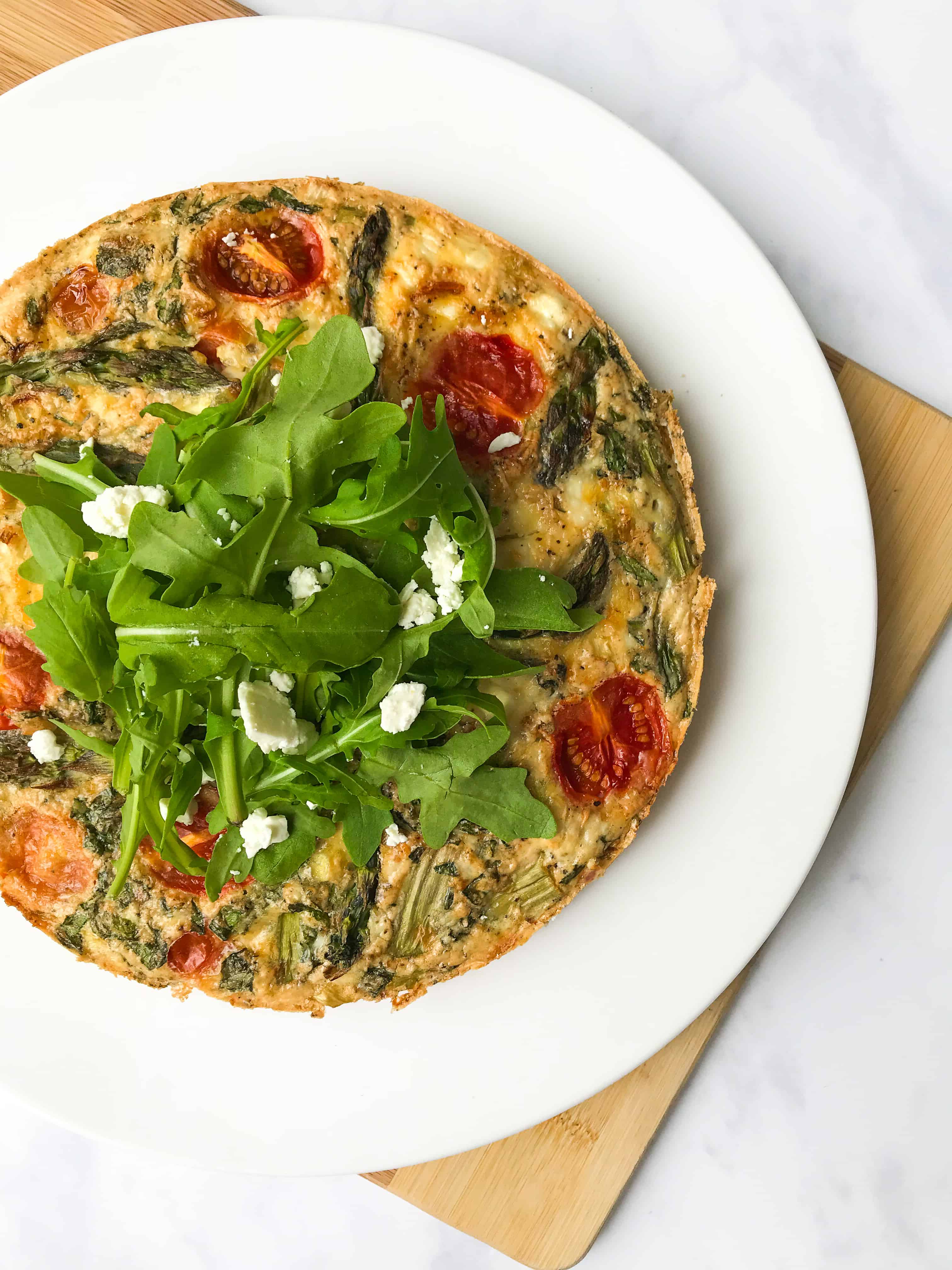 Recently I have comedown with a serious case of frittata-monia. Every week I seem to use up all my leftover veg to create a pan of deliciousness – ideal for a relaxed summers lunch. My roasted tomato frittata is quite special in not only being scrumptious, but also a god send in reducing food waste. The woody asparagus and salty feta perfectly combine with the sweet roasted tomatoes to create a cumulative flavour nearing perfection.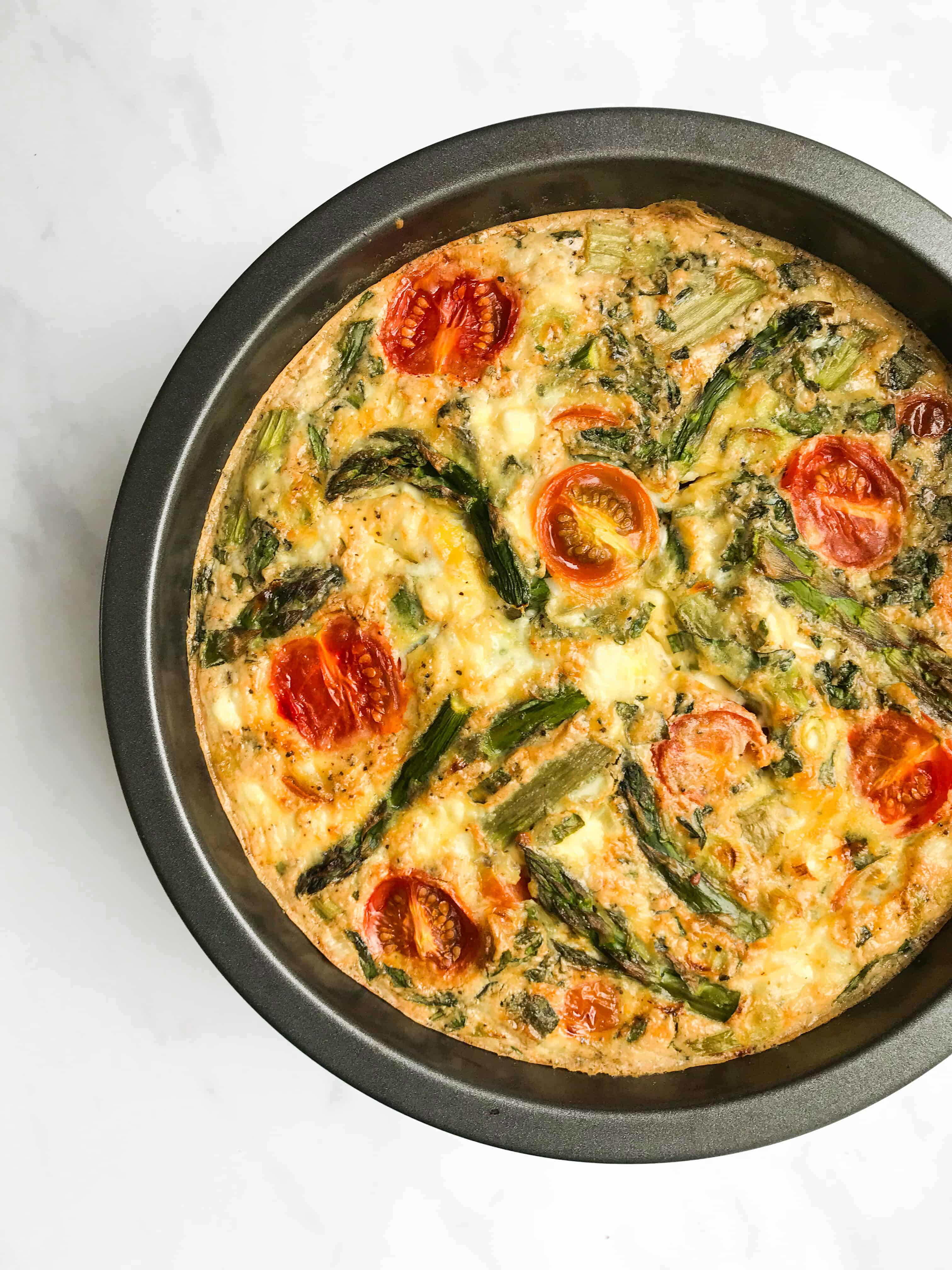 Frittata is retrospectively a glorified omelette. It originates from Italy where grandmothers would throw together whatever they had in order to create a quick lunch or a vino hangover saviour. The word frittata loosely translates as mess or even as someone who is a little nuts although I like to think of my roasted tomato frittata as a slightly classier than that…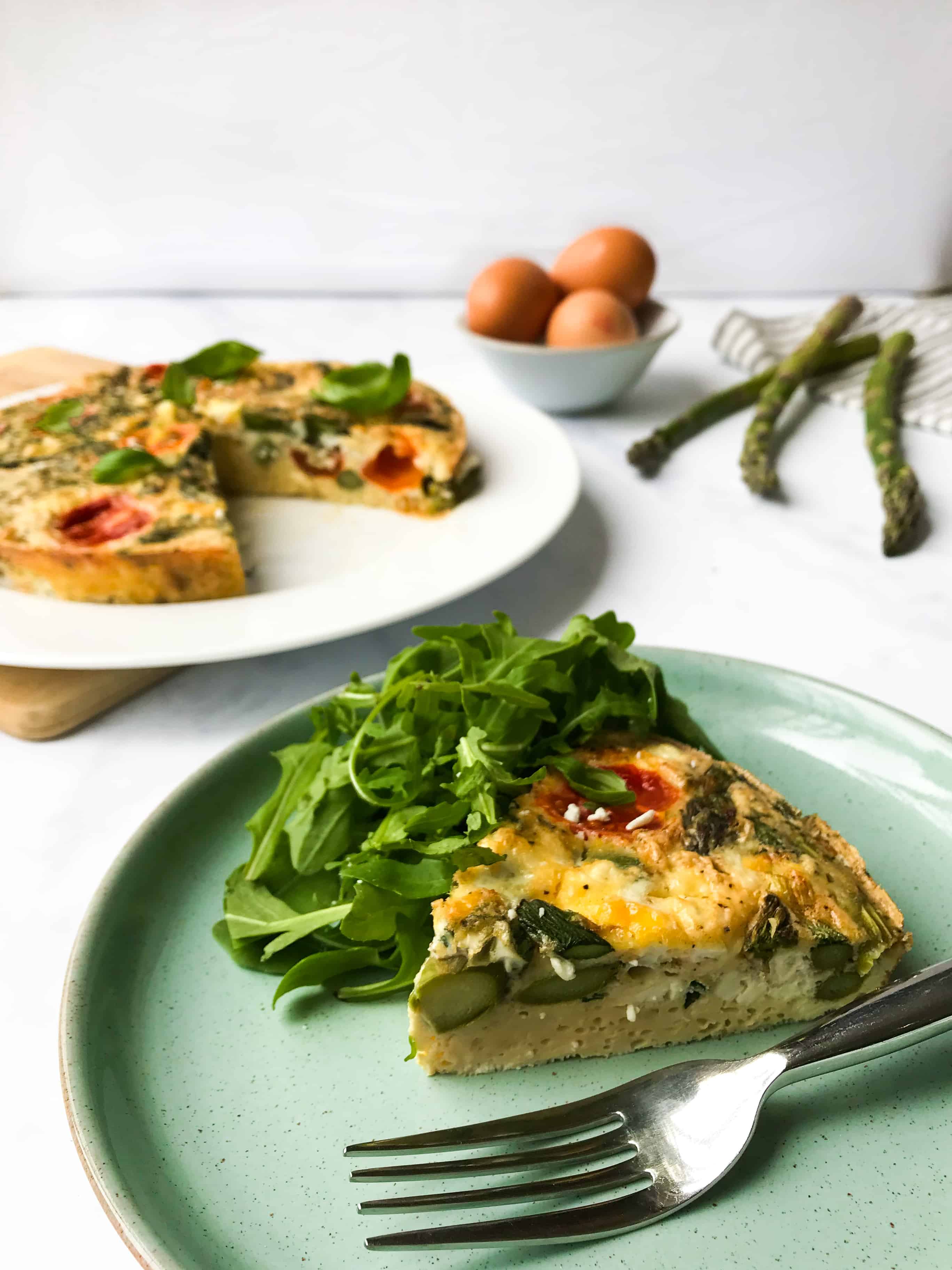 It is no secret that eggs are really good for you. My roasted tomato frittata recipe calls for both the yolk and the white of the egg, both of which have cracking nutritional benefits. Egg whites are rich in protein, vitamin B2, selenium and vitamin D along with minerals such as iron, zinc and copper. Yolks on the other hand are a brilliant source of healthy fats and soluble vitamins such as vitamin A, vitamin D, vitamin E, vitamin K and lecithin. Eggs are also regarded as a complete source of protein containing all nine essential amino acids.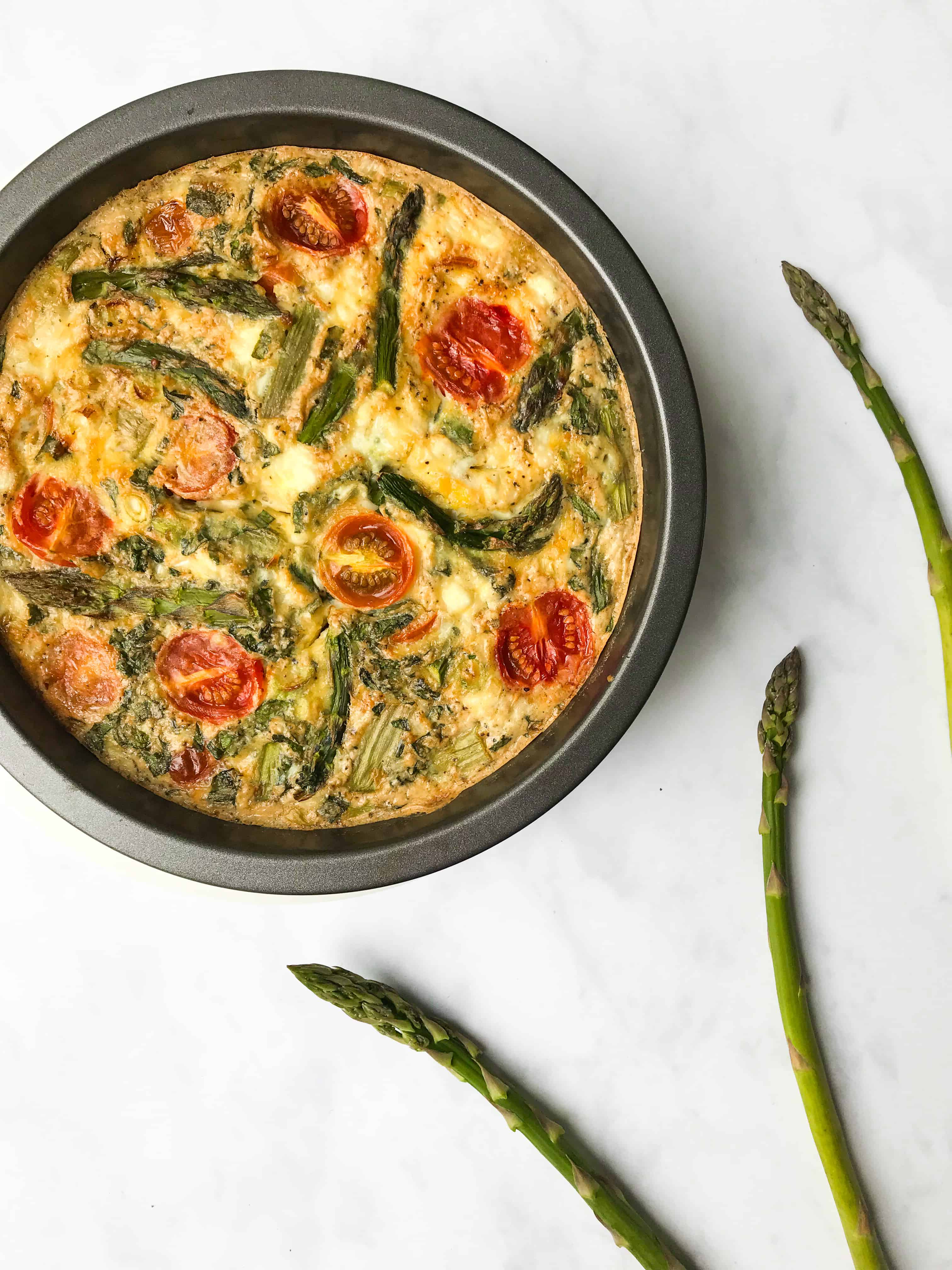 Frittata is ideal for meal prep and lunch boxes. I like to make one at the beginning of the week and have a piece with a salad each day for a nutritious, quick and filling lunch. My roasted tomato frittata is SO SIMPLE and is an EASY CLEAN – I use the same pan to roast the vegetables as I use to bake the frittata – just remember to line it for ease of washing up!
Really please do try this, it is simplicity at its finest! You can of course play around with the ingredients to suit your own tastes. However, the feta gives a wonderful morish saltiness so I wouldn't leave it out!As always if you make this, please let me know by leaving a comment down below, or tagging me in a photo on IG @georgieeatsuk. Have a wonderful day guys!
G x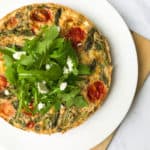 ROASTED TOMATO, FETA & ASPARAGUS FRITTATA
Sweet roasted tomatoes, earthy asparagus and salty feta cheese perfectly balanced in a super easy to make frittata. Perfect for the weeks lunch boxes, picnics, as a light supper, or even as a quick snack. GF, paleo & healthy!
Ingredients
5 - 7

asparagus spears

woody ends trimmed

10 - 12

cherry / plum tomatoes

halved

1

tsp

olive oil

6

large

free range eggs

1

large clove

garlic

peeled and finely diced

40

g (1/4 cup)

feta cheese

crumbled

2

spring onions

finely sliced

15

g (1/2 bunch)

basil leaves

roughly chopped

1/2

tsp

sea salt

1/2

tsp

freshly ground black pepper
Instructions
Preheat the oven to 160°c fan/180°c/350°f. Line the bottom of a 20cm/8in cake pan with parchment paper.

Cut the trimmed asparagus spears into 3. Evenly distribute the asparagus along with the tomatoes (cut side up) into the cake pan before drizzling with the oil and baking in the oven for 10-12 minutes until the tomatoes are soft.

In the meantime, beat the eggs together with the garlic, feta, spring onions, basil, sea salt and pepper until well combined.

Remove the cake pan from the oven and pour the egg mixture over the top of the asparagus and tomatoes. Return to the oven for 30-35 minutes until the frittata is golden on the top and an inserted skewer comes out clean.

Wait for the frittata to cool a little before running a knife around the outside of the pan and tipping onto a chopping board to cut into slices and serve OR allow the frittata to cool completely before refrigerating and serving.
Recipe Notes
This frittata is perfect hot or cold but I particularly like to eat mine from the fridge with a nice salad. 
Any left over frittata can be kept in an airtight container in the fridge for up to 5 days.
I use a cake pan in this recipe as I like my frittata circular so that I am able to cut it into even slices, but any dish you have will work! Just remember to line it for ease of removal. Keep in mind that the larger the dish, the thinner the frittata. Keep an eye on it in the oven and adjust cooking times appropriately. 
This frittata recipe is a great base for any veggies that you need to use up in the fridge. Why not try courgette and pea, or roasted sweet potato and red pepper?