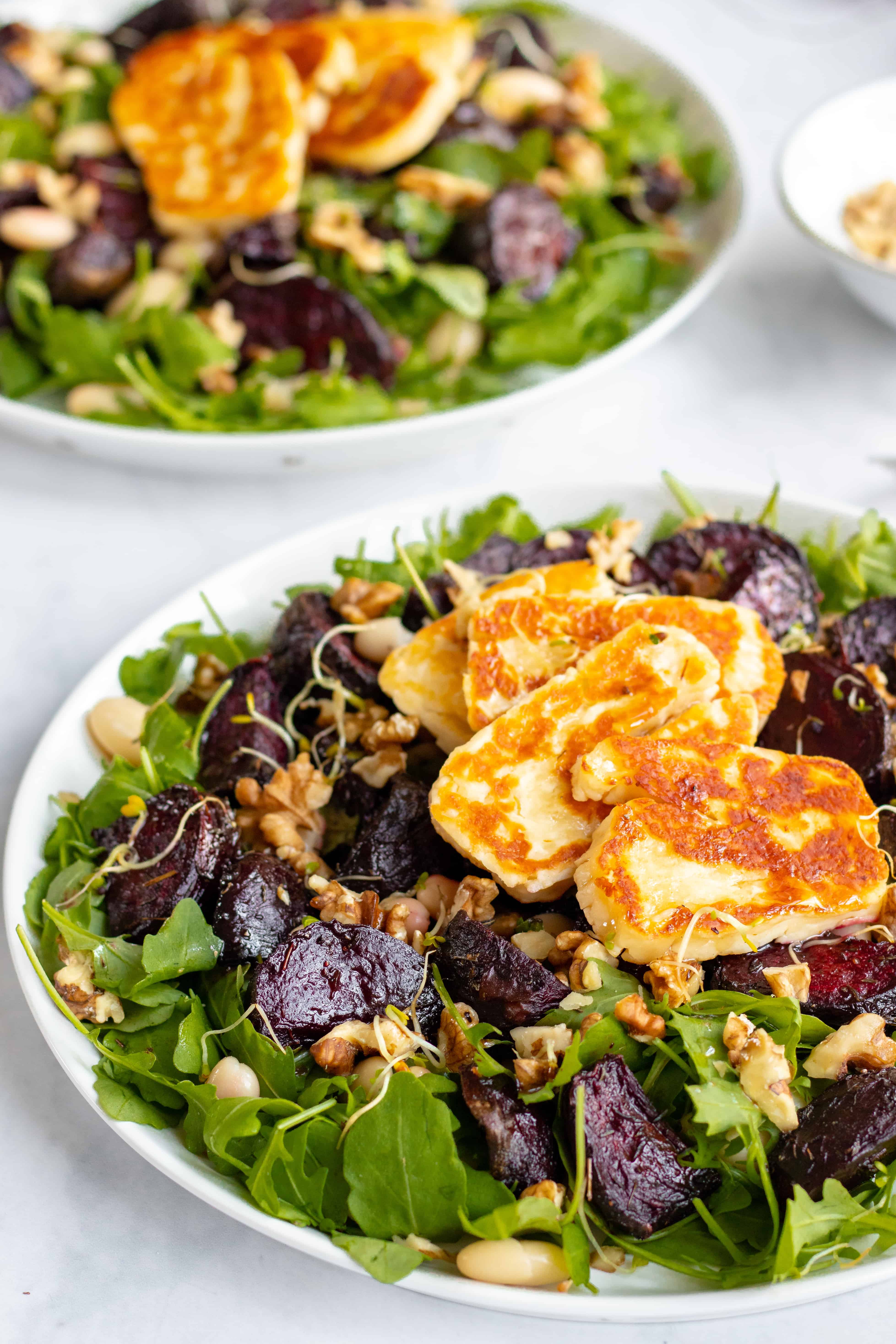 I have to admit, halloumi makes me weak at the knees. Yet it is still without a recipe Georgie Eats – something I needed to change. Sweet honey roasted beetroot, earthy butter beans, crispy salty halloumi, peppery wild rocket and a crunch of walnuts all united in a tangy balsamic dressing. Yes, you heard right! My roast beetroot and halloumi salad is a beautiful, beautiful thing.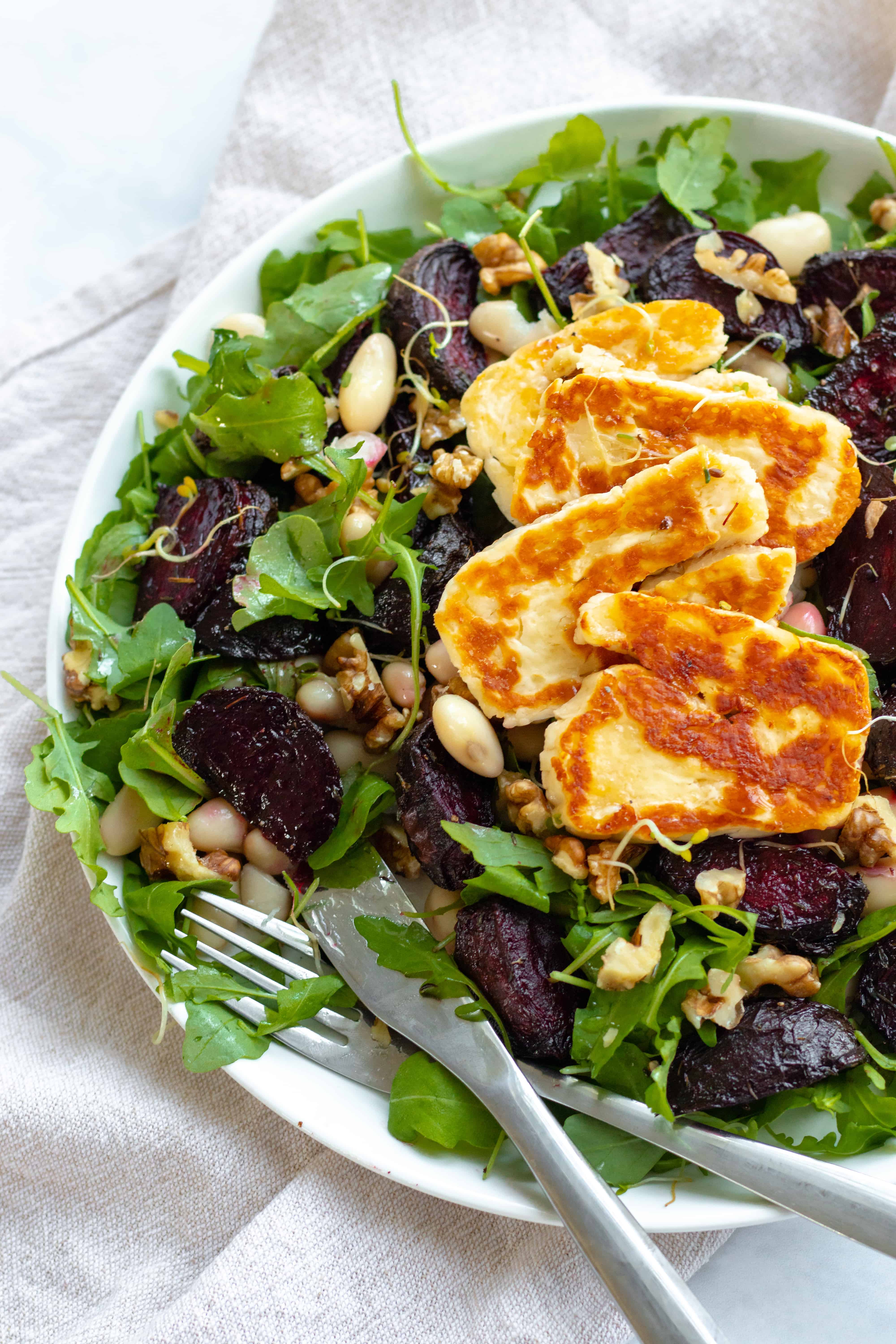 Beetroot was always a food I turned my nose up at. Probably due to the unmistakable stench of vinegar usually presented with it. But then I tried it roasted… O M G. I am a firm believer that everything tastes better roasted anyway, but jeeeeze it's good. For my roast beetroot and halloumi salad you will need fresh raw beetroot. Just a heads up, maybe wear an apron whilst chopping it up. My favourite white t-shirt suffered an unfortunate death.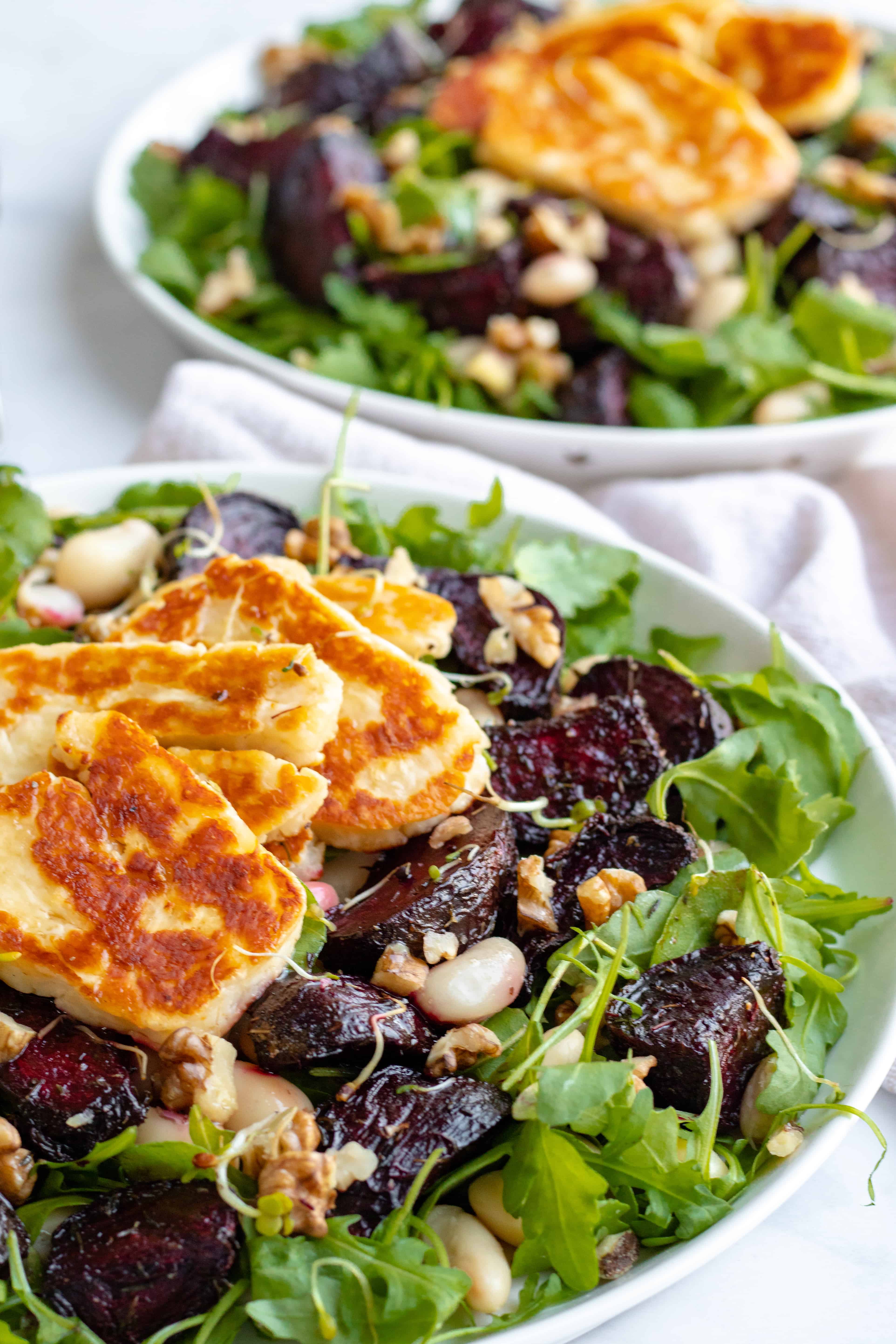 There is a lot of pretty cool studies on beetroot as of late. It is ranked as one of the top 10 most antioxidant rich vegetables and is one of the best sources of the amino acid glutamine. There is evidence in its ability to lower blood pressure, improve digestion and increase athletic performance and energy. Beetroot is also rich in vitamins and minerals including folate (B9), potassium, iron and vitamin C.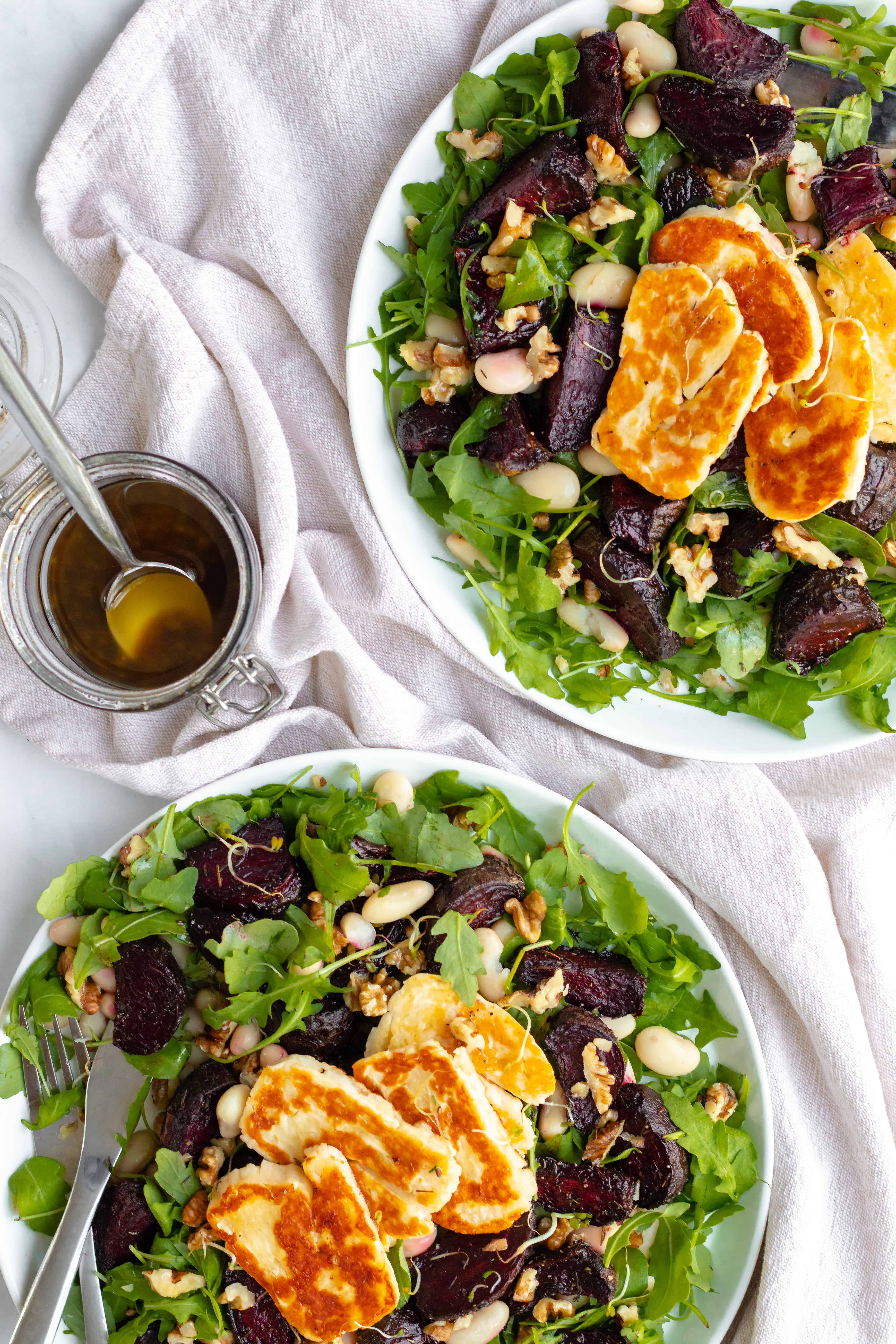 I have to refrain from saying this honey roast beetroot and halloumi salad is my new favourite, because I realise I basically say that in every single post (it is my new favourite though…).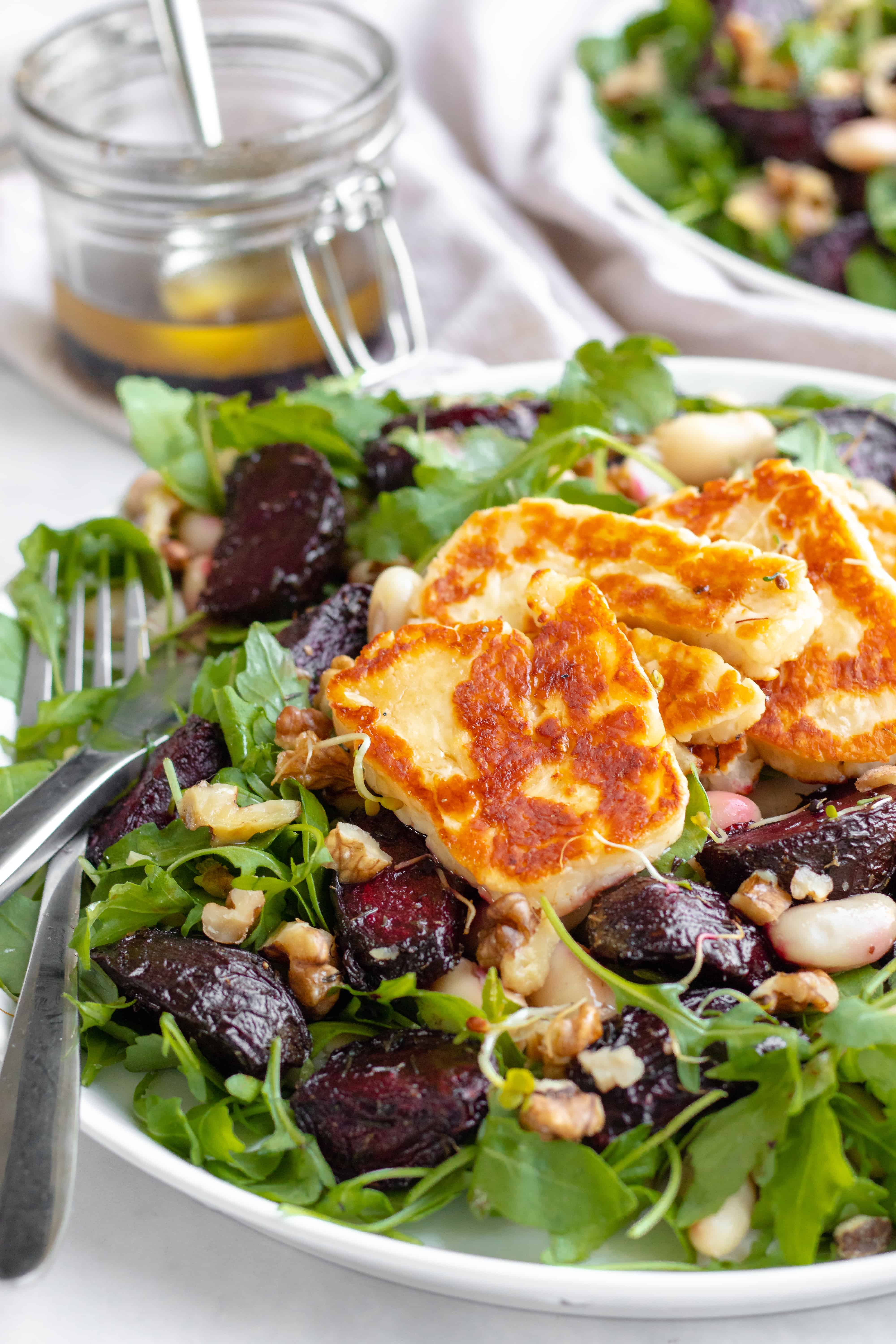 My honey roast beetroot and halloumi salad is healthy comfort food at its best. It is so super easy to make yet wouldn't look out of place at a dinner party. Very cosmopolitan, darling. If you try this please let me know by tagging me a picture on IG @georgieeatsuk, using the #georgieeats, or leaving me a comment below. Keep Smiling!
G x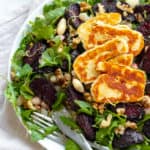 HONEY ROAST BEETROOT & HALLOUMI SALAD
Tender honey roasted beetroot, crispy halloumi cheese, earthy butter beans, peppery rocket and a crunch of walnuts all wrapped up in a beautiful sweet balsamic dressing. Whether you just want a simple lunch or want to impress at a dinner party - it's the perfect winter salad for you! GF & Healthy.
Ingredients
4

large

raw beetroot

1

tbsp

olive oil

1

tbsp

honey / maple syrup

1

tsp

dried thyme

Pinch

sea salt & freshly ground black pepper

125

g (1/2 block)

halloumi cheese

sliced into 4

1

400g can

butter beans / cannellini beans

drained and rinsed

60

g

wild rocket / mixed leaves

Handful

walnut halves

roughly chopped
For The Dressing
1

tbsp

balsamic vinegar

3

tbsp

extra virgin olive oil

1

tsp

honey / maple syrup

Large pinch

sea salt & freshly ground black pepper
Instructions
Preheat the oven 170°c fan/190°c/380°f.

Chop each beetroot into 6 wedges, removing the tops and tails as you go. Place the wedges onto a lined baking tray and drizzle over the olive oil, honey, thyme and a large pinch of salt and pepper. Give everything a mix before roasting in the preheated oven for 50-55 minutes until the beetroot is tender.

Meanwhile make the dressing. Place all the ingredients into a jar with a lid/bowl and shake/whisk until combined. Set aside until ready to serve.

Just before the beetroot is due to come out of the oven, heat a frying pan over a medium heat. Dry fry the halloumi slices for 2 minutes each side until golden brown and crispy.

To assemble the salad, place the roasted beetroot, beans, salad leaves and 1/2 the walnuts into a large bowl to combine. Divide between plates and top with the halloumi slices and remaining walnuts. Serve whilst still warm.
Recipe Notes
To make ahead prepare each component separately and keep them in the fridge. When ready to serve, reheat the beetroot in the oven until piping hot whilst you fry off the halloumi. Then assemble as in step 5.
This salad is best eaten straight away as cooked halloumi cheese doesn't tend to keep well. To eat cold or for meal prep/packed lunches swap the halloumi for a feta/goats cheese instead.
Vegan: Use maple syrup rather than honey. Omit the halloumi cheese and use a dairy-free alternative or leave it out altogether - it is just as delicious!
A few ingredient notes:
If you can find it, try to use raw honey as it is less processed. If using maple syrup make sure it is 100% maple syrup and not maple 'flavoured' syrup. You could also use agave nectar if you prefer.
In the pictures here I have used a mixture of butter beans and cannellini beans. Use whichever you prefer/have on hand - both work well.
Watch out for any added colourings or E numbers in your balsamic vinegar.
If you love a hearty salad, then you will LOVE my roasted vegetable & lentil salad too!