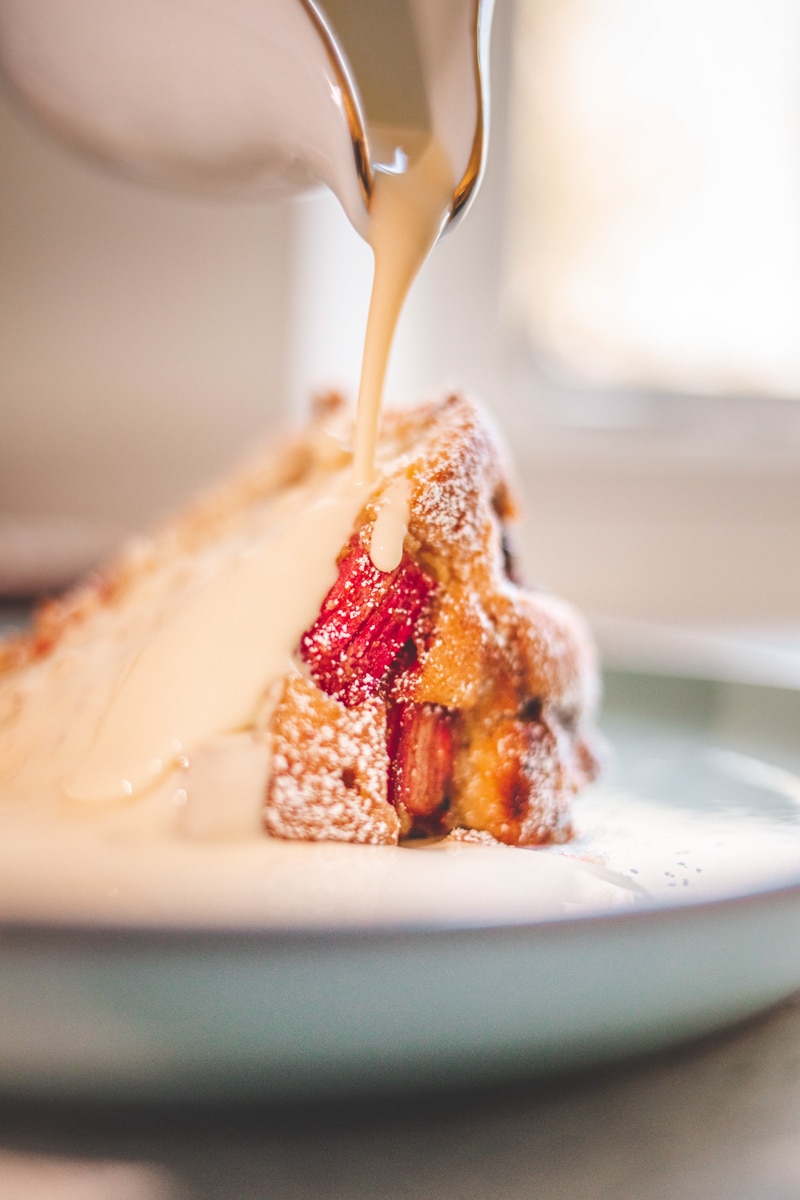 Every year I am filled with joy at the thought of Rhubarb season. It's my most adored British ingredient and I use it amply when it's at it's best. In this recipe, I wanted to take this quintessentially British flavour and turn it into something magical. This rhubarb & almond cake does just that – classic flavours, elevated. Serve it on it's own, or with custard for a comforting pud. Either way, it is sure to put a big smile on your face.
Jump to Recipe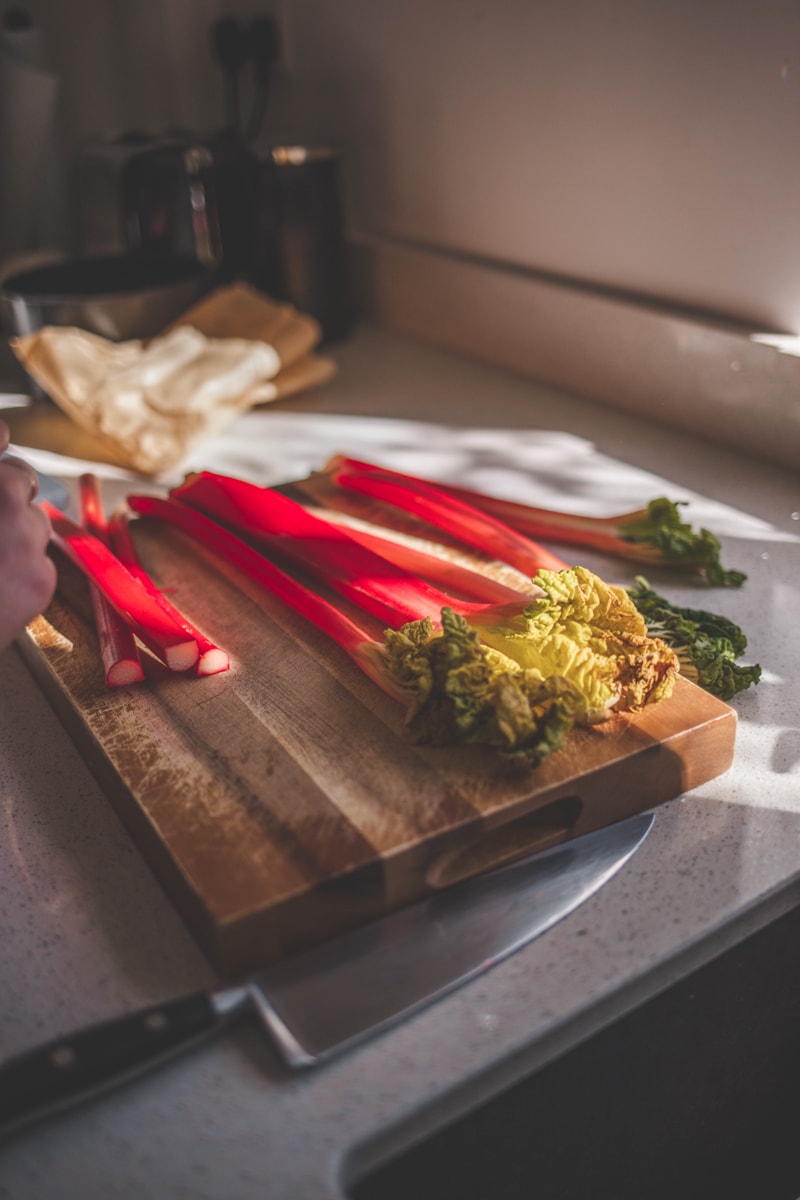 WHY SHOULD I BAKE IT?
Light, almond infused crumbly sponge jewelled with tart gingery rhubarb, dusted with icing sugar and served with lashings of custard. It's rustic, both dairy and gluten-free and an absolutely gorgeous celebration of britain's best flavors.
WHAT'S THE OCCASION?
A spot of baking on a relaxing weekend, for winning the office 'bake-off', or just when you think you deserve a little treat. It can be served warm with custard for a delicious dessert, or just as it is for a mid-afternoon treat.
HOW LONG WILL IT TAKE ME?
This rhubarb & almond cake is quite large, which pushes up the cooking time quite considerably. From start to finish, it will take you roughly an hour and 50 minutes, however, there's only about 20 minutes of actual hands-on time.
IS IT DIFFICULT?
Baking is a science and therefore there is less room for error. But follow the instructions correctly and you should be just fine. This recipe is for everyone, no matter whether you're a baking novice or expert! For difficulty, it's a 6/10.
WHAT EQUIPMENT DO I NEED?
A frying pan, scales, measuring spoons, a high-rimmed loose bottomed cake tin, a large mixing bowl and wooden spoon, a sieve and parchment paper.
HOW ABOUT SOME VARIATIONS?
As always, I like to help you make my recipes your own and to help you use whatever is in season. In the late winter/early spring I love this cake with forced rhubarb, as it keeps its vibrant colour. However, later in the spring/summer you can use field-grown rhubarb instead.
With that said, this cake is wonderfully flexible can be delicious with all kinds of fruit. Here are some suggestions for all seasons:
Winter: Apples – use as per the original recipe.
Spring: Forced or field-grown rhubarb.
Summer: Apricots, peaches, strawberries, blueberries, cherries or gooseberries – skip step 2 and remove 25g of both dairy-free butter and golden caster sugar from the ingredients.
Autumn: Plums and pears – use as per the original recipe.
If you make this rhubarb & almond cake please let me know! You can tag me in photos on IG @georgieeatsuk, use the #georgieeats or leave me a comment down below. If you want to check out my AMAZING photographer, you can do so here: @kirstyjaynerussell and here: kirstyjaynerussell.com. Keep smiling!
G x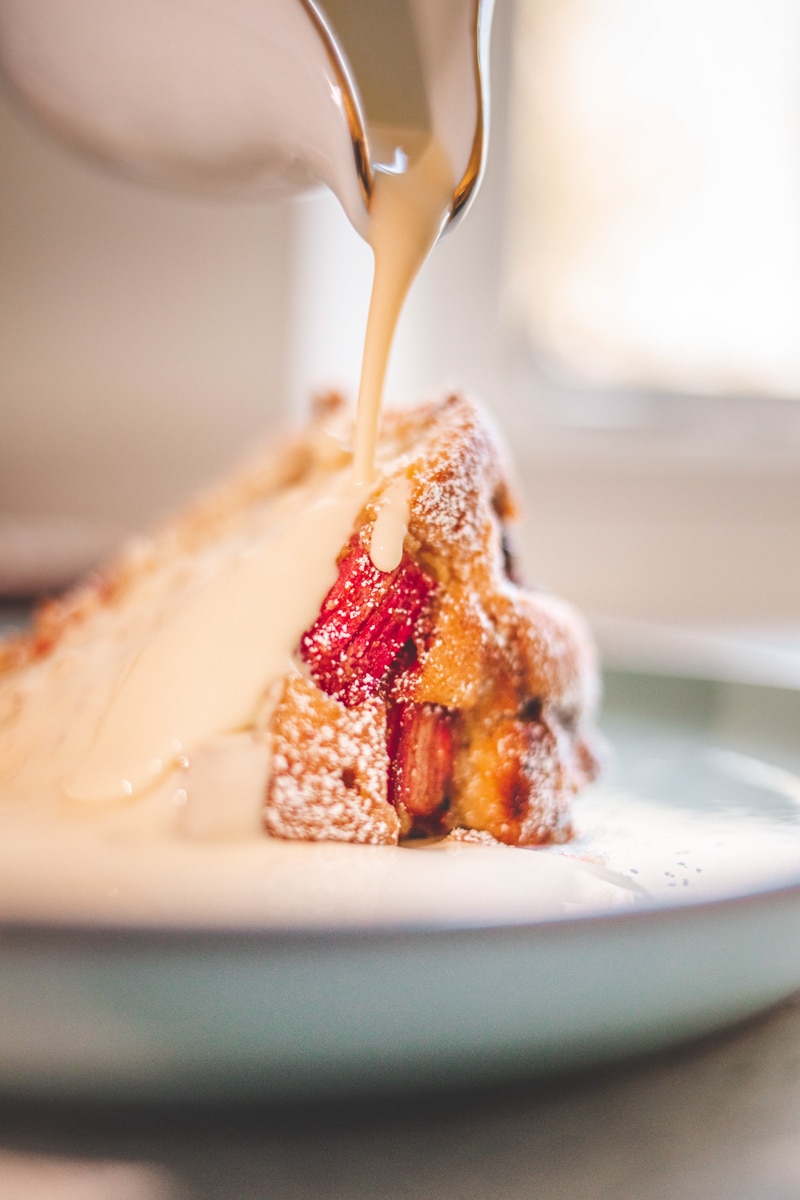 RHUBARB & ALMOND CAKE
Light, almond infused crumbly sponge jewelled with tart gingery rhubarb, dusted with icing sugar and served with lashings of custard. Dairy-free and gluten-free.
Cook Time
1
hour
30
minutes
Total Time
1
hour
50
minutes
Ingredients
400

g

forced rhubarb

225

g

dairy-free butter

225

g

golden caster sugar

1

tsp

ground ginger

1

tsp

vanilla extract

4

large eggs

90

ml

plant-based milk

230

g

gluten-free flour

220

g

ground almonds

2

tsp

gluten-free baking powder

pinch

of fine sea salt

to serve:

icing sugar
Instructions
Preheat the oven to 160°c (fan assisted)/180°c/gas mark 4 and line a high rimmed loose-bottomed cake tin with parchment paper.

Top and tail the rhubarb, then chop into 1-inch chunks. Melt 25g of the dairy-free butter, 25g of the golden caster sugar and the ground ginger together in a large frying pan over a low-medium heat. Once the sugar has dissolved, add the chunks of rhubarb and coat them with the liquid. Cook gently for 5 minutes or so, until the rhubarb has slightly softened, but is still keeping its shape. Remove from the heat and allow to cool.

Cream together the remaining butter, remaining sugar and vanilla extract in a large bowl until very fluffy and light – about 5 minutes. Add the eggs one at a time, making sure they are fully incorporated before adding the next one, then beat in the plant-based milk.

Sieve the gluten-free flour into the wet mixture, then add the ground almonds, gluten-free baking powder and salt. Gently fold everything together until just combined.

Pour the mixture into the tin, then arrange the chunks of rhubarb on top, pressing them down slightly into the cake batter as you go. Bake for 1 hour 15 minutes – 1 hour 30 minutes, or until golden and an inserted skewer comes out clean.

Leave the cake to cool for 10 minutes, before removing from the tin, sprinkling with icing sugar and serving with custard, or however you wish.