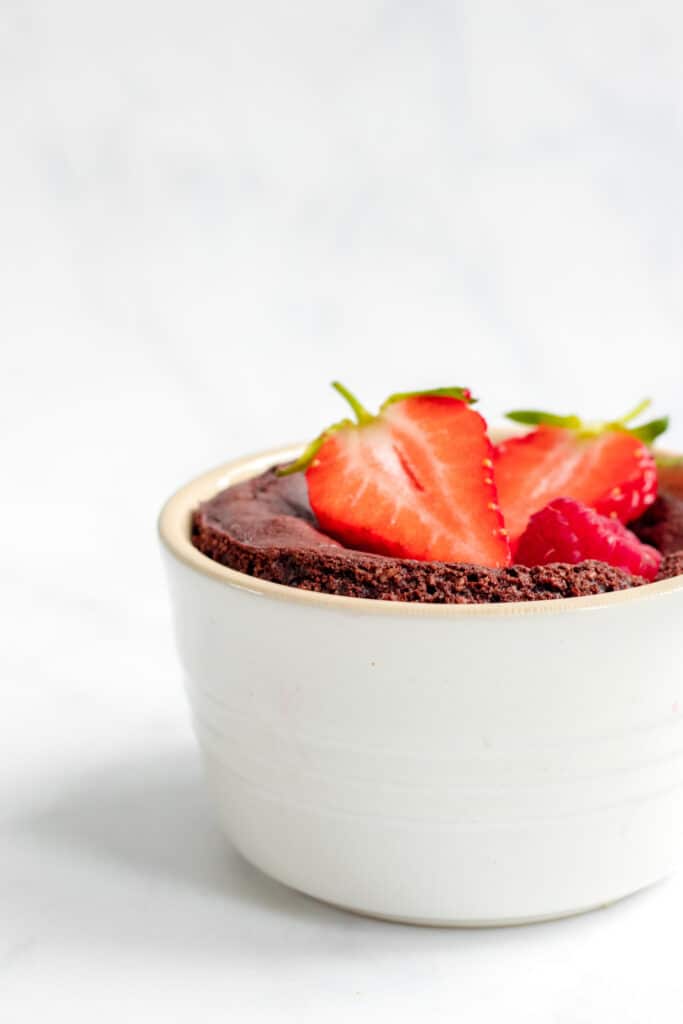 CAUTION! This melt-in-the-middle molten chocolate pudding is highly addictive!! Enjoy at your own risk…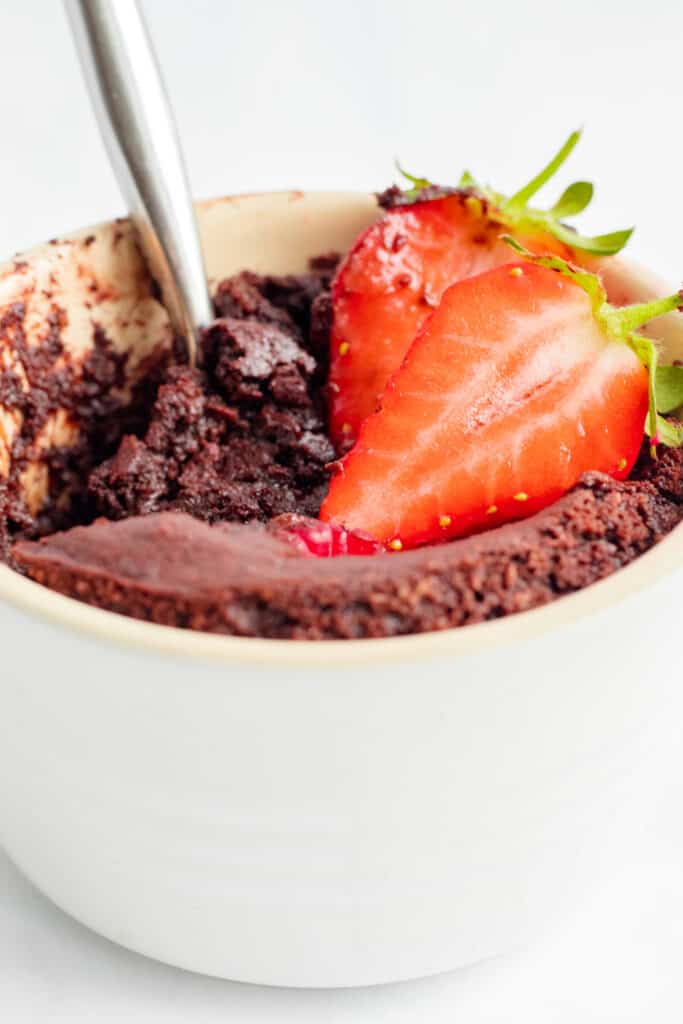 There are few desserts more luxurious than molten chocolate pudding. Rich, gooey and completely decadent. This single-serve recipe is perfect for when a little self-indulgence is in order. 6 ingredients, 2 minutes of prep, 1 bowl, 1 spoon and 1 pot of oozing chocolaty goodness all for you. No sharing allowed.
A part of me wishes I never wrote this recipe. I'm not particularly a dessert person, but when it comes to this molten chocolate pudding, things change. It's so quick and easy to whip up that I have been making it far too much. It uses store cupboard ingredients, most of which you are likely to have lying about the house right now. So, you can treat yo' self tonight, or double the recipe and treat someone else too. Lucky them.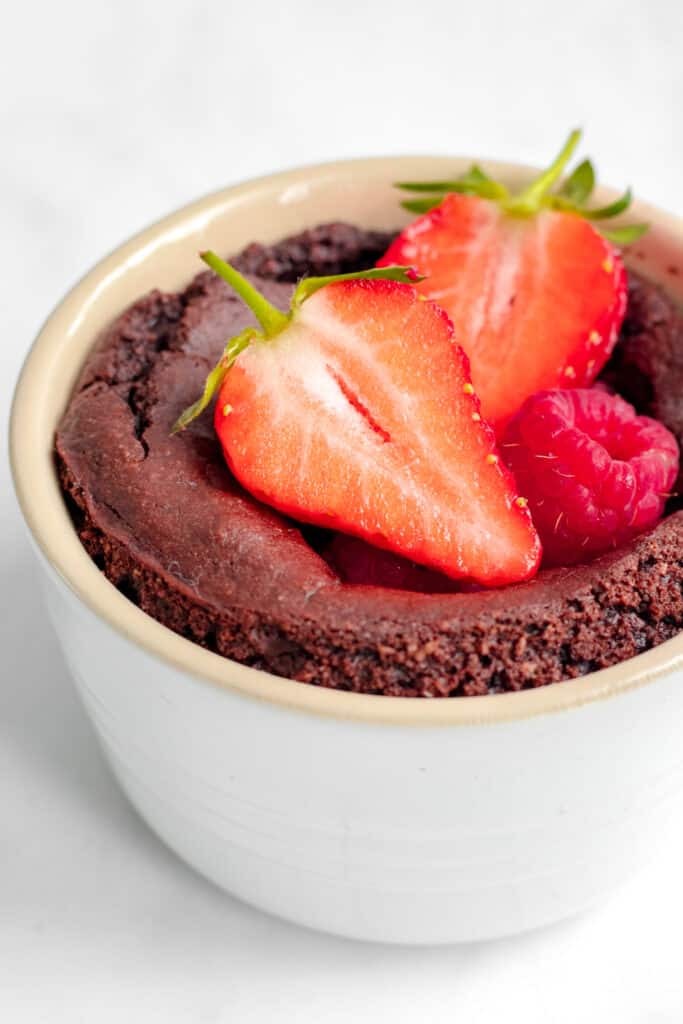 GOT ANY VARIATIONS?
Nut butter lovers: For a melting nutty centre, pour half the pudding mix into the ramekin, add a tablespoon of your favourite nut butter and top with the remaining mixture. Bake as instructed.
Extra chocolaty: Because this pudding isn't chocolaty enough… Stir a tablespoon of chocolate chips into the pudding mixture before baking.
A fruity twist: For a touch of tangy sweetness, stir 2 tablespoons of raspberries into the mixture before baking and serve topped with extra fresh berries.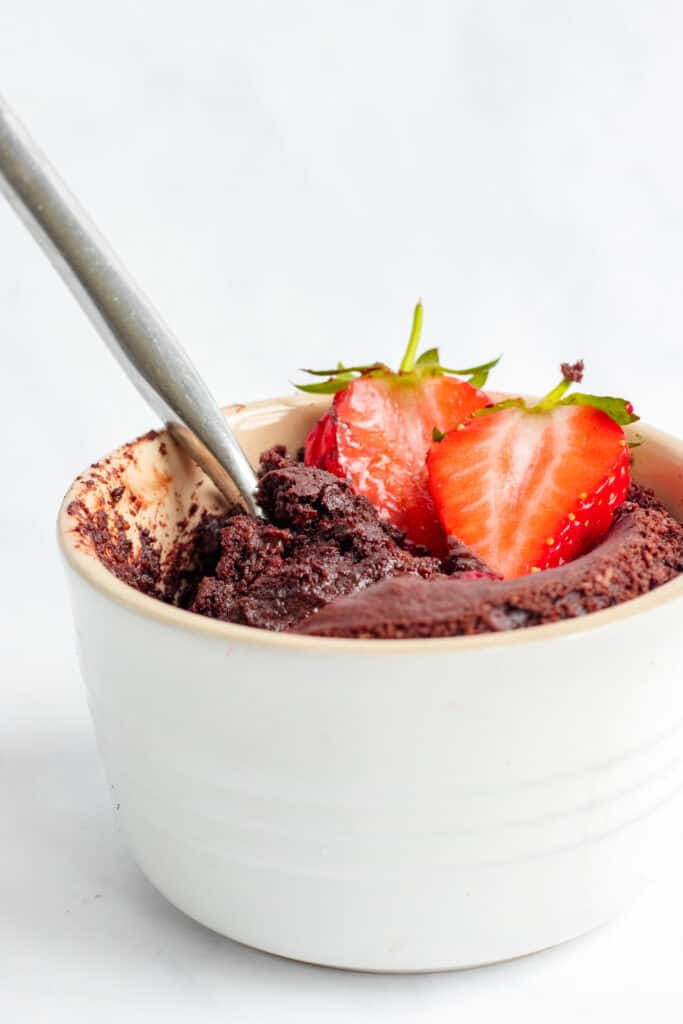 Please let me know if you make this recipe! Just don't hate me when you find yourself lying on the sofa, jeans undone and 5 molten chocolate puddings deep. It happens.
You can send me any pictures to my insta @georgieeatsuk, use the #georgieeats, or leave me a comment down below. Keep Smiling!
G x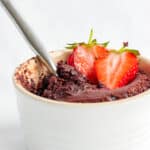 SINGLE-SERVE MOLTEN CHOCOLATE PUDDING
With only 6 whole food ingredients and 2 minutes of prep, this single-serve molten chocolate pudding can be whipped up and enjoyed in an instant! Utterly indulgent yet healthy, vegan & GF.
Ingredients
3

tbsp

ground almonds

2

tbsp

cacao powder

½

tsp

baking powder

1.5

tbsp

maple syrup

3

tbsp

milk

(I use oat milk)

1

tsp

coconut oil

melted

Pinch

salt
Instructions
Preheat the oven to 180°c fan/200°c/400°f. Once the oven is fully up to temperature, move on to step 2.

Add the dry ingredients into a small bowl and stir to combine.

Add the maple syrup, oat milk and coconut oil and whisk until smooth.

Pour the mixture into a ramekin and bake in the preheated oven for 12-14 minutes or until set on the top but still gooey in the centre. Serve with fresh berries and if you like, a dollop of yoghurt/crème fraîche.
Recipe Notes
For variations on this recipe, see within the post. 
This recipe can be easily doubled or tripled etc. if feeding more than one.
A few ingredient notes:
If you are in the U.S. you may know 'ground almonds' better as almond meal or almond flour.
I have used cacao powder here instead cocoa as it is richer in nutrients, but you could also use the latter if you prefer.
Make sure your maple syrup is 100% maple syrup and not maple 'flavoured' syrup. You could also use raw honey if you prefer.
I like oat milk in this recipe, but other plant-based milk or organic cows milk would work fine too.
If you LOVE chocolate desserts, you have to try my chickpea chocolate brownies. They are divine!