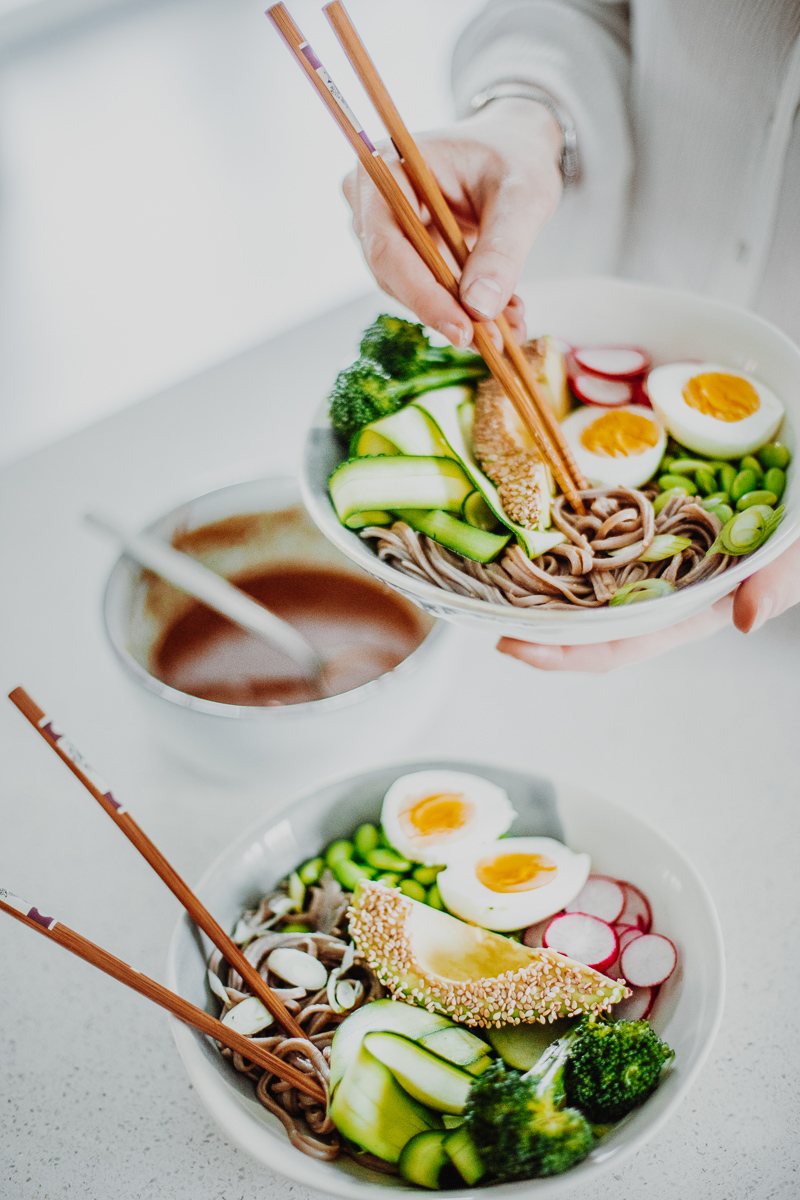 There's something about serving food in a bowl that makes it just so much more appealing to me. I'm not particularly sure what it is that I like about it so much, but I know I'm not alone. Bowl food = soul food, as they say. My recipe for miso noodle bowls makes the ultimate summery lunch or dinner. They are so effortlessly elegant and full of goodness, yet ridiculously easy to make.
Jump to Recipe
WHY SHOULD I COOK IT?
Nutty buckwheat soba noodles generously doused in a salty, umami miso sauce and topped with fresh and vibrant greens, creamy avocado and piquant radish. All crowned with a rich, golden, soft boiled egg. These bowls are so healthy but feel slightly decadent – as if someone has just dropped them straight to your door. Deliveroo, who?
WHAT'S THE OCCASION?
An impressive yet simple lunch with friends, an easy-peasy meal prep for quick mid-week lunches, or a light summer supper eaten al fresco.
HOW LONG WILL IT TAKE ME?
These miso noodle bowls can be made from start to finish in under 20 minutes. Yes, 20!
IS IT DIFFICULT?
Although there are a few different components to these bowls, each one is super straight forward. There isn't really even much chopping! The hardest part is making them look pretty. For that, I would suggest using a medium-sized wide-brimmed bowl. One that's easy to fill up, but won't leave the finished dish looking too crowded. For difficulty, it's a 5/10.
WHY IS IT HEALTHY?
These miso noodle bowls are well balanced with fibre, protein and healthy fats, helping you to feel fully satisfied for longer. The vibrant selection of greens yields an extensive collection of vitamins, minerals and antioxidants. As do the eggs, which are full of affordable high-quality complete protein. I've done a few calculations, and just one bowl contains over half of your daily protein RNI, making them perfect for a post-exercise refuel.
WHAT EQUIPMENT DO I NEED?
A sharp knife and chopping board, a speed peeler and a grater, two saucepans and a steamer to fit one of the saucepans (optional).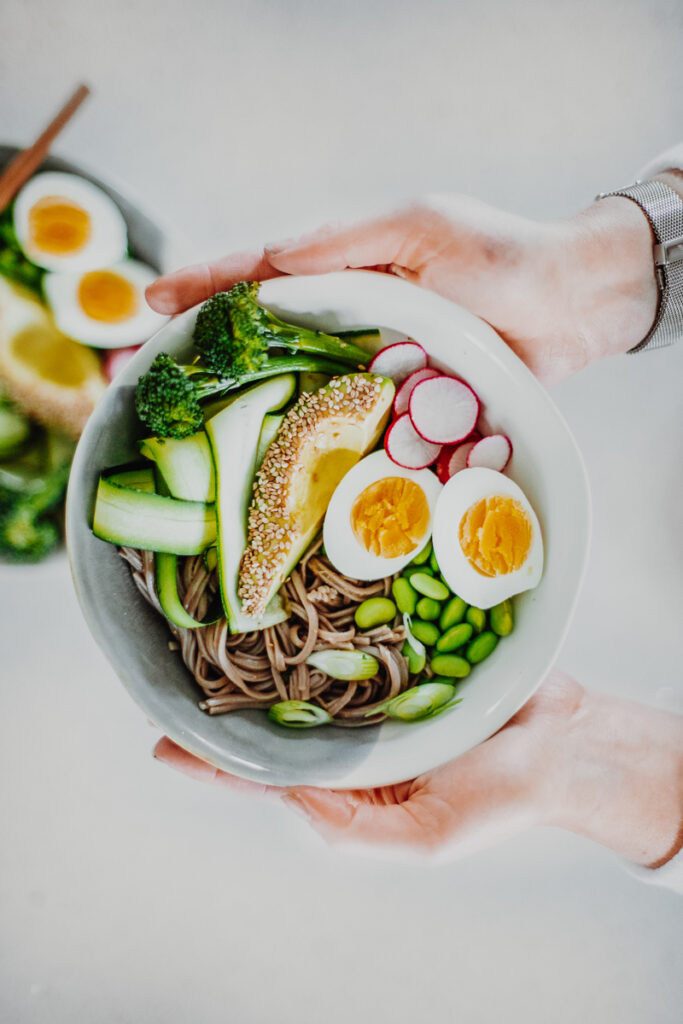 TIPS FOR THE BEST MISO NOODLE BOWLS EVER:
It's all about the dressing. The miso dressing used on these miso noodle bowls is just *mwaaaah*. It's what takes these otherwise quite average bowls to the next level. Make sure you taste the dressing and adjust the seasoning properly before drizzling it generously over your finished masterpiece.
Use good quality eggs. Use the best eggs you can afford – organic, free-range and local if possible! I am lucky enough to be next door to a small farm where I can buy their gorgeous eggs, but if you are buying from the supermarket, you can't go wrong with Clarence Court. They are as ethical as eggs get and I promise that you will taste the difference.
Be generous! Don't scrimp on the portions unless you want to be met with a row of angry faces, all banging their knives and forks on the table. There's nothing worse than a skimpy salad bowl, so make sure you fill that bowl right up.
HOW ABOUT SOME VARIATIONS?
As always, I like to help you make these dishes your own and to use whatever you may have in the fridge. I love the combo of ingredients used in these miso noodle bowls but here are a few suggestions if you feel like mixing it up:
Soba Noodles: I've used 100% buckwheat soba noodles here which are a great gluten-free option, however, other types of soba noodles, rice noodles, udon noodles or egg noodles will be delicious too.
Veggies: It's easy to mix up the selection of vegetables used in these bowls to whatever you have/what's in season. Pak choi, snap peas, fried mushrooms, baby corn, ribbons of carrot and/or bean sprouts are good options.
Eggs: You can absolutely make these miso noodle bowls completely plant-based by replacing the soft-boiled egg with cubes of crispy tofu (you can find a great tofu recipe here). For the non-vegans, the egg could be replaced with a lovely piece of wild salmon or grilled organic chicken breast.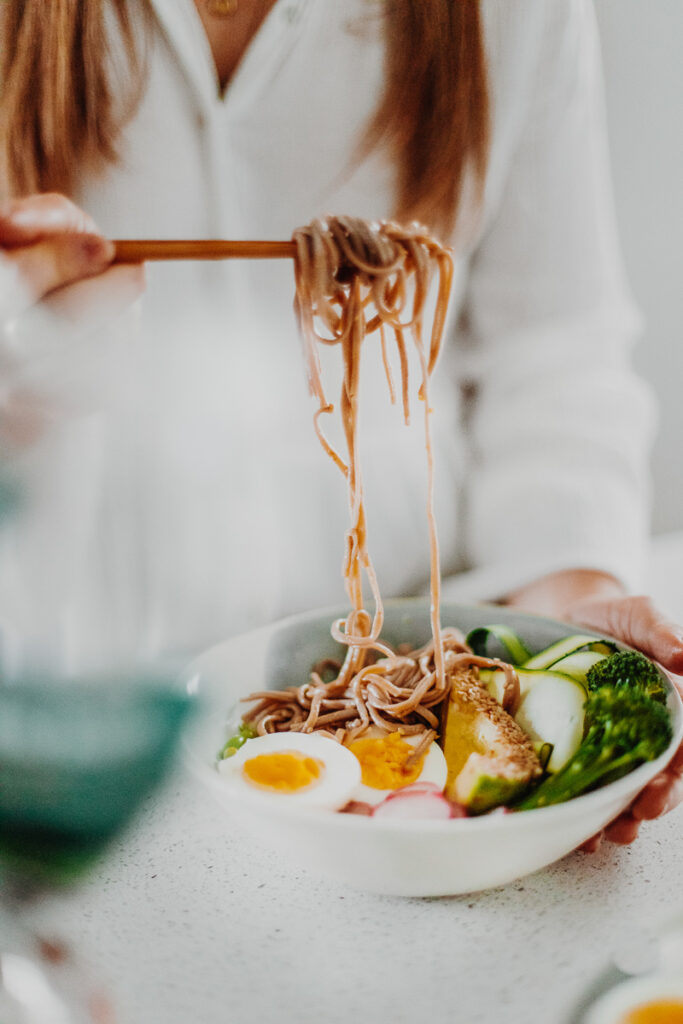 If you make these miso noodle bowls please let me know! You can tag me in photos on IG @georgieeatsuk, use the #georgieeats or leave me a comment down below. If you want to check out my AMAZING photographer, you can do so here: @kirstyjaynerussell and here: kirstyjaynerussell.com. Keep smiling!
G x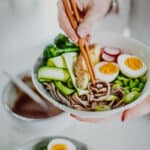 MISO NOODLE BOWLS
Nutty buckwheat soba noodles generously doused in a salty, umami miso sauce and topped with fresh and vibrant greens, creamy avocado and piquant radish. All crowned with a rich, golden, soft boiled egg.
Ingredients
2

large eggs

90

g

soba noodles

200

g

tenderstem broccoli

1

tbsp

sesame seeds

1/2

an avocado

cut in 1/2 again

1

courgette

sliced into thin ribbons with a speed peeler

75

g

edamame beans

2

radish

finely sliced

1

spring onion

sliced

Sea salt & freshly ground black pepper
FOR THE DRESSING
3

tbsp

miso paste

1

tbsp

olive oil

1

tbsp

white wine vinegar

2

tsp

tamari/soy sauce

2

tsp

freshly grated ginger

1

tbsp

honey
Instructions
First, make the dressing. Mix the miso paste in a bowl with 2 tbsp of hot water until combined. Add the olive oil, white wine vinegar, tamari/soy sauce, grated ginger and honey. Mix well, then set aside.

Bring a pan of water to the boil. Add the eggs and cook for exactly 6 minutes and 30 seconds before removing and immediately running under cold water. Peel once cool enough to handle.

Meanwhile, bring another pan of water to the boil. Add the soba noodles and a pinch of salt to cook for 4 minutes, or according to the packets instructions. Drain the noodles and toss in 2-3 tbsp of the dressing before arranging between two bowls.

Fill the same pan with a little water and bring back to the boil. Add a steamer and steam the tenderstem broccoli for 2-3 minutes, or until al dente and vibrant green. If you do not have a steamer, you can boil the broccoli instead.

Pour the sesame seeds on a small plate. Press 1 side of each 1/4 avocado into the sesame seeds so that they stick and coat the flesh. Arrange the avocado over the bed of noodles along with the tenderstem broccoli, courgette ribbons, edamame and radish. Slice the eggs in half and place those on top before sprinkling with the spring onion. Serve drizzled in the remaining dressing.
Recipe Notes
Any leftover components can be refrigerated separately in airtight containers for up to 4 days.
For variations and tips on this recipe, see within the post.
Vegan: Replace the egg with cubes of crispy tofu and use maple syrup in the dressing instead of honey.
Gluten-Free: Use gluten-free noodles (100% buckwheat soba noodles or rice noodles) and tamari rather than soy sauce.