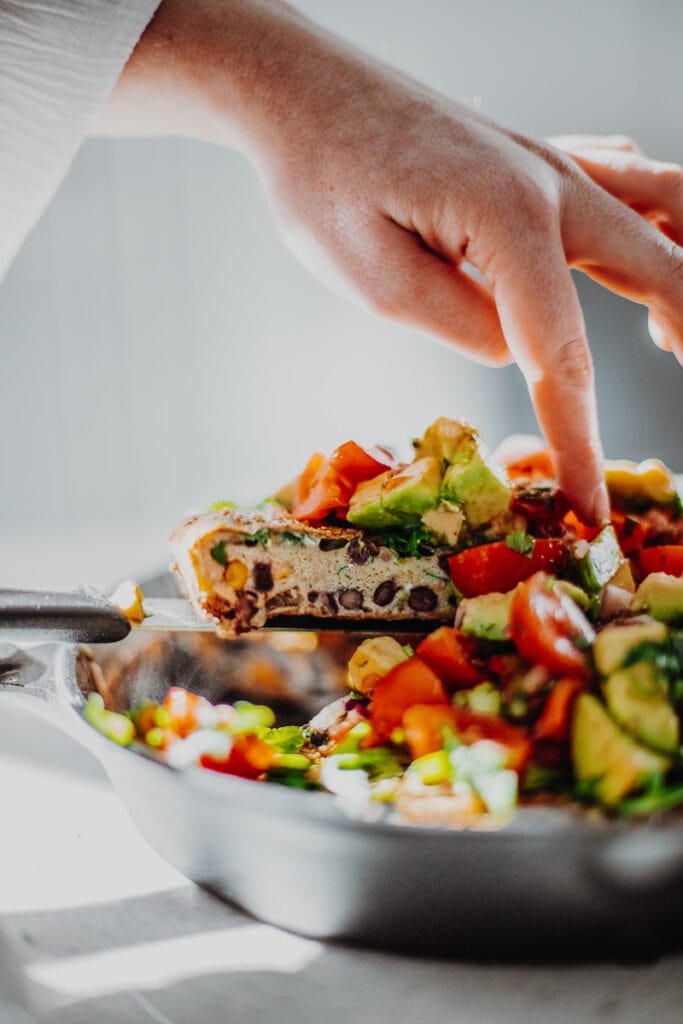 Whenever I know I have a mad week coming up, I normally try to make time on a Sunday night to do a little meal prep. On these occasions, I always make some kind of frittata. In fact, I've made so many over the years that I have become a bit of a frittata connoisseur. In my opinion, this Mexican frittata defeats all the others. It's impressive to look at, yet amazingly simple to make. Enjoy it warm from the oven or chilled from the fridge – either way, it's wonderful!
WHY SHOULD I COOK IT?
This protein-packed Mexican frittata is seasoned with the spices of Mexico and speckled with gems of vibrant sweetcorn and black beans, all topped with a zesty avocado and tomato salsa. It's perfect to meal-prep and will leave you feeling nourished and satisfied in those on-the-go, run out of the door, eat in the car kinda mornings.
WHAT'S THE OCCASION?
A showstopping brunch with friends, an on-the-go breakfast (omit the salsa), something to mix up your lunchbox, or a light summer lunch eaten al fresco.
HOW LONG WILL IT TAKE ME?
You'll need about 15 minutes of hands-on time to prep, and then an extra 30-35 minutes whilst it's in the oven (aka time to put your feet up).
IS IT DIFFICULT?
This Mexican frittata could not be easier! There is a little chopping involved but it's really nothing too precise. The oven does most of the work! Follow the recipe and you will be just fine. For difficulty, it's a 4/10.
WHY IS IT HEALTHY?
Eggs are a fantastic way to start the day. They are an affordable source of high-quality complete protein and are rich in multiple minerals and vitamins including selenium, vitamin D, B6 and B12. Also rich in protein, pulses are high in fibre and count towards your 5-a-day! I have done a few calculations and just two slices of this Mexican frittata will provide you with approximately 40% of daily protein requirement. Impressive huh?
WHAT EQUIPMENT DO I NEED?
A sharp knife and chopping board, a measuring jug or large bowl, a whisk (or a fork!) and a medium oven-safe frying pan. If you have one, a cast-iron skillet is great, but any other regular frying pan will do absolutely fine.
TIPS FOR THE BEST MEXICAN FRITTATA EVER:
Don't overcook it. This may seem an obvious tip, however, just a few minutes over or under can really make all the difference. You want it to be just cooked through, so that a skewer inserted into the top comes out just clean. This will assure your Mexican frittata is lovely and soft rather than dry and dull.
Use good quality eggs. Use the best eggs you can afford – organic, free-range and local if possible! I am lucky enough to be next door to a small farm where I can buy their gorgeous eggs, but if you are buying from the supermarket, you can't go wrong with Clarence Court. They are as ethical as eggs get and I promise that you will taste the difference.
Season properly! Don't be afraid when seasoning this Mexican frittata. Think about how much salt you would use for one portion of scrambled egg and then times that by four! Season the salsa properly as well, tasting as you go until the balance of salt and acid is just right. Remember, salt and pepper is an avocados best friend!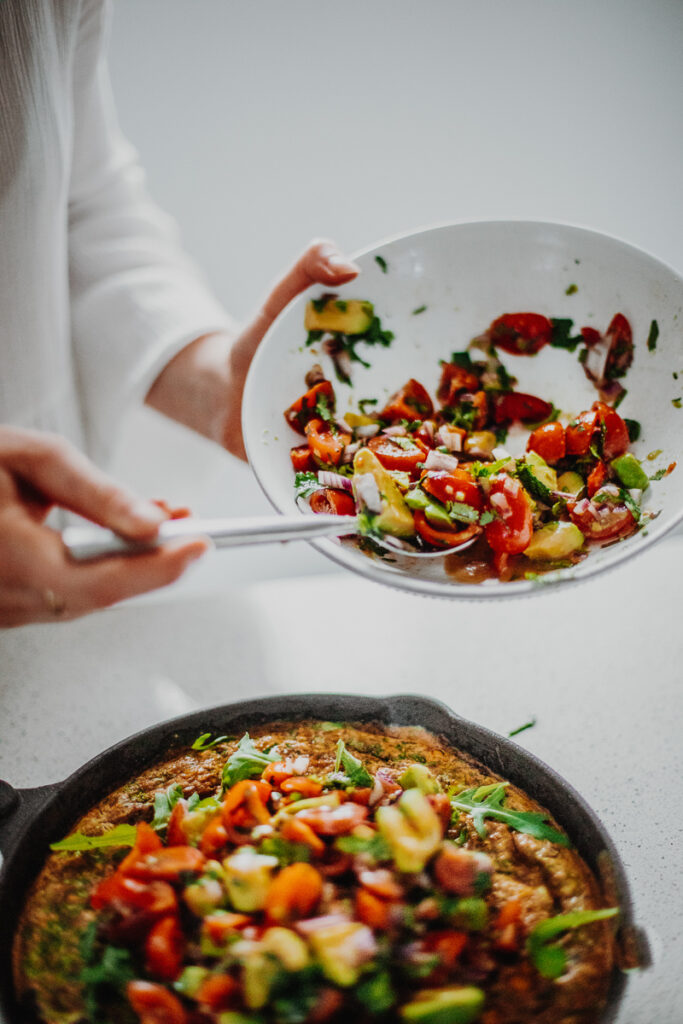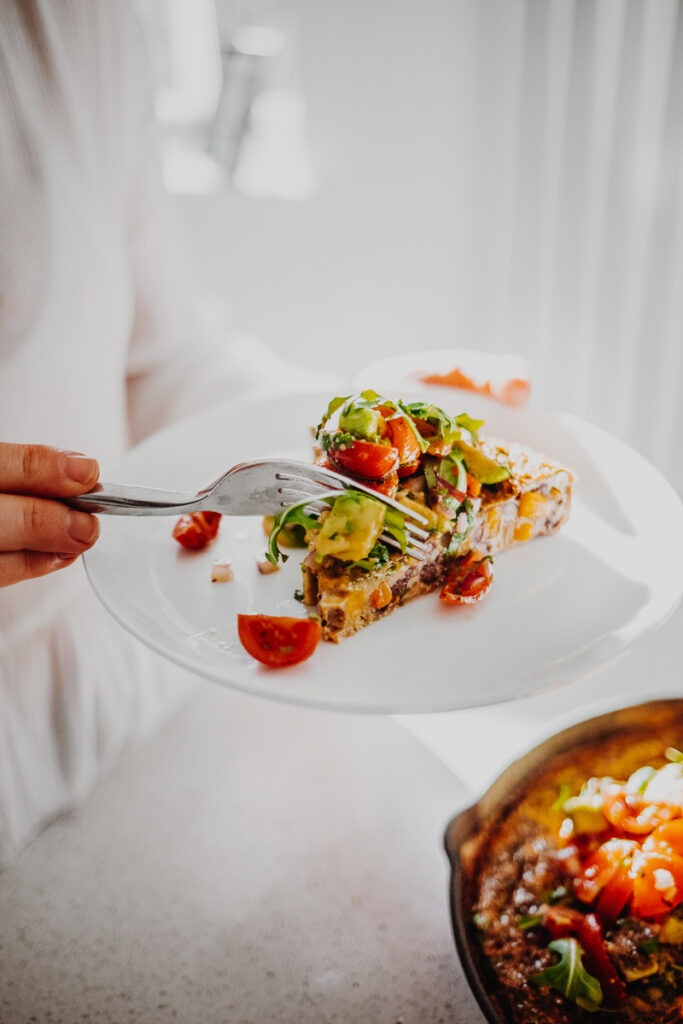 If you make this Mexican frittata please let me know! You can tag me in photos on IG @georgieeatsuk, use the #georgieeats or leave me a comment down below. If you want to check out my AMAZING photographer, you can do so here: @kirstyjaynerussell and here: kirstyjaynerussell.com. Keep smiling!
G x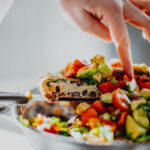 MEXICAN FRITTATA WITH AVOCADO SALSA
Protein-packed Mexican frittata seasoned with the spices of Mexico and speckled with gems of vibrant sweetcorn and black beans, all topped with a zesty avocado and tomato salsa. It's the perfect make-ahead breakfast or is fantastic in a lunchbox!
Ingredients
8

large eggs

2

tsp

cumin

2

tsp

ground coriander

15

g (1/2 bunch)

fresh coriander

roughly chopped

1

tbsp

extra virgin olive oil

2

cloves of

garlic

minced

1

400g can

black beans

drained & rinsed

1

325g can

sweetcorn

drained & rinsed

sea salt & freshly ground black pepper
FOR THE AVOCADO SALSA
1

ripe avocado

diced

300

g

cherry/plum tomatoes

quartered

½

red onion

finely diced

15

g (1/2 bunch)

fresh coriander

roughly chopped

1

tbsp

extra virgin olive oil

juice of 1

lime
Instructions
Preheat the oven to 160°c fan/180°c/350°f.

Gently beat the eggs in a measuring jug or large bowl, then whisk in the cumin, ground coriander, fresh coriander and generous amounts of salt and pepper. Set to one side.

Heat a medium ovenproof frying pan over a medium-high heat and add the oil. Once hot, add the garlic, black beans, sweetcorn and a pinch of salt and pepper to fry for 2-3 minutes, stirring constantly, until they are lightly coloured. Pour the egg mixture into the pan, then remove from the heat and transfer to the oven to bake for 30-35 minutes until the frittata is golden on the top and an inserted skewer comes out clean.

Whilst the frittata is in the oven, make the salsa. Combine the diced avocado, tomatoes, red onion, coriander, oil and lime juice in a bowl along with a generous pinch of salt and pepper. Taste and adjust the seasoning. Keep refrigerated until ready to serve.

To serve the frittata warm, wait for it to cool a little before topping with the rocket and salsa and cutting into slices. Or, to serve it chilled, allow the frittata to cool completely before refrigerating, cutting into slices and topping with the chilled salsa.
Recipe Notes
This Mexican frittata will keep well in an airtight container in the fridge for up to 5 days and the salsa for up to 2 days.