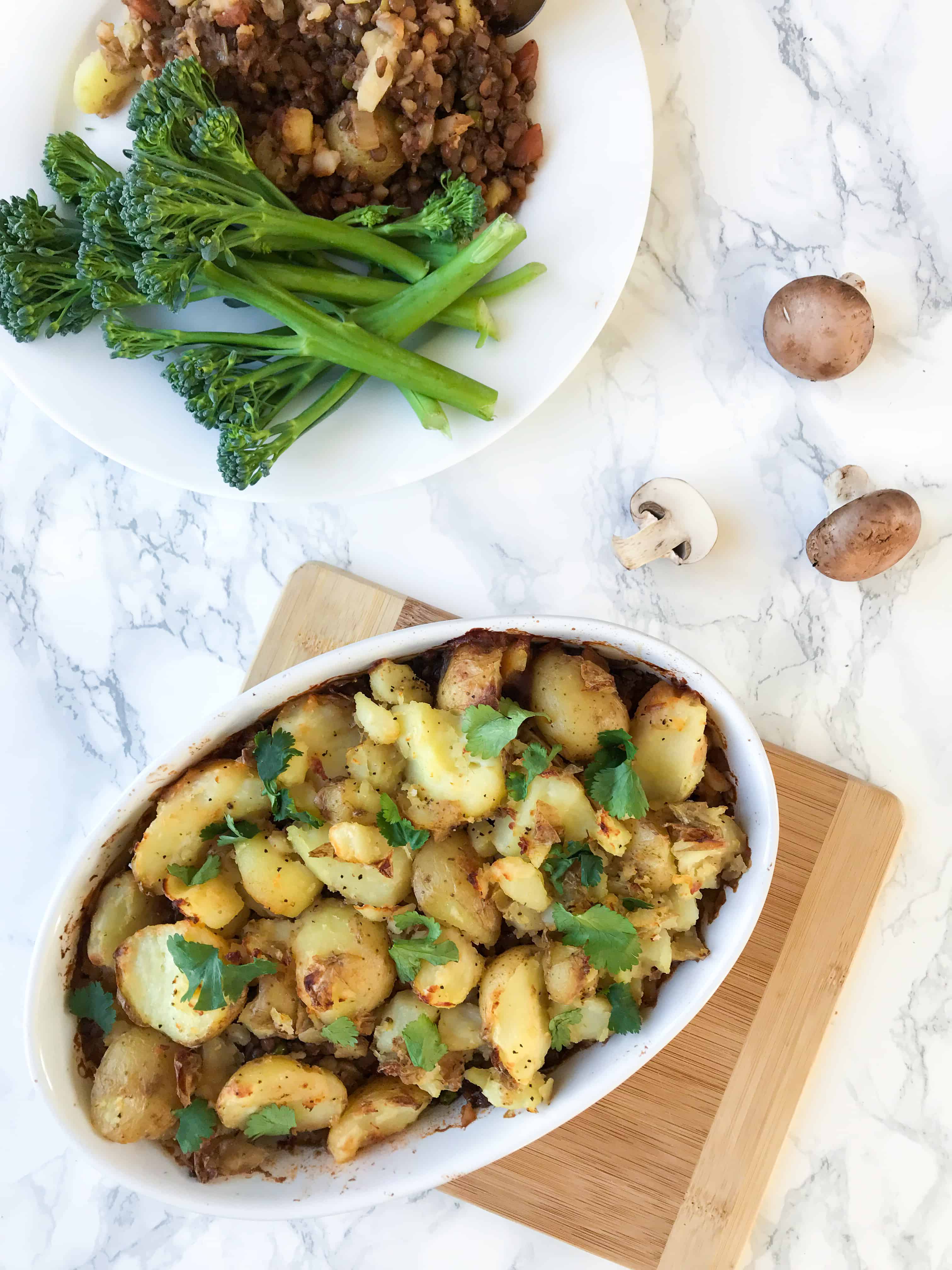 Ok, I am about to make a very controversial statement. I do not like shepherds pie. I think it is boring, tasteless and stodgy. Im sorry, please don't hate me! But then why have I made one you ask? Well, this isn't your average 'grandma's house' weekday supper. This lentil shepherds pie is modern, fresh, stuffed full of veg and in my opinion pretty damn tasty. It's vegan, gluten free, and ticks ALL the healthy boxes.
I remember being fed a lentil shepherds pie as a child before lentils were 'trendy' and feeling astonished that what I was eating wasn't minced beef; it was so hearty and well, I guess… meaty. Since my tastebuds have matured slightly I don't think you could fool me now, but I don't want to be fooled! Lentils are tasty and so much better for you than beef ever could be.
Lentils in my opinion are a star-food! They are high in protein and nutritional value whilst being low in fat. Their main benefits include being packed with soluble fibre (helps lower cholesterol and stabilise blood sugar levels) as well as magnesium (basically needed for every function!) and folate (lowers homocysteine levels, which is a serious risk connected heart disease). So if you don't already, eat your lentils!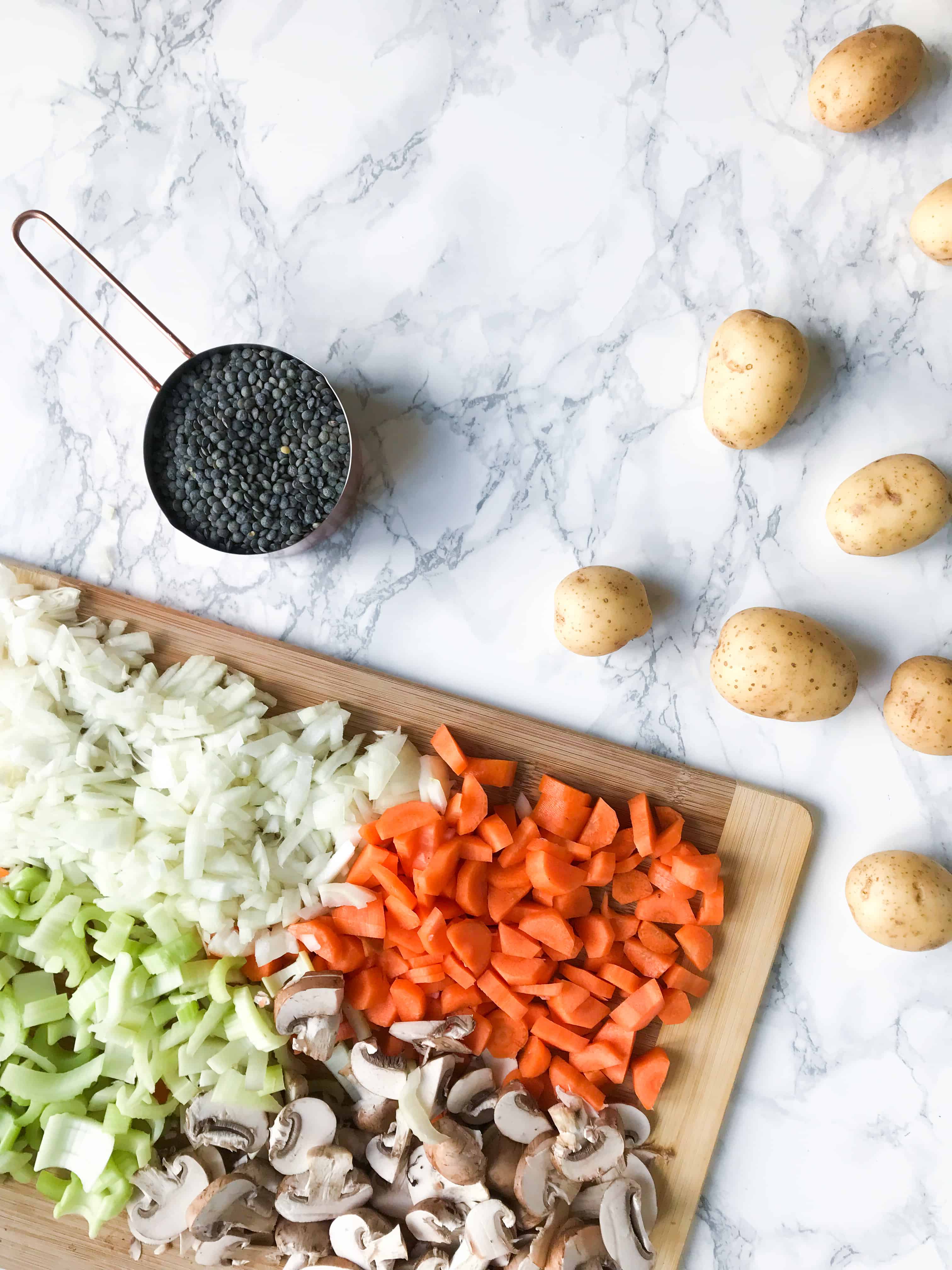 This lentil shepherds pie has been a crowd pleaser on numerous occasions. I fed it to two of my best friends on separate affairs both of whom begged for seconds AND even my lovely father who still thinks lentils are for 'hippy people' was a big fan of this pie. I have also made this with sweet potato mash as a variation to the crushed new potatoes – again, just fab! So, to put it in short, you really can't go wrong with this dish.
This recipe makes one large lentil shepherds pie or two smaller ones. I personally prefer splitting the mixture between two smaller dishes before throwing one in the oven straight away, and putting the other into the freezer. That way, when I don't have time to cook I can just defrost the lentil shepherds pie in the fridge overnight and throw it in the oven as per the instructions in the recipe. Ta-da! A nutritious filling meal with no effort.
Lentil shepherds pie is comfort food at its finest. The crispy new potatoes are just so gorgeous and the perfect accompaniment to the soft rich lentil ragu. GET IN MA BELLY! Writing about this is hard guys – my stomach is empty and all I can think about is how I don't have any of this left in the fridge. I think I am going to have to go now before I get anymore upset.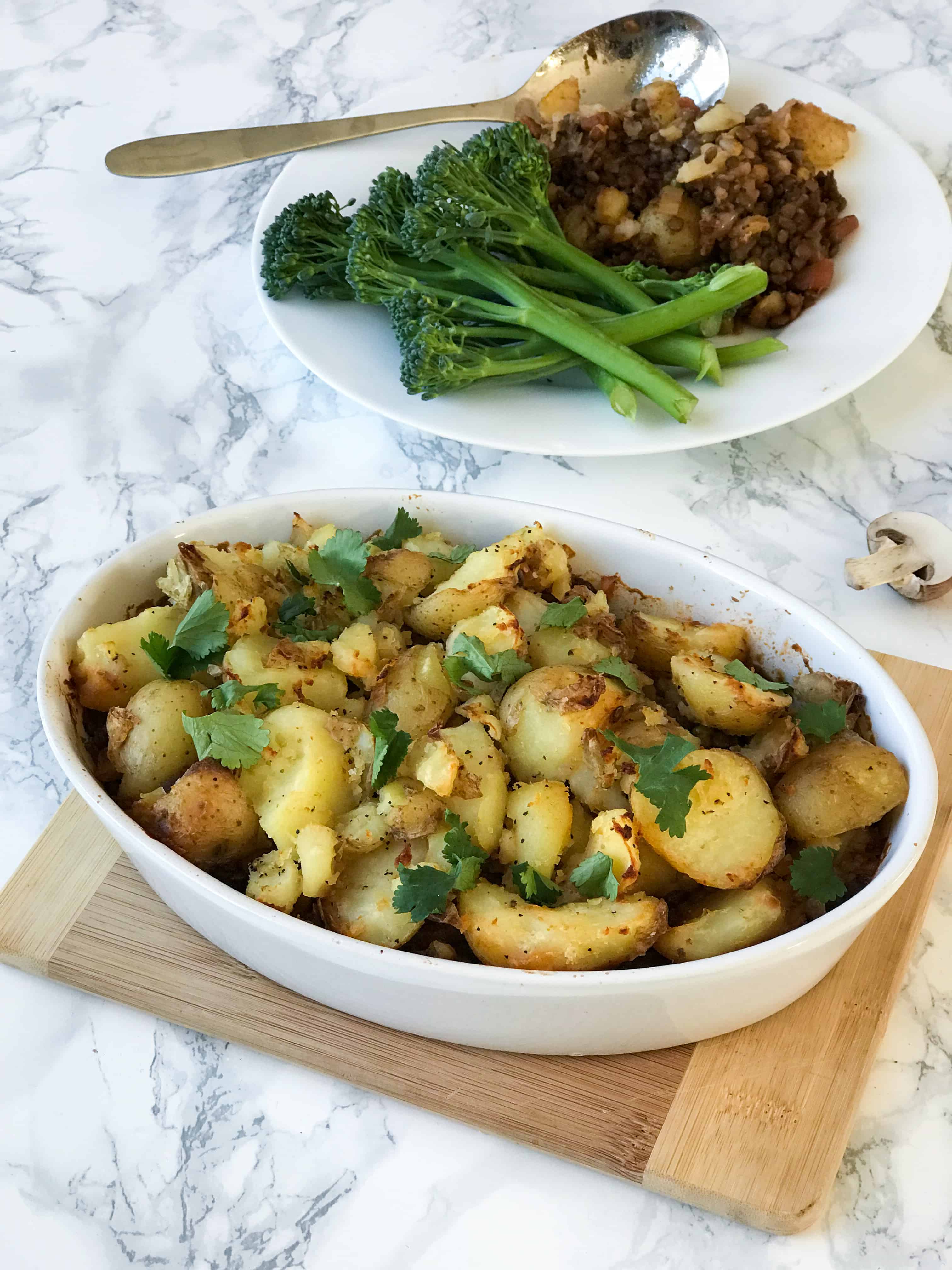 Please give this a try and let me know how you got on (amazingly obviously…). You can tag me in photos on IG @georgieeatsblog or leave me a comment here!
Lots of love to you all, hope you finally have recovered from all the easter eggs you may or may not (liar!) have eaten. Recipe to follow:
G x
LENTIL SHEPHERDS PIE WITH CRUSHED NEW POTATOES
Hearty comfort food without any of the guilt! After trying this delicious lentil shepherds pie packed full of vegetables and uber nutritious lentils, you wont ever make the original again! Vegan and gluten free.
Ingredients
Lentil Filling
1

tbsp

coconut oil

1

white onion

finely diced

2

carrots

finely diced

4

sticks

celery

finely diced

2

cloves

garlic

crushed

100

g (2 cups)

mushrooms

sliced

2

heaped tsp

dried thyme

250

g (1 + 1/3 cup)

dried puy lentils (lentils vertes)

rinsed

900

ml

vegetable stock

2

tbsp

tomato puree

2

tbsp

tamari / soy sauce

50

g (1/2 cup)

frozen peas

Salt and pepper

to taste
New Potato Topping
750

g (1 pack)

new potatoes

2

tsp

coconut oil

melted

Pinch

salt and pepper
Instructions
To make the lentil filling, melt the coconut oil in a large pan over a gentle heat. Add the onions, carrots, celery and garlic and cook for 15 minutes stirring occasionally until golden and soft. Increase the heat slightly, add the mushrooms and allow to cook for another 5 minutes.

Add the stock, lentils and thyme into the pan and bring to the boil. Reduce the heat and simmer for 40-50 minutes or until the lentils are very soft.

Once soft add the tomato puree, tamari / soy sauce and frozen peas. Stir and taste before seasoning with salt and pepper. Remove from the heat and transfer into a oven proof dish / dishes.

While the lentils are simmering you can make the potato topping. Bring a large pan of salted water to a boil over a medium heat, add the potatoes and cook for 15-20 minutes until soft (you should be able to break them apart with a fork). Remove from the heat, drain, then return to the pan before roughly crushing them with the back of a fork (you do not want to completely mash the potatoes here, only break into smaller pieces). Add the coconut oil and season with salt and pepper. Mix to coat all the potatoes.

Top the lentil filling with the crushed new potatoes and cook for 30-35 minutes in a 170°c fan/190°c/375°f preheated oven until the potatoes are golden and crispy. Serve immediately.
Recipe Notes
I like to serve this simply with some broccoli or salad leaves for an added kick of greens and freshness!
This recipe will make one large or two smaller shepherds pies. 
This recipe is great to make ahead of time and keeps perfectly well in the fridge or the freezer. 
A few ingredient notes: 
Lentil Vertes can also be known as puy lentils or french lentils, but are not the same as green lentils. You should be able to find these easily at any supermarket.
Remember to check the ingredients on your vegetable stock cubes for any preservatives/added sugar. I use the Kallo Very Low Salt Organic Vegetable Stock Cubes if you are wondering. 
If you have it, try to use tamari as it is better for you than soy sauce. Although if you can't find it, make sure you check the ingredients of the soy sauce for any added sugar or other funny things! Kikkoman is the cleanest brand that I have found.