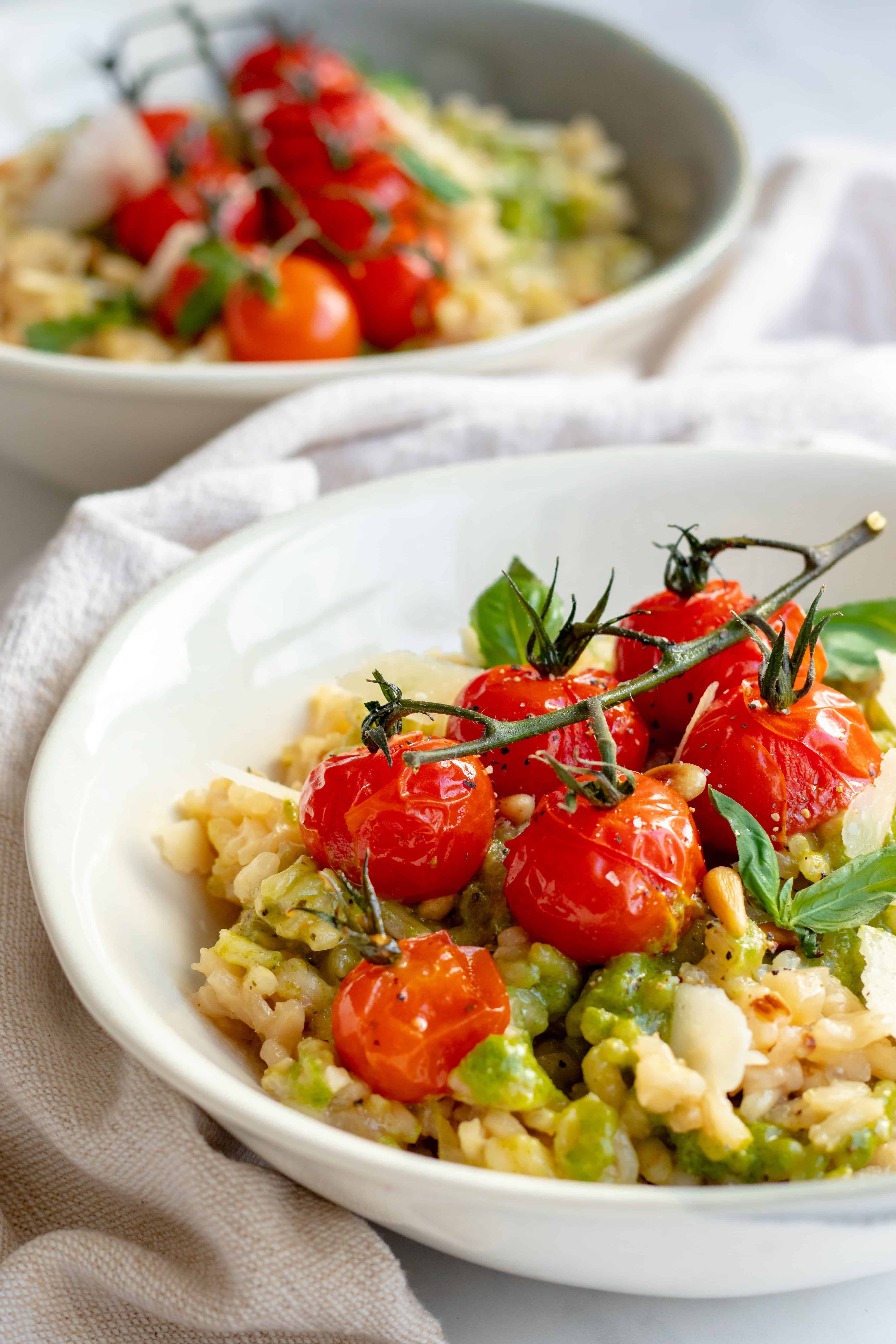 Don't get me wrong, I love cooking – but I do not like making risotto. Seriously, who wants to slave over a pan, stirring constantly for 40 plus minutes? Ain't nobody got time for that. That's why my baked pesto risotto will change your life. It's easy, it's creamy and OH baby it's good.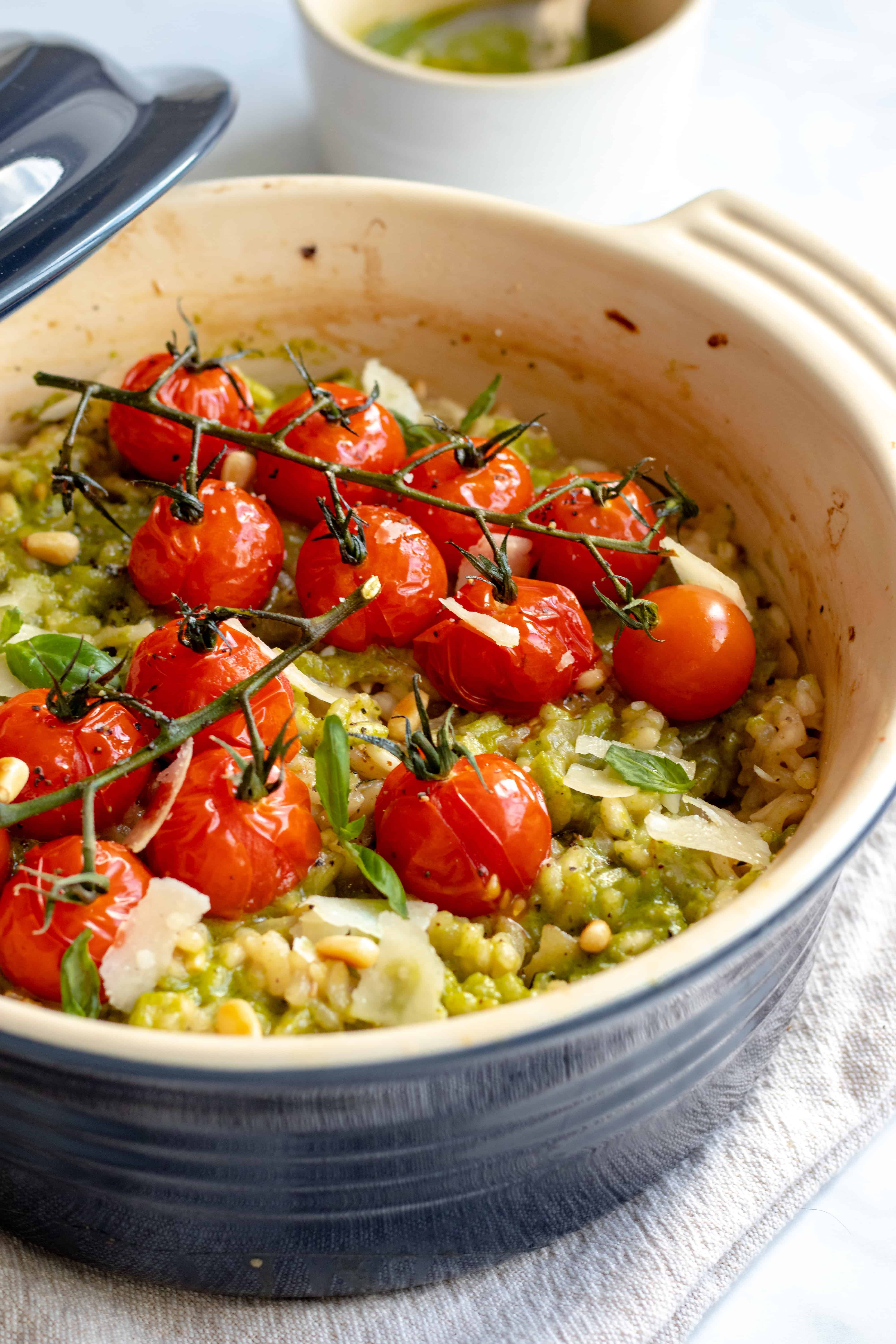 Any risotto purists out there may be a little skeptical about this easier baked version. I will have you know that in Italy, the home of risotto, they love a baked risotto. If it is good enough for the Nonnas, then it's good enough for me.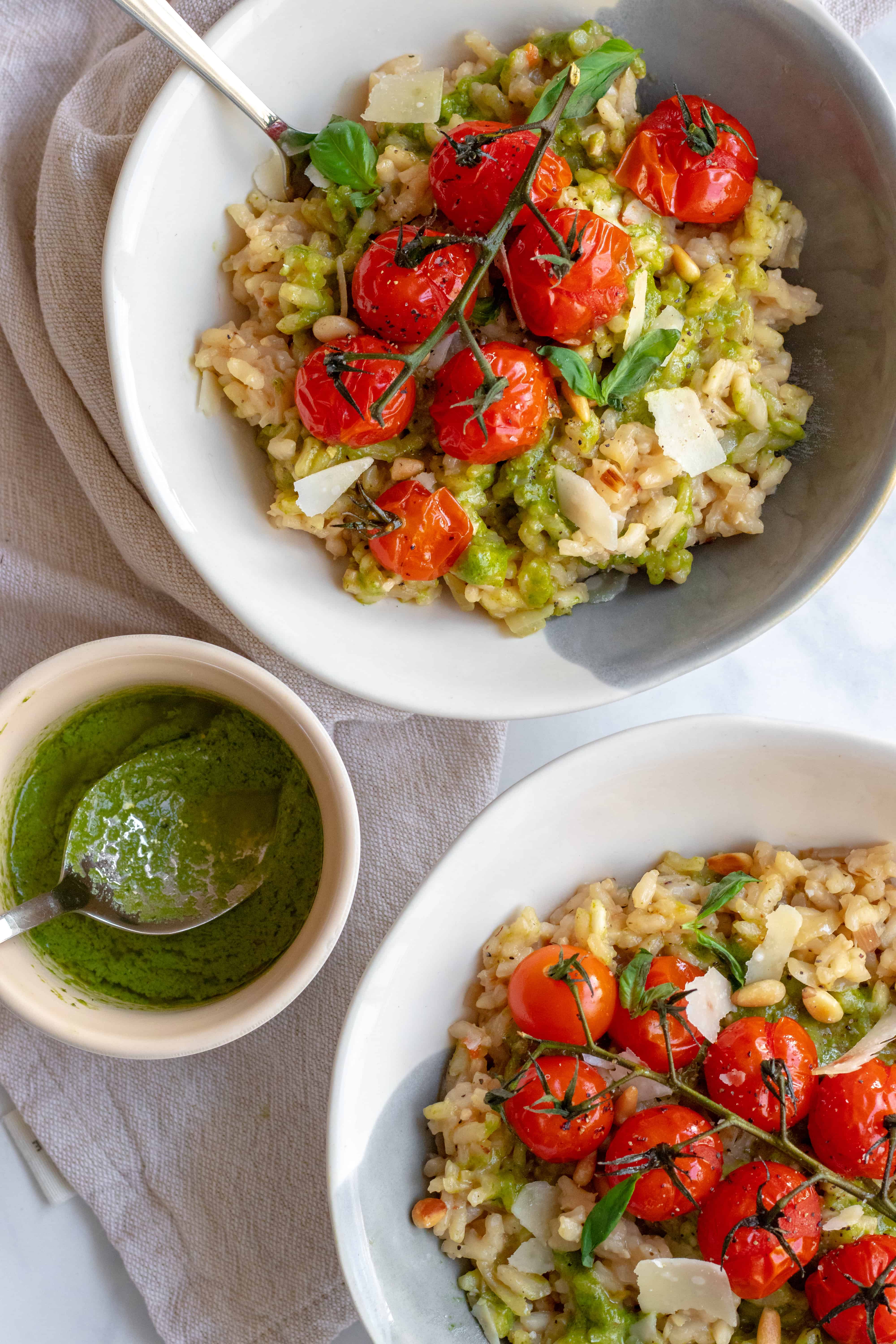 White rice?!! Although I normally cook with brown rice, when it comes to risotto, it has got to be white. Most of the nutrients in rice sits in the bran and germ. White rice loses this during the cleaning process, making brown rice more nutritionally favourable. Although, the bran and germ can also contain high levels of heavy metals if grown in polluted areas. So, it is debatable as to which one is the better option. As with all nutritional science there is never a simple answer! In my opinion it is totally ok to eat and enjoy both.
I know you may be thinking, jezhus Georgie – pesto AGAIN? But trust me on this one. The salty zesty pesto mingles with the rich creaminess of the rice and sweetness of the roasted tomatoes in a spoonful of pure heaven. Dare I say it – my pesto risotto trumps pesto pasta any day.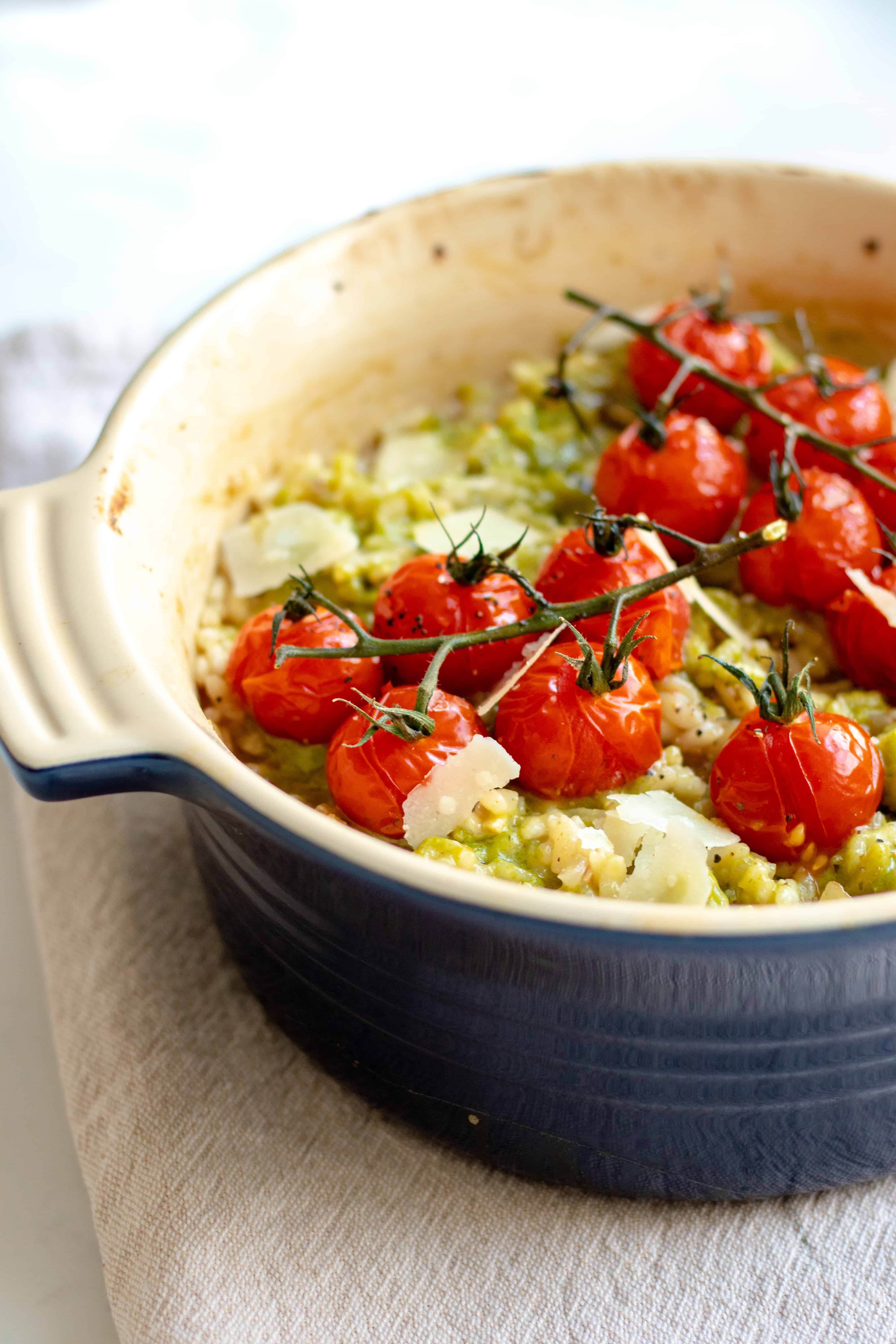 If you want delicious food with minimal effort then you will love this pesto risotto recipe. Whether you serve it at a dinner party or eat it snuggled up by the fire, it is sure to become a new favourite. If you make this PLEASE let me know by tagging me in a photo on IG @georgieeatsuk or leave me a comment below. Keep smiling!
G x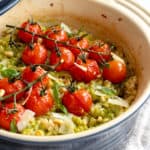 BAKED PESTO RISOTTO WITH ROASTED TOMATOES
Rich creamy rice topped with salty zesty pesto and sweet roasted tomatoes. The perfect risotto without the effort - its amazing! Vegan, GF & healthy.
Ingredients
1

tbsp + 1 tsp

olive oil

1

large onion

finely chopped

3

cloves

garlic

peeled & crushed

300

g

arborio risotto rice

750

ml

vegetable stock

400

g

cherry vine tomatoes

Salt & pepper
For the Pesto
1

clove

garlic

peeled

30

g

1 pack basil

stalks & all

20

g

pine nuts

lightly toasted

Juice of

1/2

lemon

3-4

tbsp

extra virgin olive oil

1

tsp

sea salt

Pinch

freshly ground black pepper
To serve (optional)
Sprinkle

of

parmesan cheese
Instructions
Preheat the oven to 180ºc fan/200ºc/400ºf.

Heat 1 tbsp of oil in a large pan/dutch oven a low medium heat. Add the onion and fry for 5 minutes, stirring regularly, until softened. Then add the garlic and continue to fry for another 5 minutes.

Turn up the heat and add the rice. Give everything a stir for a minute or so before adding the stock and a big pinch of salt and pepper. Continue to stir for two minutes or until the stock returns back to a boil. Cover the pan with a tightly fitting lid and bake in the preheated oven for 25 minutes until the rice is tender but with still a little bite.

Whilst the risotto is baking, place the cherry vine tomatoes onto a baking tray and drizzle with the remaining olive oil and a pinch of salt and pepper. Roast in the oven for 10 minutes until soft and charred.

Meanwhile make the pesto. Add all of the ingredients into food processor and whizz until almost smooth. Taste and adjust seasoning accordingly.

Once the risotto is ready, remove from the oven and stir through a generous pinch of salt and pepper. Taste and adjust seasoning accordingly.

To serve, use a spoon to marble the pesto through the risotto, then divide into bowls and top with a vine of roasted tomatoes and a liberal sprinkle of parmesan cheese, a drizzle of olive oil and a sprinkle of black pepper.
Recipe Notes
If you have one, a dutch oven is ideal to make this baked risotto in. If not, an oven proof saucepan with a lid or oven proof saucepan covered tightly with tin toil will work just the same. 
This pesto risotto is best served straight away but left overs can be stored in the fridge for up to 2 days. Reheat on the stove over a low heat with a little splash of water. 
Gluten-Free: Assure your vegetable stock is certified GF.
Vegan: Substitute the parmesan cheese with a dairy-free alternative or a sprinkle of nutritional yeast. You can also just leave it off all together - it is just as delicious!
A few ingredient notes: 
Make sure you are using a risotto rice and not just regular short/long grain variety in this recipe. I personally have used arborio rice in this risotto as it is the most readily available. Other risotto rice varieties such as carnaroli and vialone nano will work too. 
To make my vegetable stock I use 1.5 stock cubes dissolved in boiling water. Personally I like the Kallo Very Low Salt Stock Cubes as they do not contain any added flavourings or preservatives.
If you love pesto then why not try my walnut pesto potato salad too!